Letter from James A. Glisson to Gary I. Sharp (June 25, 1975)
Dublin Core
Title
Letter from James A. Glisson to Gary I. Sharp (June 25, 1975)
Alternative Title
Letter from Glisson to Sharp (June 25, 1975)
Subject
Lake Apopka (Fla.)
Environmental protection--Florida
Parks--Florida
Springs--Florida
Description
A letter from Florida state Senator James A. Glisson (b. 1939) to Gary I. Sharp, dated June 25, 1975. In this letter, Sen. Glisson states that he would be in favor of the State of Florida acquiring the Gourd Neck Springs area for use as a recreational park. Sen. Glison was a member of the Florida House of Representatives from 1968 to 1972, representing the 33rd district, and served in the Florida State Senate, representing the 11th district, from 1973 to 1978.

Gourd Neck Springs is a small spring located in the southwest portion of Lake Apopka, in a small cove called "Gourd Neck" due to its distinctive shape. This area of the lake was considered in the 1960s as a potential nursery for fish. The Lake Apopka Technical Committee explored damming the Gourd Neck, separating it from the lake and preventing polluted lake water from entering, but these plans did not materialize. Efforts were also made in the 1960s to have the Gourd Neck area purchased by the State of Florida for use as a public park. The Gourd Neck Springs Park Association was formed in 1961 to study the site's potential for a park and lobby for support from legislators. The land bordering the area was privately-owned by various individuals. One of these, Gary I. Sharp, continued seeking support for a park into the 1970s. While the project received support from Florida legislators and environmentalists, the land was never purchased by the state.
Creator
Glisson, James A.
Source
Photocopy of original 1-page typewritten letter from James A. Glisson to Gary I. Sharp, June 25, 1975: binder 1975, Friends of Lake Apopka Archives, Ginn Museum,
Oakland Nature Preserve
, Oakland, Florida.
Is Format Of
Digital reproduction of photocopied 1-page typewritten letter from James A. Glisson to Gary I. Sharp, June 25, 1975.
Medium
1-page typewritten letter on Florida Senate letterhead
Coverage
Winter Park, Florida
Gourd Neck Springs, Lake Apopka, Florida
Provenance
Originally created by James A. Glisson
Contributing Project
Digital Collection
Source Repository
External Reference
Files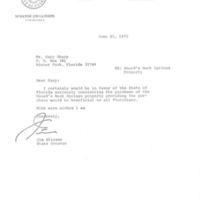 Collection
Citation
Glisson, James A.. "Letter from James A. Glisson to Gary I. Sharp (June 25, 1975)." RICHES of Central Florida accessed November 28, 2022, https://richesmi.cah.ucf.edu/omeka/items/show/7818.
Categories
Transcribe This Item