Key to City of Orlando
Dublin Core
Title
Key to City of Orlando
Alternative Title
City Key
Description
A key to the city of Orlando. The size of the key represents the importance of the key. The "Key to the City" tradition comes from the medieval "Freedom of the City" tradition. The recipient of this key or this honor received the privilege to enter or leave the city whenever he or she wanted. In the past, cities only gave this honor to its military personnel and its outstanding civilians. In today's world, cities give it to its people and others who are not residents, but have a strong connection with the city. This is the highest honor that a person can receive from a city. There is usually a ceremony when this honor is being given to someone. Musicians, sportsmen, and actors have been chosen to receive this award time to time in the distant past. The mayor is often the person who presents the key to the recipient in the United States.
Date Created
ca. 1900-1960
Is Format Of
Original color digital image, 2016.
Coverage
Orlando City Hall, Downtown Orlando, Florida
Contributing Project
Orlando Remembered
Curator
Sirenord, Edgar
Cepero, Laura
Digital Collection
External Reference
"
Freedom of the City
." City of London. April 10, 2013. Accessed January 14, 2016. https://www.cityoflondon.gov.uk/about-the-city/about-us/Pages/freedom-of-the-city.aspx.
"
12 Things: Key to the City
." Key to the City. Accessed February 1, 2016. https://www.brown.edu/Departments/Joukowsky_Institute/courses/13things/7443.html.
"
City of Sydney - Council - Home
." Symbolic Honours, November 21, 2013. Accessed February 1, 2016. http://www.cityofsydney.nsw.gov.au/learn/sydneys-history/civic-history/symbols-of-the-city/symbolic-honours.
Files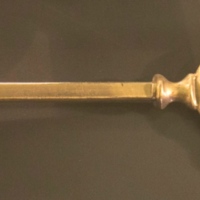 Collection
Citation
"Key to City of Orlando." RICHES of Central Florida accessed June 27, 2022, https://richesmi.cah.ucf.edu/omeka/items/show/7869.
Categories
Transcribe This Item