Letter from Gary I. Sharp to the West Orange Chamber of Commerce (May 19, 1977)
Files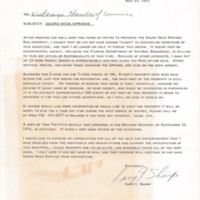 Dublin Core
Title
Letter from Gary I. Sharp to the West Orange Chamber of Commerce (May 19, 1977)
Alternative Title
Letter from Sharp to West Orange Chamber of Commerce (May 19, 1977)
Subject
Environmental protection--Florida
Parks--Florida
Springs--Florida
Description
A letter from Gary I. Sharp to the West Orange Chamber of Commerce, dated May 19, 1977. In the letter, Sharp states that he is no longer able to continue his efforts to have the Gourd Neck Springs area purchased by the State of Florida for use as a recreational park. Sharp writes that the State of Florida continues to show no interest in the area, and that he is forced to put the parcels of land he owns in the area up for sale. Sharp also mentions nearby parcels owned by Herbert S. Sharp that have been recently sold, but states that the majority of the area is still intact.

Gourd Neck Springs is a small spring located in the southwest portion of Lake Apopka, in a small cove called "Gourd Neck" due to its distinctive shape. This area of the lake was considered in the 1960s as a potential nursery for fish. The Lake Apopka Technical Committee explored damming the Gourd Neck, separating it from the lake and preventing polluted lake water from entering, but these plans did not materialize. Efforts were also made in the 1960s to have the Gourd Neck area purchased by the State of Florida for use as a public park. The Gourd Neck Springs Park Association was formed in 1961 to study the site's potential for a park and lobby for support from legislators. The land bordering the area was privately-owned by various individuals. One of these, Gary Sharp, continued seeking support for a park into the 1970s. While the project received support from Florida legislators and environmentalists, the land was never purchased by the state.
Source
Original 1-page typewritten letter from Gary I. Sharp to the West Orange Chamber of Commerce, May 19, 1977: binder 1977, Friends of Lake Apopka Archives, Ginn Museum,
Oakland Nature Preserve
, Oakland, Florida.
Is Format Of
Digital reproduction of original 1-page typewritten letter from Gary I. Sharp to the West Orange Chamber of Commerce, May 19, 1977.
References
Twitty, Tom. "Gourd Neck Park Dream in Danger." <em>The Orlando Sentinel Star</em>, September 26, 1976.
Medium
1-page typewritten letter
Coverage
Gourd Neck Springs, Florida
Lake Apopka, Florida
Provenance
Originally created by Gary I. Sharp.
Contributing Project
Digital Collection
Source Repository
External Reference
"
Apopka Spring
." Lake County Water Atlas. Accessed June 08, 2016. http://www.lake.wateratlas.usf.edu/resource.aspx?wbodyid=8500.
Transcript
May 23 1977
P.O. Box 341
Winter Park, Florida 32790
Telephone: 305 295-5877

May 19, 1977

TO: West Orange Chamber of Commerce
SUBJECT: GOURD NECK SPRINGS

AFTER WORKING FOR WELL OVER TWO YEARS ON TRYING TO PRESERVE THE GOURD NECK SPRINGS RUN PROPERTY, I REGRET THAT WE DID NOT HAVE ENOUGH "CLOUT" TO ACCOMPLISH SOMETHING OF THIS MAGNITUDE, AND THAT I NO LONGER AM ABLE TO PURSUE THIS DREAM. IT SEEMS THAT NO GOVERNMENTAL AGENCY, INCLUDING THE FLORIDA DEPARTMENT OF NATURAL RESOURCES, IS WILLING TO TAKE ANY ACTION OR RESPONSIBILITY AT THIS TIME. BECAUSE OF OTHER INTERESTS, I HAVE PUT MY 23-ACRE PARCEL (WHICH IS APPROXIMATELY MID-WAY ALONG THE RUN) UP FOR SALE. OTHER CRITICAL TRACTS, INCLUDING THOSE ADJOINING THE SPRINGS, ARE ALSO ON THE OPEN MARKET.
ALTHOUGH TWO 5-ACRE AND ONE 7-ACRE PARCEL OF MR. STARR'S PROPERTY HAVE BEEN SOLD WITHIN THE LAST FEW WEEKS FOR RESIDENTIAL USE, THE MAIN PART OF THE PROPERTY IS STILL BASICALLY INTACT. MY PURPOSE IN SENDING THIS MEMO IS THAT, HOPEFULLY, SOMEONE RECEIVING IT MIGHT KNOW OF SOMEONE, OR SOME AGENCY, WHO MIGHT BE INTERESTED IN PURCHASING IT IN ITS ENTIRETY (APPROXIMATELY 300 ACRES) OR ANY PART OF THIS PROPERTY IN ORDER TO PRESERVE IT FOR THIS AND FUTURE GENERATIONS, AS I STILL BELIEVE IT SHOULD BE.
IF ANYONE WOULD LIKE MORE INFORMATION OR WOULD LIKE TO VISIT THE PROPERTY (I WILL BE HAPPY TO GIVE YOU A TOUR ANY TIME DURING THE NEXT COUPLE OF WEEKS), PLEASE CALL ME AT AREA 305 295-5877 IN ORLANDO IF YOU HAVE ANY INTEREST, IDEAS, ETC.
I WOULD LIKE TO EXPRESS MY APPRECIATION FOR ALL OF THE HELP AND ENCOURAGEMENT THAT I HAVE RECEIVED FROM THE INDIVIDUALS AND ORGANIZATIONS WHO SUPPORT THE PRESERVATION OF THIS BEAUTIFUL, UNIQUE PROPERTY AND ITS WILDLIFE, AND SINCERELY THANK ALL OF YOU VERY MUCH. I ONLY HOPE IT HAS NOT BEEN IN VAIN, AND THAT SOMEONE WILL CONTINUE ON AND SAVE GOURD NECK SPRINGS FROM DESTRUCTION.
SINCERELY,

GARY I. SHARP

Collection
Citation
Sharp, Gary I.. "Letter from Gary I. Sharp to the West Orange Chamber of Commerce (May 19, 1977)." RICHES of Central Florida accessed October 2, 2023, https://richesmi.cah.ucf.edu/omeka/items/show/7959.
Categories
Transcribe This Item