StreamLines, No. 2 (March 1977)
Dublin Core
Title
StreamLines, No. 2 (March 1977)
Alternative Title
StreamLines (March 1977)
Subject
Lake Apopka (Fla.)
Orlando (Fla.)
Environmental protection--Florida
Pollution--Florida
Description
The StreamLines, a newsletter published by the East Central Florida Regional Planning Council (ECFRPC), for March 1977.This newsletter discusses workshops held by the ECFRPC reviewing financial concerns related to water management, as well as ongoing plans for a drawdown of Lake Apopka, stating that the first phase of the restoration program is due to begin in 1977, and estimates the total cost of the project to be three million dollars. The newsletter also discusses the ECFRPC's 208 Program, a water quality management program aimed at achieving water quality standards mandated by section 208 of the Clean Water Act of 1972.

Lake drawdown is a method of environmental restoration that is used to control erosion and aquatic vegetation. Lake drawdown has also been sought as a potential method to lessen the effects of pollution by exposing the lake bed and allowing bottom sediments to dry, trapping pollutants. Opponents of lake drawdowns cite the impact of polluted water on areas downstream of the area being drained, in cases where the targeted lake is connected to a river system. Citrus growers have also opposed drawdowns on the grounds that draining large lakes makes nearby citrus groves more vulnerable to freezes, as lakes help keep temperatures stable throughout the year.

Drawdowns of Lake Apopka have been sought by restoration efforts dating back to the 1960s, beginning with the Lake Apopka Restoration Project, organized by Governor Claude R. Kirk Jr. (1926-2011) and headed by C. W. Sheffield. These efforts were delayed and no drawdown was performed by the project. Plans for a drawdown continued to be developed, and federal and state efforts to gather funds and perform feasibility studies began in 1970. An experimental drawdown of Lake Apopka was performed in 1971, lowering the lake level by four feet, but was halted after public fears that wildlife deaths in the area were the result of the drawdown. Drawdown plans continued through the 1970s, but were continually delayed and projected costs for the project rose sharply. The project was cancelled by Governor Bob Graham (b. 1936) in 1979.
Source
Original 4-page typewritten newsletter:
StreamLines
, March 1977: binder 1977, Friends of Lake Apopka Archives, Ginn Museum,
Oakland Nature Preserve
, Oakland, Florida.
Is Format Of
Digital reproduction of original 4-page typewritten newsletter: StreamLines, March 1977.
Requires
Coverage
Lake Apopka, Florida
Lake Eola, Orlando, Florida
Contributing Project
Digital Collection
Source Repository
External Reference
"
History of Lake Apopka
." St John's River Water Management District. January 28, 2013. Accessed June 5, 2016. http://www.sjrwmd.com/lakeapopka/history.html.
Thomson, Bailey. "
The Politics of Saving a Dying Lake
."
The Orlando Sentinel
, November 23, 1986. Accessed July 13, 2016. http://articles.orlandosentinel.com/1986-11-23/news/0270330262_1_lake-apopka-lakes-of-central-fish.
Files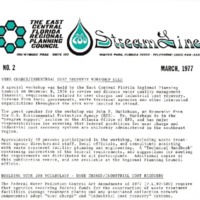 Collection
Citation
"StreamLines, No. 2 (March 1977)." RICHES of Central Florida accessed November 30, 2022, https://richesmi.cah.ucf.edu/omeka/items/show/7958.
Categories
Transcribe This Item