Marriage License and Certificate of Marriage for Van Buren Porcher and Hattie Smith
Dublin Core
Title
Marriage License and Certificate of Marriage for Van Buren Porcher and Hattie Smith
Alternative Title
Marriage License and Certificate for Van Porcher and Hattie Smith
Subject
Gainesville (Fla.)
Marriages--United States
Description
The marriage license and certificate of marriage for Van Buren Porcher (d. 1944) and Hattie Smith, who were married in Gainesville, Florida, on October 24, 1939. Porcher had previously married Taresa May Aldridge in Gainesville in 1933.

Porcher was born in and enlisted from Alachua County, Private Porcher was assigned to the U.S. Army's 448th Quartermaster Troop Transport Company on May 28, 1943. While serving in World War II, Pvt. Porcher was Killed in Action (KIA) on September, 2, 1944. He is currently buried at Epinal American Cemetery and Memorial in Dinozé, France.
Medium
1 marriage license and certificate of marriage
Coverage
Gainesville, Florida
Rights Holder
This resource is not subject to copyright in the United States and there are no copyright restrictions on reproduction, derivative works, distribution, performance, or display of the work. Anyone may, without restriction under U.S. copyright laws:
reproduce the work in print or digital form
create derivative works
perform the work publicly
display the work
distribute copies or digitally transfer the work to the public by sale or other transfer of ownership, or by rental, lease, or lending.
This resource is provided here by
RICHES of Central Florida
for educational purposes only. For more information on copyright, please refer to
Section 5
of
Copyright Law of the United States of America and Related Laws Contained in Title 17 of the United States Code
.
Contributing Project
Epinal American Cemetery and Memorial Project
Curator
Dones, Abraham, Jr.
Cepero, Laura
Digital Collection
Source Repository
External Reference
GRid=56374900.
Files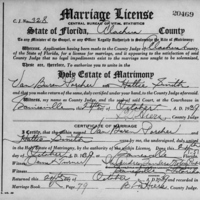 Collection
Citation
"Marriage License and Certificate of Marriage for Van Buren Porcher and Hattie Smith." RICHES of Central Florida accessed August 10, 2022, https://richesmi.cah.ucf.edu/omeka/items/show/9367.
Categories
Transcribe This Item