Lawn Bowling Handbook
Files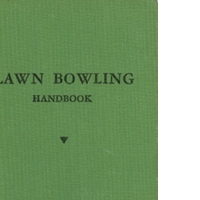 Dublin Core
Title
Lawn Bowling Handbook
Alternative Title
Lawn Bowling Handbook
Subject
Orlando (Fla.)
Lawn bowling
Lawn bowls
Sports--Florida
Bowling--United States
Description
Lawn Bowling Handbook, complied and edited by Harold L. Esch and published in 1948. The book contains a history of lawn bowling and a description of the rules. On the last page is an advertisement by the Greater Orlando Chamber of Commerce for lawn bowling at Sunshine Park in Orlando, Florida. The Chamber of Commerce office was located at 113 East Central Avenue.
Publisher
Esch, Harold L.
Is Format Of
Digital reproduction of select pages: Esch, Harold L.
Lawn Bowling Handbook
. Wauwatasa, Wisc: Harold L. Esch, 1948.
Is Part Of
Private Collection of Thomas Cook.
Requires
Coverage
Orlando, Florida
Wauwatosa, Wisconsin
Glasgow, Scotland, United Kingdom
Spatial Coverage
28.542168, -81.37723
43.056113, -87.990007
55.863006, -4.257688
Temporal Coverage
1948-01-01/1948-12-31
Provenance
Originally compiled, edited, and published by Harold L. Esch.
Rights Holder
Copyright to this resource is held by Harold L. Esch and is provided here by 
RICHES of Central Florida
for educational purposes only.
Contributing Project
Digital Collection
Source Repository
Private Collection of Thomas Cook
External Reference
"Welcome to the U.S. Lawn Bowls Association." United States Lawn Bowls Association. http://www.uslba.org/index.php.
External Reference Title
Transcript
LAWN BOWLING HANDBOOK

LAWN BOWLING
"A method of pulling life into the locality without marring its beauty."
-F.H. Furman
Denver, Colorado

Compiled and Edited by
HAROLD L. ESCH

(Summer)
2023 Two Tree Lane
Wauwatosa 13, Wisconsin

(Winter)
P.O. Box 3304
Orlando, Florida
Copyright 1948
By HAROLD L. ESCH
Wauwatosa 13, Wis.


INTERNATIONAL BOWLING BOARD
President
IVOR B. THOMAS, D.L., J.P.
Major Sir
Kenmore, Dinas Powis
Glamorgan

Secretary and Treasurer
THOMAS S. LOGIE
Telephone. . . .DOUGLAS 0902
Telephone---
House. . . . . . POLLOK 2519

160 HOPE STREET, GLASGOW, C.2

4th October, 1948
Dear Mr. Harold Esch:

I am very interested to hear you are compiling a book on Lawn Bowling for circulation in the United States of America, and I feel sure it will be received with much pleasure by all those who take part in the game in your great Country.
During the visit of the British Team (of which I had the honour of being Captain) last year, I was delighted to be informed of the steady growth of the game of Lawn Bowling in America. As I said on many occasions during that memorable Tour, I am confident that before many years have elapsed the Game will be as popular in the United States as it is in the British Isles and the Dominions.
My best wishes go with you in the arduous task you have so cheerfully undertaken.

Yours sincerely,
Ivor B. Thomas
President International Bowling Board

Milwaukee, Wis.
October 20, 1948

My Dear Harold:

I am glad you are publishing a new book on Lawn Bowling from the American standpoint. It is very much needed and should be in the hands of every lawn bowler, especially new members. It will greatly promote the game and I wish you abundant success in this labor of love.

Sincerely yours,
Emmet L. Richardson
Honorary Life President ALBA


WINTER BOWLING IN ORLANDO
The Heart of Florida

An invitation to bowlers everywhere to make Orlando their winter headquarters.

Three full size marl courts, spacious clubhouse, located in Sunshine Park, the play ground for Winter Visitors in The City Beautiful.

Information on accommodations and facilities may be obtained by writing to:

THE GREATER ORLANDO CHAMBER OF COMMERCE
113 East Central Ave. Orlando, Florida
Document Item Type Metadata
Original Format
108 page book
Collection
Citation
Esch, Harold L.. "Lawn Bowling Handbook." RICHES of Central Florida accessed December 5, 2023, https://richesmi.cah.ucf.edu/omeka/items/show/999.
Categories
Transcribe This Item