Browse Items (1 total)
Tags: Joseph N. Johnson, Jr.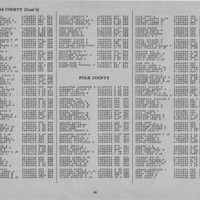 A list of U.S. Army servicemen reporter either killed or missing during World War II. This particular page shows servicemen from Pinellas and Polk Counties, Florida. A notable soldier listed in this record is Sergeant John B. Hancock (1913-1944), who…
Tags: Albert J. Chestnut, Jr.; Albert L. Nelson; Albert M. Jackson; Albert W. Ross, Jr.; Alex Bond; Alex F. Hatton; Algerine J. Jordan; Alton Banks; Alton F. Joyner; Alvorida Buzzes; Arthur B. Aultman; Barney D. Fletcher; Barney E. Cumming; Bayard T. Lang, Jr.; Bert A. Hare; Boyd A. Smith; Cecil F. Harrington; Cecil H. Brown; Chapman Q. Dykes; Charles D. Ford, Jr.; Charles E. Frederick; Charles F. Cristselous; Charles F. Jewett, Jr.; Charles H. Cribbs; Charles R. Taylor; Charles R. Thomas; Charles S. Johnson; Clarence E. Allen; Claud R. Gandy; Claude E. Hope; Claude E. Velboom; Clement C. Whitcomb; Cline E. Helm; Coleman Hinton; Copeland A. Forrester; Dewey E. Corbett; Douglas B. Clark, Jr.; Dozier S. Lovett, Jr.; Duncan C. Murphy; Earl G. Wells; Ed Jackson, Jr.; Edgar R. Todd; Edward C. Sapp; Edward E. Birge; Edward E. Durrance; Edward J. Elmore; Edwin J. Goolsby; Elvin H. Wagner; Emery Cooper; Engelhardt Von Hebel; Ernest C. Keen; Ernest W. Stewart; Frank J. Kecerman, Jr.; Frank L. Rutledge; Fred Medlin; George E. Thompson; George M. Avery, Jr.; Gilbert H. Myers; Gillis R. Harris; Glen L. Prevatt; Gordon C. Bonsack; Guy L. Dodd; H. D. Whitfield; Harlen H. Hoyt; Harold L. Vickers; Harold N. Horton; Harold R. Martin; Harry J. Chancey; Harvey L. Curtis; Haweda Coursey; Hayes Bessinger; Henry L. Stanfield; Henry Q. Flood; Herbert T. Barrow; Herle E. Rudy, Jr.; Hershel E. Phillippe; Hoke S. Turner; Horace F. Leaman; Hubert R. Molden; Ira E. Carter, Jr.; Irvin J. McDonald; J. T. Hoover; Jack Hancock; Jack Young; James A. Dowell; James A. Shaw; James B. Smith; James B. Stephens; James E. Coleman; James E. Moore; James E. Smith; James J. Jones, Jr.; James M. Burgess; James M. Buxton, Jr.; James R. Glenn; James T. Henry; Jesse J. Slate; Jessie C. Easterling; Joe T. Murphy; John B. Hancock; John C. Alford; John C. Call; John D. Mumford; John H. Grooms; John J. Kelly; John L. Moeller; John P. Hyman, Jr.; John P. Saclarides; John P. Williams; John T. Offutt; John W. Leonard; Johnny E. Allen; Joseph D. Coburn; Joseph N. Johnson, Jr.; Julian P. Feagle; Karl T. Willy; Kenneth T. Haynes, Jr.; Larry G. Semmens; Larry W. Kemp; Larue F. Cribbs; Lawrence C. Albritton; Lee A. Arrington; Leroy Lamb; Leslie H. Childs; Lewis J. Bowen; Littleton D. Bronson; Louis Bellow; Louis E. Thrasher; Louise W. Bosworth; Loyd A. King; Marion L. Hillhouse; Martin H. Tewes; Martin P. O'Toole; Marvin R. Hill; Marvin Spears; Max Keeves; McClery H. Harper; Melville C. Taillie; Milton O. Edwards; Milus R. Earwood; Murray O. Reed; Nathan G. Alderman; Naubert O. Simard; Newell F. Mills, Jr.; Oakley A. Bullington; Olie Hagans; Oliver Jackson; Orby L. Kelly; Oscar L. Drawdy, Jr.; Otto Ruegg, Jr.; Owen Kohl; Paul A. Spaduzzi; Paul E. Sly; Paul Rean; Pinellas County; Polk County; Preston N. Parker; ralph A. Daniel; Ralph H. Hamilton; Ralph H. Kline; Ralph W. Wallace; Ray D. B. Matthews, Jr.; Richard B. Surber, Jr.; Richard I. Reed, Jr.; Richard L. Haskins; Robert H. Todd; Robert L. Childress; Robert L. Colter; Robert L. Harrison; Robert L. Sadler; Robert S. Heald; Ross W. Clem; Roy Anderson; Roy D. Crozier; Russell P. Windmuller; Samuel P. Cole; Stephen F. Hancy; Thomas L. Graham; Thomas M. Edwards, Jr.; Thomas M. Nassett; Troy E. Hottinger; U.S. Army; USA; Vardra M. Hallman; veterans; W. H. Crawford; Walter H. Bradley; Wayne E. Bradley; Wayne E. Couch; Welford Twyman; Will Owens; Willard E. Creel; William E. Backus; William E. Nowling; William H. Beadles; William H. Crow, Jr.; William H. Lee; William L. Brown Henry C. Bryant; William L. Inseon; William Motsinger; Willie B. Calhoun; Willie Champion; Willis W. Jones; Winston S. Rogers; World War II; WWII; Young M. Davis, Jr.