Draft Registration Cards, 1917
Dublin Core
Title
Draft Registration Cards, 1917
Alternative Title
World War I Draft Registration Cards
Subject
World War, 1914-1918

Veterans--Florida
Description
The draft registration card for Rufe Goins, who enlisted in the United States military during World War I. The card contains the demographic information for the soldier including name, age, home address, date of birth, place of birth, race, citizenship, trade or occupation, number of dependents, whether tall, medium, or short, slender, medium, or stout, eye and hair color, whether bald, and disabilities. World War I draft registration cards were completed by approximately 24 million men living in the U.S. in 1917 and 1918. Goins registered for the draft on June 5, 1917.
On May 29, 1912, at the age of twenty-one, Goins enlisted in the United States Army. He served in the 19th Infantry Regiment in Texas for several years. At the time of Goins's service, the United States was engaged in war with Mexico. During this war, the United States Army garrisoned American border towns, constructed forts alongside the border, and fought against Pancho Villa, a notable Mexican revolutionary. Goins was honorably discharged on May 28, 1915. When the United States entered World War I, Goins re-enlisted in the Army on October 30, 1917. He served for two years and reached the rank of Private before being released on June 20, 1919. Goins served more than half a year past the end of the war in November 1918. He died on December 25, 1988, in Tampa, Florida, at the age of 94, and is buried at the Florida National Cemetery in Bushnell. His wife, Maude, died ten years later and is buried with him.
In 2017, the University of Central Florida was one of three universities selected to launch the National Cemetery Administration's
Veterans Legacy Program Project
. The program engaged a team of scholars to make the life stories of veterans buried in the Florida National Cemetery available to the public. The project engages UCF students in research and writing and fosters collaboration between students, faculty and local Central Florida schools to produce interactive curriculum for k-12 students. The corresponding website exhibit uses RICHES Mosaic Interface to create a digital archive of related data. The public can use the project-developed augmented-reality app at more than 100 gravesites at the Florida National Cemetery, where they can access the UCF student-authored biographies of veterans.
Creator
War Department, Office of Provost Marshal General, Selective Service System
Source
Digital reproduction of original draft registration card, June, 5, 1917.
Publisher
War Department, Office of Provost Marshal General, Selective Service System
Is Part Of
Medium
1 draft registration card
Coverage
Jasonville, Indiana
Provenance
Originally created and published by the War Department, Office of Provost Marshal General, Selective Service System.
Rights Holder
This resource is not subject to copyright in the United States and there are no copyright restrictions on reproduction, derivative works, distribution, performance, or display of the work. Anyone may, without restriction under U.S. copyright laws:
• reproduce the work in print or digital form
• create derivative works
• perform the work publicly
• display the work
• distribute copies or digitally transfer the work to the public by sale or other transfer of ownership, or by rental, lease, or lending.
This resource is provided here by
RICHES
for educational purposes only. For more information on copyright, please refer to
Section 5
of
Copyright Law of the United States of America and Related Laws Contained in Title 17 of the United States Code
.
Curator
Stoddard, James
Cravero, Geoffrey

Digital Collection
Source Repository
Files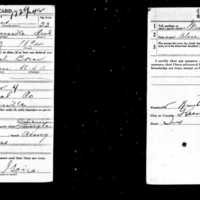 Collection
Citation
War Department, Office of Provost Marshal General, Selective Service System. "Draft Registration Cards, 1917." RICHES of Central Florida accessed April 2, 2023, https://richesmi.cah.ucf.edu/omeka/items/show/10126.
Categories
Transcribe This Item