Santa Claus Joins Army Air Forces, Christmas 1943
Dublin Core
Title
Santa Claus Joins Army Air Forces, Christmas 1943
Alternative Title
Santa Claus Joins Army Air Forces
Subject
Orlando (Fla.)
Santa Claus
U.S. Army Air Forces in World War II
Christmas--Florida
United States. Army
Army
Description
An Army Air Forces menu created for the Christmas of 1943. The cover shows Santa Claus piloting an airplane over an airbase. There are illustrations of a decorated Christmas tree, a palm tree and what appears to be orange trees. The interior has a Christmas note from Hume Peabody, Brigadier General of the U.S. Army who was Commanding General of the Army Air Force Tactical Center.

Although Japan and China were already engaged war since 1937, September 1, 1939 is generally considered the beginning date of World War II. It was on this day that Nazi leader Adolf Hitler invaded Poland, inciting France and the United Kingdom to declare war on Germany. Through the course of the war, belligerents were general divided into two groups: the Allied Powers, consisting of the United Kingdom, France, the Soviet Union, China, Poland, Canada, Australia, India, Yugoslavia, Greece, the Netherlands, Belgium, South Africa, New Zealand, Norway, Czechoslovakia, Ethiopia, Brazil, Denmark, Luxembourg, Cuba, Mexico, the Philippines, Mongolia, and Iran; and the Axis Powers, consisting of Germany, Japan, Italy, Hingary, Romania, and Bulgaria. The United States did not join the Allies until the Japanese attack on Pearl Harbor on December 7, 1941. War was waged for several years. On May 8, 1945, Germany surrendered to Soviet and Polish troops in response to the capture of Berlin just a few days earlier, in effect ending the war in Europe. The war in the Pacific theater did not end until Japan surrended on August 15, 1945, in response to the atomic attacks on Hiroshima and Nagasaki.

World War II transformed the globe's geopolitical context. The United Nations (UN) was established and the United States and Soviet Union emrged as opposing superpowers, setting the stage for the 46-year long Cold War. Much of Europe was left in economic collapse and decolonization began in Asia and Africa.
Source
Original menu, 1943: Private Collection of Thomas Cook.
Is Format Of
Digital reproduction of original menu, 1943.
Is Part Of
Private Collection of Thomas Cook.
Requires
Coverage
Orlando, Florida
Spatial Coverage
28.573336, -81.336672
Temporal Coverage
1943-12-01/1943-12-25
Mediator
History Teacher
Civics/Government Teacher
Contributing Project
Digital Collection
Source Repository
Private Collection of Thomas Cook
External Reference
Dickinson, Joy Wallace. A Guide to Historic Orlando. Charleston, SC: Arcadia Pub, 2003
Guide to Orlando Air Force Base. Eugene, Oregon: University Printing, 1973. Digital reproduction available on PALMM Project, CF00001721, http://digitool.fcla.edu/R/JXDK8SAJ8CTVITQNA8UAJUD9MCMLH62C5YHH8D7CLXX5BSFA94-00764?func=results-jump-full&set_entry=000001&set_number=000431&base=GEN01.
External Reference Title
Transcript
Santa Claus Joins Army Air Forces
Christmas 1943

HEADQUARTERS
ARMY AIR FORCES TACTICAL CENTER
ORLANDO, FLORIDA

Christmas Day
December 25, 1943

To The Men of This Command:

May yours be a Christmas of good cheer and may your valiant efforts in the New Year bring Victory.

HUME PEABODY
Brigadier General, U.S. Army,
Commanding General
AAFTAC.

"REPORTING FOR DUTY, SIR."

MENU
____

Cream of Celery
Croutons
________

Roast Young Tom Turkey
Sage Dressing
________________

Snowflake Potatoes
Giblet Gravy
Creamed Corn
Baked Squash
___________

Head Lettuce with Russian Dressing
Cranberry-Orange Relish
_______________

Mince Pie
Chocolate Nut Cake
___________

Hot Rolls
Butter
Coffee
_____

Nuts
Candy
Assorted Fruits


Document Item Type Metadata
Files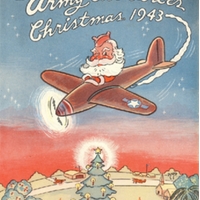 Collection
Citation
"Santa Claus Joins Army Air Forces, Christmas 1943." RICHES of Central Florida accessed March 26, 2023, https://richesmi.cah.ucf.edu/omeka/items/show/1016.
Categories
Transcribe This Item