Edward R. Schowalter Jr., Ernest E. West, Dwight D. Eisenhower and William R. Charette

Dublin Core
Title
Edward R. Schowalter Jr., Ernest E. West, Dwight D. Eisenhower and William R. Charette

Alternative Title
Medal of Honor Ceremony
Subject
Korean War, 1950-1953
Veterans--Florida
Eisenhower, Dwight D. (Dwight David), 1890-1969
Medal of Honor
Description
President Dwight David Eisenhower poses with three recipients of the Medal of Honor at the White House on January 12, 1954. Appearing left to right are First Lieutenant Edward R. Schowalter, Jr., Private First Class Ernest E. West, President Eisenhower and Hospital Corpsman Third Class William R. Charette.
William R. Charette was born on March 29, 1932, and enlisted in the United States Navy on January 10, 1951. He was assigned to the 7th Marine Infantry Regiment of the Fleet Marine Forces Pacific, where he was deployed to the Korean Peninsula. He was nominated for the Navy Cross for conspicuous gallantry and intrepidity at the risk of his life above and beyond the call of duty in action against enemy aggressor forces, repeatedly exposing himself to enemy fire, sustaining multiple injuries, and evacuating and treating numerous members of his and adjacent friendly forces. His award was later upgraded to the Medal of Honor and presented to him by President Eisenhower at a ceremony held in the Oval Office. As the only active-duty Navy enlisted recipient of the Medal of Honor in 1958, Charette was granted the final decision in selecting which particular "unknown soldier" from World War II would be interned at the Arlington National Cemetery tomb in Washington D.C. The "unknown soldier" ceremony took place aboard the USS Canberra, and the unselected candidates received a burial at sea. Charette's later career was spent in the submarine and hospital services, including service aboard the USS Quillback, USS Triton, USS Daniel Webster and USS Simon Bolivar. He began living in Florida while stationed at the Orlando Naval Hospital and Orlando Recruit Dispensary. He retired to Lake Whales, Florida in 1977, after 26 years of service, and passed away on March 18, 2012. He was preceded in death by one son, and succeeded by three daughters, and one son. On March 22, 2012, Charette was buried in with his son in Florida National Cemetery in Bushnell, Florida. His wife of fifty-eight years, Louise Fraiser Charette, passed away on March 26, 2016 at the age of 81 and joined the two at their burial site.
In 2017, the University of Central Florida was one of three universities selected to launch the National Cemetery Administration's
Veterans Legacy Program Project
. The program engaged a team of scholars to make the life stories of veterans buried in the Florida National Cemetery available to the public. The project engages UCF students in research and writing and fosters collaboration between students, faculty and local Central Florida schools to produce interactive curriculum for k-12 students. The corresponding website exhibit uses RICHES Mosaic Interface to create a digital archive of related data. The public can use the project-developed augmented-reality app at more than 100 gravesites at the Florida National Cemetery, where they can access the UCF student-authored biographies of veterans.
Creator
United States Navy
Source
Digital reproduction of original black and white photograph.
Publisher
Naval Historical Center
Is Part Of
Medium
1 black and white photograph
Coverage
White House, Washington, D.C
Provenance
Originally created by the United States Navy and published by the Naval Historical Center.
Rights Holder
This resource is not subject to copyright in the United States and there are no copyright restrictions on reproduction, derivative works, distribution, performance, or display of the work. Anyone may, without restriction under U.S. copyright laws:
• reproduce the work in print or digital form
• create derivative works
• perform the work publicly
• display the work
• distribute copies or digitally transfer the work to the public by sale or other transfer of ownership, or by rental, lease, or lending.
This resource is provided here by
RICHES
for educational purposes only. For more information on copyright, please refer to
Section 5
of
Copyright Law of the United States of America and Related Laws Contained in Title 17 of the United States Code
.
Curator
Connolly, Lehman
Cravero, Geoffrey
Digital Collection
Source Repository
Files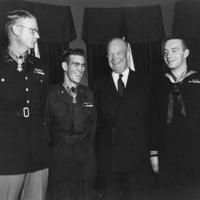 Collection
Citation
United States Navy. "Edward R. Schowalter Jr., Ernest E. West, Dwight D. Eisenhower and William R. Charette ." RICHES of Central Florida accessed December 1, 2022, https://richesmi.cah.ucf.edu/omeka/items/show/10163.
Categories
Transcribe This Item