Draft Registration Card, 1917-1918

Files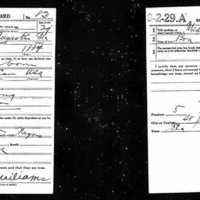 Dublin Core
Title
Draft Registration Card, 1917-1918

Alternative Title
World War I Draft Registration Card
Subject
World War, 1914-1918
Veterans--Florida
World War, 1914-1918--African Americans
Description
The draft registration card for Buster Williams (1887-1945). The card contains the demographic information for the soldier including name, age, home address, date of birth, place of birth, race, citizenship, trade or occupation, number of dependents, whether tall, medium, or short, slender, medium, or stout, eye and hair color, whether bald, and disabilities. World War I draft registration cards were completed by approximately 24 million men living in the United States in 1917 and 1918.
Buster Williams was born on December 16, 1887, in Barnwell, South Carolina. He worked as a farmer in Elkton, Florida, before being drafted into the United States Army in St. Augustine, Florida, on June 19, 1918. Williams served for about two months in the 135th Depot Brigade, a unit responsible for processing and training new recruits. From August 18, 1918, until the end of the war, he was part of Company B of the 536th Engineers Service Battalion. The 536th boarded their ship for France on August 26, 1918. The unit likely worked at the St. Aignan depot, where they would have been responsible for loading and unloading equipment and serving in primarily a support capacity. Once the war ended, Williams returned to Florida, where he married his wife, Ethel, and had three children. Williams worked as a laborer for a cemetery. He, his wife, and his son-in-law remained in the same house until Williams's death on December 28, 1945. He is buried in the St. Augustine National Cemetery.
In 2017, the University of Central Florida was one of three universities selected to launch the National Cemetery Administration's
Veterans Legacy Program Project
. The program continues, engaging a team of scholars to make the life stories of veterans buried in national cemeteries available to the public. The project engages UCF students in research and writing and fosters collaboration between students, faculty and local Central Florida schools to produce interactive curriculum for k-12 students. The corresponding website exhibit uses RICHES Mosaic Interface to create a digital archive of related data. The public can use the project-developed augmented-reality app at more than 100 headstones at four national cemeteries, two in Florida (Florida National Cemetery and St. Augustine National Cemetery) and two in France (American Battle Monuments Commission cemeteries at Aisne-Marne and the Meuse-Argonne), where they can access the UCF student-authored biographies of veterans.
Creator
Leonard, C.W.
War Department, Office of Provost Marshal General, Selective Service System
Source
Digital reproduction of original draft registration card: Selective Service System, World War I Selective Service System Draft Registration Cards, 1917-1918, M1509, 4,582 rolls.
Publisher
War Department, Office of Provost Marshal General, Selective Service System
Date Created
ca. 1917-06-05
Contributor
Williams, Buster
Is Part Of
Medium
1 draft registration card
Coverage
St. Augustine, Florida

Mediator
History Teacher
Civics/Government Teacher
Provenance
Originally created by C.W. Leonard and published by the War Department, Office of Provost Marshal General, Selective Service System.
Rights Holder
This resource is not subject to copyright in the United States and there are no copyright restrictions on reproduction, derivative works, distribution, performance, or display of the work. Anyone may, without restriction under U.S. copyright laws:
• reproduce the work in print or digital form
• create derivative works
• perform the work publicly
• display the work
• distribute copies or digitally transfer the work to the public by sale or other transfer of ownership, or by rental, lease, or lending.
This resource is provided here by
RICHES
for educational purposes only. For more information on copyright, please refer to
Section 5
of
Copyright Law of the United States of America and Related Laws Contained in Title 17 of the United States Code
.
Digital Collection
Source Repository
External Reference
Collection
Citation
Leonard, C.W. and War Department, Office of Provost Marshal General, Selective Service System. "Draft Registration Card, 1917-1918 ." RICHES of Central Florida accessed December 4, 2023, https://richesmi.cah.ucf.edu/omeka/items/show/10361.
Categories
Transcribe This Item