Passenger List of Organizations and Casuals
Files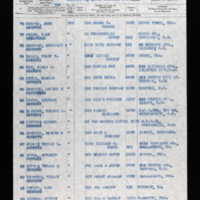 Dublin Core
Title
Passenger List of Organizations and Casuals
Alternative Title
Headquarters Port of Embarkation
Subject
World War, 1914-1918
Veterans--Florida
World War, 1914-1918--African Americans
Description
The passenger list of organizations and casuals departing from Hoboken, New Jersey, in 1918. The document includes the soldier's number, name, rank, regiment, corps or department, emergency contact, and address.
A notable passenger listed in the record is Riley Wright (1893-1919). Wright was likely born in 1893, although some documents list his birth year as 1895, near Falmouth in Suwannee County in Northern Florida. Like his father and grandfather before him, Wright worked as a farmer. He married Eva Coleman on April 15, 1917, and was drafted on August 3, 1918, joining the 807th Pioneer Infantry unit. In France, Wright and his unit served in a technical capacity, constructing and repairing roads, bridges and railways. Though the Army did not consider these infantry units as combat units, their work on the front lines brought them in direct contact with the enemy. The 807th participated in the Meuse-Argonne Offensive, which was the last major engagement of the war. Wright survived the offensive. However, he succumbed to influenza on January 7, 1919. He is buried in the Meuse-Argonne American Cemetery at Plot H Row 10 Grave 28 in Romagne-sous-Montfaucon, France.
In 2017, the University of Central Florida was one of three universities selected to launch the National Cemetery Administration's
Veterans Legacy Program Project
. The program continues, engaging a team of scholars to make the life stories of veterans buried in national cemeteries available to the public. The project engages UCF students in research and writing and fosters collaboration between students, faculty and local Central Florida schools to produce interactive curriculum for k-12 students. The corresponding website exhibit uses RICHES Mosaic Interface to create a digital archive of related data. The public can use the project-developed augmented-reality app at more than 100 headstones at four national cemeteries, two in Florida (Florida National Cemetery and St. Augustine National Cemetery) and two in France (American Battle Monuments Commission cemeteries at Aisne-Marne and the Meuse-Argonne), where they can access the UCF student-authored biographies of veterans.
Creator
Office of the Quartermaster General
Source
Digital reproduction of original passenger list: Records of the Office of the Quartermaster General, 1774-1985, Record Group Number 92, Roll or Box Number 578.
Publisher
Office of the Quartermaster General
Date Created
ca. 1918-09-12
Contributor
Wright, Riley
Is Part Of
Coverage
Army Transport Service, Passenger Department, Hoboken, New Jersey
Provenance
Originally created and published by the Office of the Quartermaster General.
Rights Holder
This resource is not subject to copyright in the United States and there are no copyright restrictions on reproduction, derivative works, distribution, performance, or display of the work. Anyone may, without restriction under U.S. copyright laws:
• reproduce the work in print or digital form
• create derivative works
• perform the work publicly
• display the work
• distribute copies or digitally transfer the work to the public by sale or other transfer of ownership, or by rental, lease, or lending.
This resource is provided here by
RICHES
for educational purposes only. For more information on copyright, please refer to
Section 5
of
Copyright Law of the United States of America and Related Laws Contained in Title 17 of the United States Code
.
Digital Collection
Source Repository
External Reference
Collection
Citation
Office of the Quartermaster General. "Passenger List of Organizations and Casuals." RICHES of Central Florida accessed October 2, 2023, https://richesmi.cah.ucf.edu/omeka/items/show/10382.
Categories
Transcribe This Item