Letter from Myrtle Colson to John M. May (March 28, 1956)
Files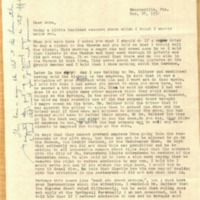 Dublin Core
Title
Letter from Myrtle Colson to John M. May (March 28, 1956)
Alternative Title
Letter from Colson to May (March 28, 1956)
Subject
Weeki Wachee Springs (Fla.)
Tourism--Florida
Springs--Florida
Parks--Florida
Entomology
Description
A letter from Myrtle Colson, manager of the May Museum of the Tropics, to the owner of the museum, John M. May, dated March 28, 1956. Myrtle writes that earlier in the day, she allowed an African-American couple to enter the museum, as he had instructed employees to do. Later in the day, after news spread to Joe Seltzer, manager of Weeki Wachee Springs, he reprimanded her and instructed her not to let any other African-Americans in the museum. He also told her to put up a sign that read, "We reserve the right to refuse admission to anyone". Myrtle writes that she tried to defend her decision, citing a Supreme Court decision, to which Seltzer replied that the decision did not apply to the Springs.

The May Natural History Museum of the Tropics is a non-profit organization that displays the world's largest private insect collection. James May acquired the thousands of insects and arthropods that make up the collection from the late 1800s until his death in 1956. John May continued his father's legacy, building a museum in Weeki Wachee, Florida, that lasted from 1954-1964, and a museum in Colorado that opened in the 1950s and is still open today. John May also took parts of the collection across the United States and Canada to display at fairs and exhibitions.

Along with a group of investors, Newton Perry opened Weeki Wachee Springs to the public in October of 1947. At the time, roadside attractions were becoming popular stops along Florida roadways. The attraction consisted of an amalgamation of vendors, an orchid garden, a river boat tour, as well as the star attraction: a mermaid show that took place in an underwater theater. Eventually, the May Museum of the Tropics, an "abandoned Seminole village", a show called "Birds of Prey", and a petting zoo were added. After peaking in the 1950s and 1960s, attendance began to decline as theme parks and highways changed the dynamics of Florida's tourism. The State of Florida took over the attraction as a state park in 2008. Since then, the park has focused on appealing to a modern audience while preserving its history.
Source
Original 2-page typewritten letter from Myrtle Colson to John M. May, March 28, 1956:
May Natural History Museum
Colorado Springs, Colorado.
Publisher
Has Format
Digital reproduction of original 2-page typewritten letter from Myrtle Colson to John M. May, March 28, 1956.
Requires
Medium
2-page typewritten letter
Coverage
May Museum of the Tropics, Weeki Wachee Springs State Park, Weeki Wachee, Florida
Provenance
Originally created by Myrtle Colson and published by
RICHES
.
Contributing Project
Rebecca Schwandt's Thesis Project
Curator
Schwandt, Rebecca
Digital Collection
Source Repository
External Reference
Mermaid Tails: Florida's Tourist Springs. Mechanicsburg, PA: Stackpole Books, 2006.
Collection
Citation
Colson, Myrtle. "Letter from Myrtle Colson to John M. May (March 28, 1956)." RICHES of Central Florida accessed September 22, 2023, https://richesmi.cah.ucf.edu/omeka/items/show/10497.
Categories
Transcribe This Item