List of Persons who Failed to Submit Questionnaires
Files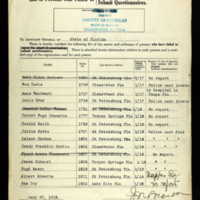 Dublin Core
Title
List of Persons who Failed to Submit Questionnaires
Alternative Title
Form 1013 - P.M.G.O.
Subject
World War, 1914-1918
Veterans--Florida
Description
A list of persons in Clearwater, Florida, who failed to submit questionnaires regarding conscription to the Adjutant General of Florida. The document is dated January 30, 1918. Local draft boards sent out a sixteen-page questionnaire, which asked questions about virtually every aspect of registrants' lives, their economic dependents and their claims for an exemption or deferred classification. Registrants had seven days to return the form. The Form 1013 lists the names of men within the jurisdiction of local draft boards who failed to return their questionnaires or report for examination. Classified as delinquents, the draft boards would report their names to the police who would seek to check their status. The penalty for failing to submit a questionnaire resulted in a registrant waiving their claims for deferred classification and automatically being classified in Class I.
A notable person listed is Ben Davis (1895-1947). Born in Charleston, South Carolina, Davis moved to Clearwater, Florida, where he worked as a laborer for H.K. Cheney. On August 1, 1918, the United States Army inducted Davis into military service. Davis trained and served at Camp Devens, Massachusetts, for the entirety of his time in the military. Initially with the 151st Depot Brigade, he joined the 443rd Reserve Labor Battalion on November 1, 1918. On May 30, 1919, Davis received an honorable discharge from the Army, holding the rank of Private First Class. After the war, Davis returned to Clearwater, where he continued to work as a laborer. On October 20, 1944, Davis married Annie R. Leach, a native of Gainesville, Florida. Davis died on December 28, 1947, and is buried in the Bay Pines National Cemetery in Saint Petersburg, Florida in Section 6, Row 3, Site 16.
In 2017, the University of Central Florida was one of three universities selected to launch the National Cemetery Administration's Veterans Legacy Program Project. The program engaged a team of scholars to make the life stories of veterans buried in the Florida National Cemetery available to the public. The project engages UCF students in research and writing and fosters collaboration between students, faculty and local Central Florida schools to produce interactive curriculum for K-12 students. The corresponding website exhibit uses RICHES Mosaic Interface to create a digital archive of related data. The public can use the project-developed augmented-reality app at more than 100 gravesites at the Florida National Cemetery, where they can access the UCF student-authored biographies of veterans.
Creator
Adjutant General's Office, Florida
Source
Digital reproduction of original typewritten list. January 30, 1918.
Publisher
Adjutant General's Office, Florida
Is Part Of
Medium
1 typewritten list
Coverage
Clearwater, Florida
Provenance
Originally created and published by the Adjutant General's Office, Florida.
Rights Holder
This resource is not subject to copyright in the United States and there are no copyright restrictions on reproduction, derivative works, distribution, performance, or display of the work. Anyone may, without restriction under U.S. copyright laws:
• reproduce the work in print or digital form
• create derivative works
• perform the work publicly
• display the work
• distribute copies or digitally transfer the work to the public by sale or other transfer of ownership, or by rental, lease, or lending.
This resource is provided here by
RICHES
for educational purposes only. For more information on copyright, please refer to
Section 5
of
Copyright Law of the United States of America and Related Laws Contained in Title 17 of the United States Code
.
Digital Collection
Source Repository
Collection
Citation
Adjutant General's Office, Florida. "List of Persons who Failed to Submit Questionnaires." RICHES of Central Florida accessed December 6, 2023, https://richesmi.cah.ucf.edu/omeka/items/show/10674.
Categories
Transcribe This Item