City Donates 20-Acre Tract for Market
Dublin Core
Title
City Donates 20-Acre Tract for Market
Alternative Title
City Donates 20-Acre Tract for Market
Subject
Sanford (Fla.)
Buildings--Florida
Farmers' markets--Florida
Federal Emergency Relief Administration (U.S.)
Construction
Description
Newspaper article in the
Sanford Herald
on the City of Sanford's donation of land to the State Marketing Board to construct the Sanford State Farmers' Market in 1934. The tract of land was in a desirable location due to its proximity to both east and west farms, as well as its location near French Avenue.
The Sanford State Farmers' Market, at 1300 South French Avenue, was founded in 1934 in order to provide a central location in which farmers would sell their produce directly to consumers. The idea for the Sanford State Farmers' Market was devised by Fred Dorner and Gus Schmach, both members of the Seminole Agricultural Club. Sanford Chamber of Commerce president Harry Papworth also contributed to the development of the market. The Federal Emergency Relief Administration (FERA) authorized construction plans on June 11, 1934. On June 20, 1934, the City of Sanford donated a portion of the Alex V. French properties to the State Marketing Board, which selected the northwest corner of French Avenue and Thirteenth Street. The board approved the installation of telegraph and telephone equipment, as well as a three-pump filling station. The Sanford State Farmer's Market opened on December 18, 1934. By 1939, the Farmers' Market was bringing a total volume of business of $627,065.81. In 1941, business volume reached over $700,000. On April 4, 1957, a fire destroyed the building and caused damages estimated at $2.5 million. Reconstruction began almost immediately and the Farmers' Market was expected to re-open by the fall of 1957. In 1991, plans were created to restore, preserve, and convert the citrus packing house into a museum.
Publisher
Date Created
ca. 1934-06-20
Date Copyrighted
1934-06-20
Has Format
Original newspaper article: "City Donates 20-Acre Tract for Market." 
The Sanford Herald
, June 20, 1934.
Is Format Of
Digital reproduction of photocopied newspaper article: "City Donates 20-Acre Tract for Market." 
The Sanford Herald
, June 20, 1934.
Medium
1 newspaper article
Coverage
Sanford State Farmers' Market, Sanford, Florida
Spatial Coverage
28.800733, -81.273112
Temporal Coverage
1934-06-20/1934-12-18
Mediator
History Teacher
Civics/Government Teacher
Economics Teacher
Geography Teacher
Contributing Project
Digital Collection
Source Repository
Transcript
CITY DONATES 20-ACRE TRACT FOR MARKET
Part of Alex French Property At 13th Street Deeded To Market Board
________________________________________
The northwestern corner of Alex. V. French properties at Thirteenth Street and French Avenue, comprising 20 acres, was offered to the State Marketing Board this afternoon by the City of Sanford as a site for the proposed $75,000 Florida State Farmers; Wholesale Distributing Market.
Decisions to donate this property was unanimous, and it came at the end of a conference between the City Commissioners, a delegation from the Seminole Agriculture Club, Attorneys Fred R. Wilson and E. F. Housholder, and Karl Lehmann of the Chamber of Commerce, who was invited by the Commissioners to participate in the discussion.
Under terms of the recently announced decision of FERA officials to release $75,000 for the construction of this plant, in Sanford it was necessary that the city or county donate the land upon which it would be constructed.
Twelve sites were surveyed by the Agriculture Club committee, and the French property was considered as one of the most satisfactory.
Despite the fact that the city secured title to the French property as well as the result of foreclosure action, both City Attorney Wilson and County Attorney Housholder agreed that the State Marketing Board would be handed a clear title to the property, [?].
The 20-acre tract is considered as most advantageously located. It borders French Avenue, a main artery of traffic between Sanford and Orlando. It also borders 13th Street which is closely connected with short-cut roads leading from both the east side and west side growing areas. It is immediately adjacent to an Atlantic Coast Line railroad branch line track, an an announcement was made that a spur could be run directly on the property without much additional expense.
Document Item Type Metadata
Original Format
1 newspaper article
Files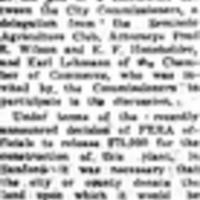 Collection
Citation
"City Donates 20-Acre Tract for Market." RICHES of Central Florida accessed December 6, 2022, https://richesmi.cah.ucf.edu/omeka/items/show/1147.
Categories
Transcribe This Item