Farmers' Market Bids Open Today
Dublin Core
Title
Farmers' Market Bids Open Today
Alternative Title
Farmers' Market Bids Open Today
Subject
Sanford (Fla.)
Farmers' markets--Florida
Federal Emergency Relief Administration (U.S.)
Construction
Competitive bidding
Description
Newspaper article on three construction companies' contract bids to rebuild the Sanford State Farmers' Market after it was destroyed by fire in 1957. Bids ranged from approximately $209,000 to $214,000.

The Sanford State Farmers' Market, at 1300 South French Avenue, was founded in 1934 in order to provide a central location in which farmers would sell their produce directly to consumers. The idea for the Sanford State Farmers' Market was devised by Fred Dorner and Gus Schmach, both members of the Seminole Agricultural Club. Sanford Chamber of Commerce president Harry Papworth also contributed to the development of the market. The Federal Emergency Relief Administration (FERA) authorized construction plans on June 11, 1934. On June 20, 1934, the City of Sanford donated a portion of the Alex V. French properties to the State Marketing Board, which selected the northwest corner of French Avenue and Thirteenth Street. The board approved the installation of telegraph and telephone equipment, as well as a three-pump filling station. The Sanford State Farmer's Market opened on December 18, 1934. By 1939, the Farmers' Market was bringing a total volume of business of $627,065.81. In 1941, business volume reached over $700,000. On April 4, 1957, a fire destroyed the building and caused damages estimated at $2.5 million. Reconstruction began almost immediately and the Farmers' Market was expected to re-open by the fall of 1957. In 1991, plans were created to restore, preserve, and convert the citrus packing house into a museum.
Date Created
ca. 1957-06-07
Date Copyrighted
ca. 1957-06-07
Date Issued
ca. 1957-06-07
Has Format
Original newspaper article: "Farmers' Market Bids Open Today."
Is Format Of
Digital reproduction of microfilm copy of newspaper article: "Farmers' Market Bids Open Today."
Medium
1 newspaper article
Coverage
Sanford State Farmers' Market, Sanford, Florida
Spatial Coverage
28.800733, -81.273112
Temporal Coverage
1957-06-07/1957-12-31
Mediator
History Teacher
Economics Teacher
Contributing Project
Digital Collection
Source Repository
External Reference Title
<a href="http://www.hmdb.org/Marker.asp?Marker=52232" target="_blank">&nbsp;</a>
Transcript
Farmers' Market Bids Open Today
WINTER HAVEN--Bids from three construction firms were opened today for building a new farmers' market at Sanford to replace the structure which burned down earlier this year.
L. H. Lewis, director of sate farmers' markets, said at headquarters here that the bids were so close they will have to be examined carefully before it is determined which will be accepted.
The bids came from the Arnold Construction Co. of Fort Pierce, Gregg, Gibson and Gregg of Leesburg, and the Mann Construction Co. of Orlando. They ranged from a low of $209,887 from the Leesburg firm to a high of $213,973 from Mann.
The bids were for construction of a steel and concrete type building 80 by 480 feet. There were also alternate bids for a "triple-A" type building.
Lewis named an "examination and interview" committee to study the bids and talk with officials of the three firms. The committee will be composed of himself, Tom C. Skinner, executive[?] agricultural engineer at he University of Florida, and Frank G. George, consulting architect for the project.
Document Item Type Metadata
Original Format
1 newspaper article
Files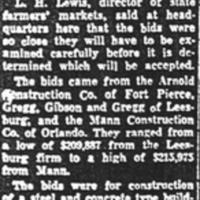 Collection
Citation
"Farmers' Market Bids Open Today." RICHES of Central Florida accessed November 28, 2022, https://richesmi.cah.ucf.edu/omeka/items/show/1153.
Categories
Transcribe This Item