Farmers' Market Aide Retires
Dublin Core
Title
Farmers' Market Aide Retires
Alternative Title
Farmers' Market Aide Retires
Subject
Sanford (Fla.)
Buildings--Florida
Farmers' markets--Florida
Description
Newspaper article in the
The Sanford Herald
on the retirement of Edith Dutton in 1968, secretary to the manager of the Sanford State Farmers' Market, after 28 years of service.
The Sanford State Farmers' Market, at 1300 South French Avenue, was founded in 1934 in order to provide a central location in which farmers would sell their produce directly to consumers. The idea for the Sanford State Farmers' Market was devised by Fred Dorner and Gus Schmach, both members of the Seminole Agricultural Club. Sanford Chamber of Commerce president Harry Papworth also contributed to the development of the market. The Federal Emergency Relief Administration (FERA) authorized construction plans on June 11, 1934. On June 20, 1934, the City of Sanford donated a portion of the Alex V. French properties to the State Marketing Board, which selected the northwest corner of French Avenue and Thirteenth Street. The board approved the installation of telegraph and telephone equipment, as well as a three-pump filling station. The Sanford State Farmer's Market opened on December 18, 1934. By 1939, the Farmers' Market was bringing a total volume of business of $627,065.81. In 1941, business volume reached over $700,000. On April 4, 1957, a fire destroyed the building and caused damages estimated at $2.5 million. Reconstruction began almost immediately and the Farmers' Market was expected to re-open by the fall of 1957. In 1991, plans were created to restore, preserve, and convert the citrus packing house into a museum.
Publisher
Date Created
ca. 1968-09-04
Date Copyrighted
1968-09-04
Has Format
Original newspaper article: "Farmers' Market Aide Retires." 
The Sanford Herald
, September 4, 1968.
Is Format Of
Digital reproduction of microfilm copy of newspaper article: "Farmers' Market Aide Retires." 
The Sanford Herald
, September 4, 1968.
Medium
1 newspaper article
Coverage
Sanford State Farmers' Market, Sanford, Florida
Sanford, Florida
Spatial Coverage
28.800733, -81.273112
28.797421, -81.270006
Temporal Coverage
1943-01-01/1968-09-04
Mediator
History Teacher
Economics Teacher
Contributing Project
Digital Collection
Source Repository
Transcript
Farmers' Market Aide Retires

First rest and back to work in civic activities and "all the other things I've wanted to do and couldn't over the past many years" are on the agenda for Mrs. Edith M. Dutton, who is retiring after 28 years service as secretary to Leo Butner, manager of the Sanford Farmer's Market.
Mrs. Dutton was recognized for services to agriculture and awarded her 25 year pin three years ago this coming December at the annual statewide conference.
Residing at 213 West 16th Street, she has two daughters, Mrs. Laurelle Inge of Miami and Mrs. June Wilkins of Sanford and three grandchildren, Susan Inge of Miami and Billy and Cynthia Lynn Wilkins of Sanford. Both of Mrs. Dutton's daughters are graduates of Seminole High School and Mrs. Wilkins is a registered nurse and employed at Seminole Memorial Hospital.
Most memorable during Mrs. Dutton's service at the Farmers' Market is when the old building north of the present facility burned to the ground on Apr. 4, 1957. The new building was erected almost immediately and dedicated in October of the same year.
Only two commissioners of agriculture were in office during her long service, Nathan Mayo and the present one, Doyle Connor.
Mrs. Dutton plans in 1970 "Be the Lord willing" to go to Kansas and attend the 50th year alumni celebration at Seneca High School.

EDIT DUTTON
Document Item Type Metadata
Original Format
1 newspaper article
Files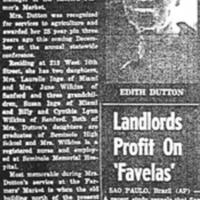 Collection
Citation
"Farmers' Market Aide Retires." RICHES of Central Florida accessed January 28, 2023, https://richesmi.cah.ucf.edu/omeka/items/show/1152.
Categories
Transcribe This Item