Farmers' Market Officially Opens for Transactions: Growers Invited To Use Building Free Until About Jan. 15
Files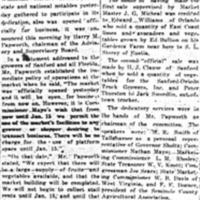 Dublin Core
Title
Farmers' Market Officially Opens for Transactions: Growers Invited To Use Building Free Until About Jan. 15
Alternative Title
Farmers' Market Officially Opens for Transactions
Subject
Sanford (Fla.)
Farmers' markets--Florida
Description
Newspaper article in the The Sanford Herald on the opening of the Sanford State Farmers' Market in 1934. Commissioner Mayo opened the building for free use by growers until January 15, 1935. The Sanford State Farmers' Market, located at 1300 South French Avenue, was founded in 1934 in order to provide a central location in which farmers would sell their produce directly to consumers. The idea for the Sanford State Farmers' Market was devised by Fred Dorner and Gus Schmach, both members of the Seminole Agricultural Club. Sanford Chamber of Commerce president Harry Papworth also contributed to the development of the market. The Federal Emergency Relief Administration (FERA) authorized construction plans on June 11, 1934. On June 20, 1934, the City of Sanford donated a portion of the Alex V. French properties to the State Marketing Board, which selected the northwest corner of French Avenue and Thirteenth Street. The board approved the installation of telegraph and telephone equipment, as well as a three-pump filling station. The Sanford State Farmer's Market opened on December 18, 1934. By 1939, the Farmers' Market was bringing a total volume of business of $627,065.81. In 1941, business volume reached over $700,000. On April 4, 1957, a fire destroyed the building and caused damages estimated at $2.5 million. Reconstruction began almost immediately and the Farmers' Market was expected to re-open by the fall of 1957. In 1991, plans were created to restore, preserve, and convert the citrus packing house into a museum.
Abstract
Growers Invited To Use Building Free Until About Jan. 15
Publisher
Date Created
ca. 1934-12-19
Date Copyrighted
1934-12-19
Has Format
Original newspaper article: "Farmers' Market Officially Opens for Transactions."
The Sanford Herald
, No. 44, December 19, 1934.
Is Format Of
Digital reproduction of microfilm copy of newspaper article "Farmers' Market Officially Opens for Transactions." 
The Sanford Herald
, No. 44, December 19, 1934.
Medium
1 newspaper article
Coverage
Sanford State Farmers' Market, Sanford, Florida
Spatial Coverage
28.800733, -81.273112
Temporal Coverage
1934-12-18/1935-01-15
Mediator
History Teacher
Economics Teacher
Contributing Project
Digital Collection
Source Repository
Transcript
Farmers' Market Officially Opens For Transactions
Growers Invited To Use Building Free Until About Jan. 15
__________________________________________
The new $30,000 State Farmers' Wholesale Market around which state and national notables yesterday gathered to participate in its dedication, also was opened officially for business, it was announced this morning by Harry M. Papworth, chairman of the Advisory and Supervisory Board.
In a statement addressed to the growers of Sanford and all of Florida, Mr. Papworth established the immediate policy of operations at the market when he said, "The market was officially opened yesterday and it will be open for business from now on. However, it is Commissioner Mayo's wish that from now until Jan. 15 we permit the use of the market's facilities to any grower or shipper wishing[?] to transact business. There will be no charge for the use of the platform space until Jan. 15."
"On that date," Mr. Papworth stated, "We expect that there will be a large supply of fruits and vegetables available, and that the market building will be completed. We will not begin to collect stall rents until Jan. 15, and until that date the growers and shippers of this section are invited to use platform space which is available."
Market Master J. G. Michael will be on the grounds every day, Mr. Papworth stated, to assist growers and shippers and to disseminate information relating to every phase of the planet and its operation.
A telephone already has been installed, and Western Union workmen will announce that the branch office, located in the main building will be ready for use in a few days,
Despite the cloudy rainy weather of today the new plant continues to attract local and out-of-town persons, just as it did yesterday. It is estimated that fully 2500 persons were on the grounds during the dedicatory services yesterday, and that at least another 1000 paid a visit to the plant during the morning and late afternoon.
The honor of having made the first sale supervised by Market Master J. G. Michael was credited to Edward Williams of Orlando who sold a quantity of East Coast limes avocadoes and vegetables grown by Ed Bullion on his Gardenia Farm near here to S. L. Storey of Eustis.
The second "official" sale was made by H. J. Clause of Sanford when he sold a quantity of vegetables for the Sanford-Oviedo Truck Gorwers, Inc. and Peter Thurston to Jack Swordlin, out of town trucker.
The dedicatory services were in the hands of Mr. Papworth as chairman of the committee. The speakers were: W. R. Smith of Tallahassee as a personal representative of Governor Sholtz; Commissioner Nathan Mayo; Marketing Commissioner L. M. Rhodes; State Treasurer W. V. Knott; Congressman Joe Sears; State Marketing Commissioner W. B. Davis of WEst Virgina, and F. F. Dorner, president of the Seminole County Agricultural Association.
American Legion Auxiliary annual New Year's Eve Ball. MAyfair Hotel.
Document Item Type Metadata
Original Format
1 newspaper article
Collection
Citation
"Farmers' Market Officially Opens for Transactions: Growers Invited To Use Building Free Until About Jan. 15." RICHES of Central Florida accessed September 30, 2023, https://richesmi.cah.ucf.edu/omeka/items/show/1155.
Categories
Transcribe This Item