Florida's Turnpike Map, 1964
Dublin Core
Title
Florida's Turnpike Map, 1964
Alternative Title
Florida Turnpike Map
Subject
Roads--Florida--Maps
Toll roads--Florida
Description
Road map showing the Florida Turnpike, its toll plazas, exits and service stations. The brochure was produced in 1964. Construction for the Florida Turnpike began on July 4, 1955 in response to unprecedented growth in population and tourism in Florida. Thomas B. Manuel, chairman of the Florida State Turnpike Authority and the "Father of the Turnpike," led planning and construction. The highway opened on January 25, 1957.
Publisher
Date Copyrighted
ca. 1964
Requires
Coverage
Tallahassee, Florida
Lake City, Florida
Jacksonville, Florida
Ocala, Florida
Daytona Beach, Florida
Wildwood, Florida
Orlando, Florida
Tampa, Florida
St. Petersburg, Florida
Fort Pierce, Florida
Fort Lauderdale, Florida
Miami, Florida
Key West, Florida
Spatial Coverage
30.43861, -84.281044
30.189947, -82.63936
30.334954, -81.654739
29.188135, -82.140026
29.210912, -81.022911
28.865121, -82.039146
28.538687, -81.378593
27.951345, -82.458
27.772266, -82.639961
27.446744, -80.325909
26.122151, -80.137768
25.791236, -80.205746
24.555555, -81.780009
Temporal Coverage
1964-01-01/1964-12-31
Mediator
History Teacher
Economics Teacher
Geography Teacher
Digital Collection
Source Repository
Private Collection of Thomas Cook
Transcript
FLORIDA TURNPIKE
FAST-SAFE
TURNPIKE SUNSHINE STATE PKWY

FLORIDA STATE TURNPIKE AUTHORITY

Farris Bryant Governor
John R. Phillips Chairman
Hugh R. Dowling Vice Chairman
James T. McNeill Secy. Treasurer
John H. Monahan Member
Herbet L. Butler Member

THE SUNSHINE STATE PARKWAY is the third largest TURNPIKE in the U.S.

REMEMBER TO FASTEN YOUR SEAT BELTS!

Don not bend, mutilate or lose toll ticket.

The seven restaurant facilities on the Parkway are operated by the HOT SHOPPES, INC. Map shows which GASOLINE BRANDS are available at each service area.

U-TURNS on the parkway are prohibited. If you have gone past your exit, continue to the next exit or to service area. A restaurant or service station attendant will handle a U-Turn at service area. Illegal U-Turns on parkway can be deadly. The Highway Patrol issues summons for illegal U-Turns.

TIME SAVED is TIME EARNED
The Parkway offers motorists a time savings plus increased motoring safety and convenience. The MIAMI-BOUND motorist:

FROM
Jacksonville saves 25* miles, 123 minutes
Lake City saves 5 miles, 76 minutes
Orlando saves 6 miles, 50 minutes
Tampa saves 8* miles, 30 minutes
*Denotes mileage loss.

DAY AND NIGHT SPEED LIMITS
Maximum 70 MPH
Minimum 40 MPH
(Conditions permitting)

HITCHHIKING is expressly forbidden. PICKING UP HITCHHIKERS can be fatal. If stranded, wait in car for assistance. Do not attempt to hitch rides or flag parkway traffic for assistance.

THE AUTHORITY OFFERS CONVENIENT CHARGE ACCOUNTS TO COMMUTERS AND COMMERCIAL AGENCIES.

FOR FURTHER INFORMATION
Call or write
P.O. Box 8008, Ft. Lauderdale, Florida 33310
Phone: LU 3-3111

Policy T.M. Ervin
Charge Accounts R.F. Langford
Concessions J.L. Sullivan
Patrol & Safety W.R. Kaufman
Public Relations F.P. Bayle
Purchasing O.W, Marsh
Tolls & Collectors C.E. Barner, Jr.
Traffic Development J.L. Sullivan

THE AUTHORITY WELCOMES--AND ACTS UPON--ALL COMPLAINTS.

IN CASE OF EMERGENCY
FIRST: Get off pavement and on shoulder, not the median strip.
SECOND: Raise hood or trunk lid or tie white cloth to aerial. Do no flag traffic. These distress signals alert Turnpike personnel and fellow motorists of your trouble and ask them to report need for assistance, A radio-dispatched vehicle will be en route within minutes. Help your fellow motorists by reporting distressed patrons . . . . Tell toll collector, service station attendant or a Highway Patrolman. YOU MAY MAKE YOUR OWN REPAIRS, BUT BE CERTAIN YOU AND YOUR VEHICLE ARE CLEAR OF THE PAVEMENT.

DIMMED LIGHTS when approaching toll plaza help the collector serve you better.

Have exact fare ready for collector when possible. Fares are shown on the toll ticket. Passenger cars are Class One. An additional charge is made for utility and boat trailers (Class Six).

TOTAL PARKWAY LENGTH IS 265 MILES.
TOTAL PASSENGER CAR TOLL IS $4.80.
Still Image Item Type Metadata
Original Format
1 color map
Files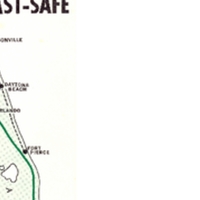 Collection
Citation
"Florida's Turnpike Map, 1964." RICHES of Central Florida accessed June 5, 2023, https://richesmi.cah.ucf.edu/omeka/items/show/1383.
Categories
Transcribe This Item