Florida's Turnpike and Interstate System Map, 1967
Dublin Core
Title
Florida's Turnpike and Interstate System Map, 1967
Alternative Title
Florida Turnpike Map
Subject
Roads--Florida--Maps
Toll roads--Florida
Description
Road map showing the Florida Turnpike, it's toll plazas, exits and service stations. The brochure was produced in 1967. Construction for the Florida Turnpike began on July 4, 1955 in response to unprecedented growth in population and tourism in Florida. Thomas B. Manuel, chairman of the Florida State Turnpike Authority and the "Father of the Turnpike," led planning and construction. The highway opened on January 25, 1957.
Publisher
Requires
Coverage
Birmingham, Alabama
Macon, Georgia
Savannah, Georgia
Valdosta, Georgia
Brunswick, Georgia
Pensacola, Florida
Tallahassee, Florida
Lake City, Florida
Jacksonville, Florida
Gainesville, Florida
Ocala, Florida
Wildwood, Florida
Daytona Beach, Florida
Orlando, Florida
Tampa, Florida
St. Petersburg, Florida
Yeehaw Junction, Florida
Fort Pierce, Florida
West Palm Beach, Florida
Fort Lauderdale, Florida
Miami, Florida
Key West, Florida
Spatial Coverage
33.520789, -86.826553
32.844404, -83.643093
32.150618, -81.239891
30.816757, -83.315907
31.146859, -81.477213
30.50223, -87.19305
30.490101, -84.282417
30.179857, -82.688627
30.339695, -81.671219
29.603014, -82.374172
29.185437, -82.185001
28.836854, -82.046013
29.191732, -81.094322
28.540497, -81.382027
27.956198, -82.458687
27.774696, -82.659874
27.700324, -80.904272
27.416576, -80.38805
26.710654, -80.080833
26.124925, -80.169353
25.790927, -80.206089
24.555399, -81.780009
Temporal Coverage
1967-01-01/1967-12-31
Mediator
History Teacher
Economics Teacher
Geography Teacher
Digital Collection
Source Repository
Private Collection of Thomas Cook
Transcript
FLORIDA'S TURNPIKE
AND INTERSTATE SYSTEM

FAST ... SAFE
RESTAURANTS--SERVICE STATIONS--CITRUS SHOPS

Welcome to Florida...

Your trip through Florida's magnificent countryside is an experience never to be forgotten. Florida's many scenic wonders make it one of the beauty spots of America.
During your stay with us, drive carefully and make use of the splendid facilities provided by Florida's Turnpike. We hope that your stay will be pleasant and that you will be back to Florida very soon.

CLAUDE R. KIRK, JR.
Governor
Still Image Item Type Metadata
Original Format
1 color map
Files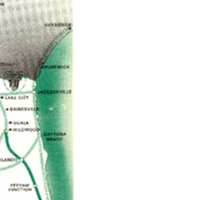 Collection
Citation
"Florida's Turnpike and Interstate System Map, 1967." RICHES of Central Florida accessed March 24, 2023, https://richesmi.cah.ucf.edu/omeka/items/show/1382.
Categories
Transcribe This Item