Another Cigar Factory: Sanford is the Location for Making Clear Havanas
Dublin Core
Title
Another Cigar Factory: Sanford is the Location for Making Clear Havanas
Alternative Title
Another Cigar Factory
Subject
Sanford (Fla.)
Cigar industry--Florida
Cigar bands and labels--United States
Berriman & Co.
Factories--Florida
Cigars
Tampa (Fla.)
Description
Newspaper article on the arrival of a new Berriman Brothers cigar factory in Sanford, Florida, in 1910. The article reports that the third floor of the Sanford City Hall was modeled for a Berriman Bros. cigar factory, but was declared inadequate by the brothers. Instead, the Berriman Brothers planned to occupy the second floor of the Stone-Gove block. Their former room in city hall was planned to be used by Menendez Brothers & Verplank, according to the article. The Berriman Brothers operated a large, cigar manufacturer headquartered in Tampa, Florida. The brothers sold their firm to Wengle and Mandell in 1930 and the company transformed its production to undercoating products in 1950.

The cigar industry was first brought to Florida by Cuban immigrants in the 1830s and became one of the most important industries in the Southeast by the last quarter of the 19th century, with Tampa serving as the cigar manufacturing center in the state. In the late 1800s, cigar factories began to appear in various other Florida cities, such as Jacksonville and Tallahassee. Cigar manufacturing first appeared in Sanford sometime between 1909 and 1912. The Florida cigar industry came to its peak in the first quarter of the 20th century, but then declined during the Great Depression and World War II, due to the accumulation of labor union conflicts over the years, the mechanization of production, and changing consumer demands. The industry was revitalized during the 1950s as production soared, despite the decline of the number of workers. Following the Cuban Revolution of the late 1950s and the U.S. embargo on Cuban products in 1962, the Florida cigar industry again declined. The Cuban embargo included tobacco, thus forcing American cigar rollers to begin using Dominican tobacco.
Date Created
ca. 1910-10-07
Date Copyrighted
1910-10-07
Is Format Of
Digital reproduction of photocopied newspaper article: "Another Cigar Factory."
The Sanford Herald
, October 7, 1910.
Medium
1 newspaper article
Coverage
Berriman Brothers Cigar Factory, Downtown Sanford, Florida
Sanford City Hall, Downtown Sanford, Florida
Tampa, Florida
Mediator
History Teacher
Economics Teacher
Geography Teacher
Digital Collection
Source Repository
External Reference
Transcript
ANOTHER CIGAR FACTORY

Sanford Is The Location For Making Clear Havanas
Another factory comes to Sanford this week not because any great inducements were [?]
Document Item Type Metadata
Original Format
1 newspaper article
Files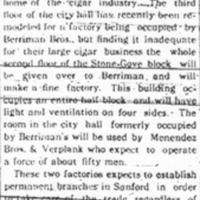 Collection
Citation
"Another Cigar Factory: Sanford is the Location for Making Clear Havanas." RICHES of Central Florida accessed August 12, 2022, https://richesmi.cah.ucf.edu/omeka/items/show/1962.
Categories
Transcribe This Item