Newspaper Articles on the Berriman Brothers Cigar Factory in Sanford
Files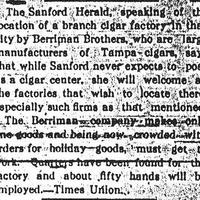 Dublin Core
Title
Newspaper Articles on the Berriman Brothers Cigar Factory in Sanford
Alternative Title
Berriman Brothers Cigar Factory
Subject
Sanford (Fla.)
Cigar industry--Florida
Cigar bands and labels--United States
Berriman & Co.
Factories--Florida
Tampa (Fla.)
Description
A newspaper article on the status and future of the cigar industry in Sanford, Florida. Published in The Florida Times-Union in 1910, the article states that Sanford does not expect to become a cigar center, but that the city will welcome all cigar factories that wish to locate there. The article also states that Berriman and Company was in need of approximately 50 employees for the holiday season. The Berriman Brothers operated a large, cigar manufacturer headquartered in Tampa. The brothers sold their firm to Wengle and Mandell in 1930 and the company transformed its production to undercoating products in 1950.

The cigar industry was first brought to Florida by Cuban immigrants in the 1830s and became one of the most important industries in the Southeast by the last quarter of the 19th century, with Tampa serving as the cigar manufacturing center in the state. In the late 1800s, cigar factories began to appear in various other Florida cities, such as Jacksonville and Tallahassee. Cigar manufacturing first appeared in Sanford sometime between 1909 and 1912. The Florida cigar industry came to its peak in the first quarter of the 20th century, but then declined during the Great Depression and World War II, due to the accumulation of labor union conflicts over the years, the mechanization of production, and changing consumer demands. The industry was revitalized during the 1950s as production soared, despite the decline of the number of workers. Following the Cuban Revolution of the late 1950s and the U.S. embargo on Cuban products in 1962, the Florida cigar industry again declined. The Cuban embargo included tobacco, thus forcing American cigar rollers to begin using Dominican tobacco.
Publisher
Date Created
ca. 1910-10-07
Date Copyrighted
1910-10-07
Medium
1 newspaper article
Coverage
Sanford, Florida
Mediator
History Teacher
Economics Teacher
Geography Teacher
Digital Collection
Source Repository
External Reference
Transcript
The Sanford Herald, speaking of the location of a branch cigar factory in that city by Berriman Brothers, who are large manufacturers of Tampa cigars, says that while Sanford never expects to pose as a cigar center, she will welcome all the factories that wish to locate there, especially such firms as that mentioned. The Berriman company makes only fine goods and being now crowed with orders for holiday goods, must get to work. Quarters[?] have been found for the factory and about fifty hands will be employed.--Times Union.
Document Item Type Metadata
Original Format
1 newspaper article
Collection
Citation
"Newspaper Articles on the Berriman Brothers Cigar Factory in Sanford." RICHES of Central Florida accessed September 23, 2023, https://richesmi.cah.ucf.edu/omeka/items/show/1963.
Categories
Transcribe This Item