Lyman High School Girls Basketball Team, 1975
Dublin Core
Title
Lyman High School Girls Basketball Team, 1975
Alternative Title
Lyman High Girls Basketball
Subject
Longwood (Fla.)
High schools--Florida
Schools
Students--Florida
High school students--Florida
Sports--Florida
High school sports
Basketball--United States
Basketball players--United States
Description
Lyman High School's Girls Basketball Team in 1975. Lyman High School is a Seminole County Public School located in Longwood, Florida. In 1923, a board of trustees agreed to construct a new school to accommodate the growing population in the Longwood and Altamonte Springs area. Construction began at 1725 County Road 427 in 1924 and opened in September 1924 with Professor Howard Douglas as its first principal. Lyman School, as it was originally called, was named after Howard Charles Lyman, a citizen who was active in planning the school's establishment, but died a few days before construction began. In just two years, Lyman became an accredited junior high school and its campus had been expanded with six rooms. With W. J. Wells as principal, the Lyman School achieved accreditation through 12th grade in 1929. In 1963, the school was renamed Lyman High School when it became an accredited institution with Carlton D. Henley as principal. In 1966, Lyman High became integrated with both white and black students.

A new campus was constructed at 865 South Ronald Reagan Boulevard in 1969 and the original campus became R. T. Milwee Junior High School. Milwee was named after Rayburn T. Milwee, Sr., who taught at Lyman from 1939 to 1949, served as principal from 1949 to 1952, and finally as Superintendent of Seminole County Schools from 1952 to 1967. In 1970, Seminole County transitioned from the junior high school system to the middle school system, causing Lyman High School to now accommodate ninth grader in addition to 10th, 11th, and 12th graders. During the transition period from 1970 to 1971, the school mandated "double sessions" in which half of the school would attend from 7:00 am to 1:30 pm and the other half would attend from 11:30 am to 6:00 pm.

In June of 1971, Milwee Middle school, where Lyman's original campus was, closed and reopened as a satellite campus for Lyman High School during the 1971-1972 school year. For the 1972-1973 academic year, all Lyman students returned to the primary campus and the satellite campus was used for Lake Brantley High School instead. In 2000, Lyman established the Institute for Engineering, a magnet program emphasizing mathematics and science.
Abstract
Lyman High School "Greyhound" yearbook Lyman Journey Toward Excellence 75 Years tribute pages photo of girls basketball team from 1975
Creator
Greyhound Class of 1999
Source
Original black and white photograph by Greyhound Staff of 1999.
Has Format
6 x 3 inch print reproduction of original black and white photograph by
Greyhound
Staff of 1999:
Greyhound
1999, (Longwood, FL: Lyman High School, 1999):
UCF Public History Center
.
Is Format Of
Digital reproduction of 6 x 3 inch print reproduction of original black and white photograph by Greyhound Staff of 1999.
Is Referenced By
Greyhound 1999.
Medium
6 x 3 inch black and white photograph

Coverage
Lyman High School, Longwood, Florida

Provenance
Originally published by Greyhound.
Contributing Project
Digital Collection
Source Repository
External Reference
Transcript
Girls' Basketball.
Girls' Basketball made its return in 1975. Front Row: Ruthie Rhodes, Cheryl Bouey, Hattie Johnson, Linda Macleod, Mary McDonough, Susan Blair, Rhonda Holcombe, Jacque Taylor. Back Row: Coach Lynne Stevens, Kay McHan, Robin Atkinson, Debbie Stevens, Marle Windeler, Connie Clark, Kathy Bevington, Coach Kathryn Roberts.
(Photo: 1975 Greyhound)

J.A. BISTLINE
Still Image Item Type Metadata
Original Format
1 black and white photograph

Physical Dimensions
6 x 3 inch
Files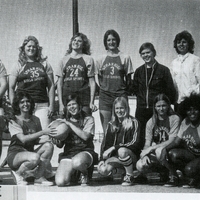 Collection
Citation
Greyhound Class of 1999. "Lyman High School Girls Basketball Team, 1975." RICHES of Central Florida accessed December 7, 2022, https://richesmi.cah.ucf.edu/omeka/items/show/2807.
Categories
Transcribe This Item