Hopper Academy, 2011
Files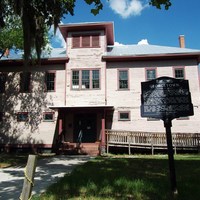 Dublin Core
Title
Hopper Academy, 2011
Alternative Title
Hopper Academy
Subject
Sanford (Fla.)
Georgetown (Sanford, Fla.)
African Americans--Florida--Sanford
Segregation--Florida
Buildings--Florida
Schools
Description
The Hopper Academy was the first African-American school in the Georgetown district of Sanford, Florida. Established in 1886, the school was originally named Colored School No. 11. A new building for the school was constructed at 1110 Pine Avenue in 1906. The school served the African-American community in the surrounding region. Although it was the first black school in Sanford, Hopper Academy only went up to grade 10.

While today it has fallen into disrepair, Hopper Academy remains a symbol of Georgetown, representing the enduring legacy of Sanford's African Americans raising themselves through education. Hopper Academy served as a black elementary school for grades 1 – 6 from 1926 to 1961. Professor Joseph Nathaniel Crooms was principal of Hopper from 1906 to 1926, thereafter becoming principal of Crooms High School in Goldsboro. Key individuals who studied at the school include Harlem Renaissance author Zora Neale Hurston and Sanford's midwife Marie Francis. In 1968, the Hopper Academy ceased to operate as a school.
Source
Original color digital image by Julio R. Firpo, April 26, 2011.
Medium
1 color digital image
Coverage
Hopper Academy, Georgetown, Sanford, Florida
Accrual Method
Item Creation
Mediator
History Teacher
Geography Teacher
Provenance
Originally created by Julio R. Firpo.
Rights Holder
Contributing Project
Digital Collection
Source Repository
External Reference
Transcript
SEMINOLE COUNTY HISTORIC MARKER

GEORGETOWN:

The community of Georgetown, a suburb east of Sanford Avenue, and north of Celery Avenue was established circa to the early black pioneers who had made their way from Virginia, the Carolinas, West Florida and as far away as the West Indies.
In 1885, the first Georgetown school was located at the northeast corner of Seventh and Cypress Avenue. It was founded with $100 from the school board. Mr. McLester was the first principal, followed by Mr. Reed and later by Mr. J.N. Croms, who founded Crooms Academy.
Some of the first Sanford businesses owned by black settlers were in Tuckertown, which would later become the business district of Georgetown. In 1887, there were twenty-eight registered voters. Between 1887 and 1923 Georgetown supported five
(Continued on other side)
Still Image Item Type Metadata
Original Format
1 color digital image
Collection
Citation
Firpo, Julio R.. "Hopper Academy, 2011." RICHES of Central Florida accessed December 5, 2023, https://richesmi.cah.ucf.edu/omeka/items/show/2950.
Categories
Transcribe This Item