Sanford Memorial Stadium Blueprint
Files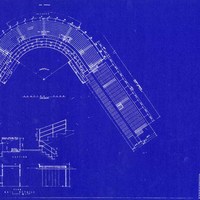 Dublin Core
Title
Sanford Memorial Stadium Blueprint
Alternative Title
Stadium Blueprint
Subject
Baseball--Florida
Baseball stadiums
Sanford (Fla.)
Ballparks
Description
Blueprint of Sanford Memorial Stadium created by local Sanford architect Elton J. Moughton. The Historic Sanford Memorial Stadium is located at 1201 South Mellonville Avenue in Sanford, Florida. The stadium was built on the original site of the Sanford Municipal Athletic Field, which was erected in 1926. Many Major League stars have played in the stadium including Babe Ruth, Jackie Robinson, Willie Mays, Tim Raines, and David Eckstein. Sanford Stadium is best known as the location where Jackie Robinson first took to the field in 1946 to play baseball as a member of a white Class AAA International League Team in Daytona Beach, Florida, which was partnered with the Montreal Royals. By the time Robinson took the field, however, the crowd ended up booing him off before he could play. The police chief had actually threatened to cancel the game if Robinson took the field. Sanford Stadium was also used as the Spring Training Facility of the Boston Braves in 1942 and the New York Giants in 1951. In 2001, the stadium was refurbished, costing $2 million. During the 2009, Sanford Stadium was the home of the Seminole County Naturals of the Florida Winter Baseball League, which suspended operations during the season due to lack of funding. As of 2013, the stadium served as the home of the Sanford Babe Ruth Baseball League and the Sanford River Rats of the Florida Collegiate Summer League. The ballpark features 415 box seats and 1,600 bleacher seats.

Sanford entered the world of pro ball in 1919 with the formation of the Class D Florida State League. In its inaugural season, the Celeryfeds won the first half pennant, finishing in a tie with Orlando for the best overall record. Although the league folded in 1928, it was revived in 1936, and once again included a team from Sanford called the Lookouts, which was part of the Senators family of clubs. This struggling team finally turned around when they acquired former Major League star, Dale Alexander, as manager and first baseman in 1939. In over 80 years of Florida State League history, no team has ever matched their .737 winning percentage that season. The next season, the Sanford Seminoles emerged as the city's baseball team.
Creator
Moughton, Elton J.
Source
Original blueprint created by Elton J. Moughton. Memorial Stadium. July 24, 1950:
Library and Archives
, Orange County Regional History Center, Orlando, Florida.
Is Format Of
Digital reproduction of original blueprint created by Elton J. Moughton. Memorial Stadium. July 24, 1950.
Coverage
Sanford, Florida
Spatial Coverage
28.802701, -81.25551
Temporal Coverage
1950-07-24/2001-12-31
Audience Education Level
SS.K.A.1.2; SS.K.A.2.5; SS.1.A.1.1; SS.2.A.1.1; SS.1.C.3.2; SS.2.C.3.2; SS.3.A.1.1; SS.3.A.1.2; SS.4.A.1.1; SS.5.A.1.1; SS.6.W.1.3; SS.8.A.1.5; SS.912.A.1.2; SS.912.W.1.3
Provenance
Originally created by Elton J. Moughton.
Digital Collection
Source Repository
External Reference
McCarthy, Kevin. Baseball in Florida. Sarasota, Florida: Pineapple Press, 1996.
Singletary, Wes. Florida's First Big League Baseball Players: A Narrative History. Charleston, South Carolina: History Press, 2006.
External Reference Title
Transcript
ELTON J. MOUGHTON A.I.A.
ARCHITECHT
SANFORD, FLORIDA
MEMORIAL STADIUM FOR SANFORD, FLORIDA
Still Image Item Type Metadata
Original Format
1 blueprint
Collection
Citation
Moughton, Elton J.. "Sanford Memorial Stadium Blueprint." RICHES of Central Florida accessed December 5, 2023, https://richesmi.cah.ucf.edu/omeka/items/show/438.
Categories
Transcribe This Item