Paddle Steamer 'City of Jacksonville' at the Dock
Files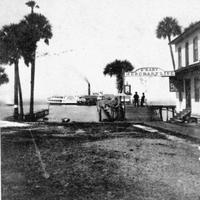 Dublin Core
Title
Paddle Steamer 'City of Jacksonville' at the Dock
Alternative Title
City of Jacksonville
Subject
Waterfront Districts
Lakes & ponds
Lake Monroe (Seminole County and Volusia County, Fla.)
Steamboat lines
Steamboats--Florida--St. Johns River--History
Paddle steamers
Water transportation
Sanford (Fla.)
St. Johns River (Fla.)
Clyde Steamship Company
Steamships
Steamboat Lines
Description
The DeBary Merchant Line dock and the City of Jacksonville steamboat in the 19th century. The dock was bought out by the Clyde Steamboat Company in 1889.

The Clyde Line was established by Thomas Clyde in 1844 and connected Philadelphia, Pennsylvania with other east coast ports. In 1872, the headquarters moved to New York and began connections with the Caribbean Islands. Charles W. Morse's Consolidated Steamship Lines purchased the company in 1907, only to collapse the following year. In 1911, the Atlantic, Gulf & West Indies Steamship Lines began operating Clyde Line, which continued to be used under that name until 1932 when the line was combined with the Mallory Line to form the Clyde-Mallory Line. The Clyde-Mallory Line operated until 1949 when it was sold to the Bull Line.

By the mid-1880s, Sanford, Florida had become a major distribution center due to the city's strategic location along Lake Monroe and the St. Johns River. Even before Florida obtained statehood, steamboats frequented the St. Johns River carrying U.S. Army soldiers to Fort Mellon, located on the shores of Lake Monroe, to defend the area against Native Americans during the Seminole Wars. Steamboats were used at the fort and during the Battle of Camp Monroe to relocate Seminoles, explore the St. Johns River, and to distribute military forces. During the second half of the 1830s, steamboats were used to tow barges from the river to Lake Monroe in order to stimulate trade. The first commercial steamboat was developed as the Brock Line in the early 1850s. As trade grew, various wharves and docks were built in locations such as Mellonville Avenue, Palmetto Avenue, Oak Street, and Sanford Avenue. The Debary-Baya Merchant Line began transporting passengers in 1883, which further developed the steamboat industry. The line was purchased by the Clyde Line in 1886 and remained open until 1933. The growth of railroads was the primary cause of the decline of the steamboat industry.
Publisher
Date Created
ca. 1850-1889
Is Format Of
Digital reproduction of original 3 x 5 inch black and white photonegative on Florida Memory Project: Print Collection, call number PR09768, Florida Photographic Collection, State Library and Archives of Florida.
http://floridamemory.com/items/show/8223
.
Is Part Of
Print Collection
, Florida Photographic Collection, State Library and Archives of Florida, Tallahassee, Florida.
Medium
3 x 5 inch black and white photonegative
Coverage
Sanford, Florida
Spatial Coverage
28.814197, -81.266041
Temporal Coverage
1850-01-01/1889-12-31
Audience Education Level
SS.K.A.1.2; SS.1.A.1.1; SS.2.A.1.1; SS.3.A.1.1; SS.3.A.1.2; SS.4.A.1.1; SS.4.A.6.1; SS.4.E.1.2; SS.5.A.1.1; SS.6.W.1.3; SS.8.A.1.2; SS.8.A.1.5; SS.8.A.4.5; SS.912.A.1.2; SS.912.A.1.4 SS.912.W.1.3
Digital Collection
Source Repository
External Reference
Sanford Historical Society (Fla.). Sanford. Charleston, SC: Arcadia, 2003.
De Berard, Ella Teague. Steamboats in the Hyacinths. Daytona Beach, Fla: College Pub. Co, 1956.
"Steamboats." Museum of Seminole County History, Seminole County, Florida Government. http://www.seminolecountyfl.gov/core/fileparse.php/3338/urlt/steamboats.pdf.
Bass, Bob. When Steamboats Reigned in Florida. Gainesville: University Press of Florida, 2008.
"Sanford: a Brief History." City of Sanford Florida. http://www.sanfordfl.gov/index.aspx?page=48.
External Reference Title
Transcript
DeBARY MERCHANT LINE
Still Image Item Type Metadata
Original Format
1 black and white photonegative
Physical Dimensions
3 x 5 inch
Collection
Citation
"Paddle Steamer 'City of Jacksonville' at the Dock." RICHES of Central Florida accessed September 25, 2023, https://richesmi.cah.ucf.edu/omeka/items/show/455.
Categories
Transcribe This Item