Sanford Avenue Streetscape Completion and Unveiling of Heritage Markers
Files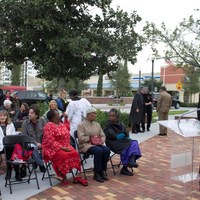 Dublin Core
Title
Sanford Avenue Streetscape Completion and Unveiling of Heritage Markers
Alternative Title
Sanford Ave. Streetscape and Heritage Markers
Subject
Sanford (Fla.)
Georgetown (Sanford, Fla.)
African Americans--Florida--Sanford
Streetscapes (Urban design)
Historical markers--Florida
Description
The ceremony commemorating the completion of the Sanford Avenue Streetscape and the unveiling of several heritage markers. The unveiling of the heritage markers was held in Paulucci Park, located at the southwest corner of First Street and Palmetto Avenue in Sanford, Florida, on November 20, 2014. Patricia Ann Black (1956- ), who can be seen wearing red in the photograph, was given special thanks for Heritage Marker # 3, which featured her father, Pilgrim Black (1905-2002). Jeff Triplett, the Mayor of Sanford, can be seen standing to the right of the podium. The ceremony was followed by a presentation of the Georgetown Pathways to History Project at the Historic Sanford Welcome Center, locate at 230 East First Street. Pathways to History is a program created by Christine Dalton, Historic Preservation Office for the City of Sanford. The programs consists of eight themed tours showcasing the history and development of Sanford. The event also included a guided tour of Sanford Avenue, which had been the subject of a $3 million streetscaping project, and a reception at the Welcome Center, hosted by the Sanford Community Redevelopment Agency. The Georgetown Pathways to History Project was developed by the Georgetown Heritage Advisory Committee with assistance from the Sanford Museum and Sanford Historical Society. Georgetown was established by the city's founder, Henry Shelton Sanford, as a suburb for African-American residents in the 1870s. The neighborhood spans along Sanford Avenue, with its commercial district between First Street and Fifth Street and its historic district between Seventh Street and Tenth Street. Though originally much smaller, Georgetown spanned to its present boundaries from East Second Street to Celery Avenue and from Sanford Avenue to Mellonville Avenue. Georgetown thrived at its height from circa 1880 to 1940, particularly in agriculture and transportation.
Creator
Lester, Connie L.
Source
Original color digital image by Connie L. Lester, November 20, 2014.
Medium
1 color digital image
Coverage
Palucci Park, Sanford, Florida
Georgetown, Sanford, Florida
Mediator
History Teacher
Geography Teacher
Provenance
Originally created by Connie L. Lester.
Rights Holder
Digital Collection
Source Repository
External Reference
Collection
Citation
Lester, Connie L.. "Sanford Avenue Streetscape Completion and Unveiling of Heritage Markers." RICHES of Central Florida accessed December 7, 2023, https://richesmi.cah.ucf.edu/omeka/items/show/4654.
Categories
Transcribe This Item