Hotel Forrest Lake, Sanford, Florida
Dublin Core
Title
Hotel Forrest Lake, Sanford, Florida
Alternative Title
Hotel Forrest Lake Postcard
Subject
Hotels--Florida
Resorts--Florida
Tourism--Florida
Postcards--Florida
Description
Postcard advertising Hotel Forrest Lake in 1926, including rates of American and European plans. Named after the Sanford Mayor and president of Seminole County Bank, the Forrest Lake Hotel has also been known as the Mayfair Inn and was briefly occupied by the Sanford Naval Academy. In 1916, construction of the building began. Local architect Elton J. Moughton designed the hotel. In 1925, Hotel Forrest Lake opened and became a popular destination for tourists visiting Sanford. By 1929, the hotel closed after the stock market crash and the downfall of Florida's tourism and real estate boom. William E. Kirchhoff leased the building in 1934 and the hotel reopened in 1935 with the new name Mayfair Hotel. Under Kirchhoff's ownership, the Mayfair Hotel became known as one of the finest hotels in the South. Kirchhoff sold the hotel in 1948 to Horace Stoneham, owner of the New York Giants. Stoneham then sold the building to the Bernard McFadden Foundation who later sold it to the New Tribes Mission. The New Tribes Mission's goal is to reach tribes who have no access to the Gospel through translated publications and missionary work.
Abstract
A greeting card for the Hotel Forrest Lake, "catering especially to tourists and commercial travelers."
Source
Original 14 x 9 centimeter postcard: "Hotel Forrest Lake, Sanford, Florida," Hampton Dunn Postcards Collection,
Special Collections
, University of South Florida, Tampa, Florida.
Is Format Of
Digital reproduction of original postcard in the Digital Collections at the University of South Florida, Tampa Library. Digital ID number D32-2452, Hampton Dunn Postcards Collection, Special Collections, University of South Florida.
http://digital.lib.usf.edu/?d32.2452
.
Medium
14 x 9 centimeter color postcard
Coverage
Sanford, Florida
Spatial Coverage
28.811748, -81.257222
Temporal Coverage
1926-01-01/1926-12-31
Audience Education Level
SS.K.A.1.2; SS.1.A.1.1; SS.2.A.1.1; SS.3.A.1.1; SS.3.G.2.6; SS.4.A.1.1; SS.4.A.7.1; SS.5.A.1.1; SS.6.W.1.3; SS.8.A.1.5; SS.912.A.1.1; SS.912.A.5.4; SS.912.A.5.6; SS.912.G.1.2; SS.912.W.1.3
Mediator
History Teacher
Geography Teacher
Source Repository
External Reference
Sanford Historical Society (Fla.). Sanford. Charleston, SC: Arcadia, 2003.
Sanford Historic Preservation Board. "The Sanford Historic Preservation Board Presents the Sanford Historic Downtown Walking Tour." http://sanfordhistory.tripod.com/Links/wtour.pdf.
External Reference Title
Transcript
Hotel Forrest Lake, Sanford, Florida
R. O. MIDDLETON, LESSEE
NOW OPEN
Catering Especially to Tourists and Commercial Travelers
American Plan - - - $5.50 a day
European Plan $2.00 and $2.50 a day
Every Room With Bath
Still Image Item Type Metadata
Original Format
1 color postcard
Physical Dimensions
14 x 9 centimeter
Files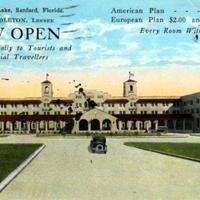 Collection
Citation
"Hotel Forrest Lake, Sanford, Florida." RICHES of Central Florida accessed May 23, 2022, https://richesmi.cah.ucf.edu/omeka/items/show/475.
Categories
Transcribe This Item