West Side View of the Forrest Lake Hotel
Dublin Core
Title
West Side View of the Forrest Lake Hotel
Alternative Title
Forrest Lake Hotel
Subject
Hotels--Florida
Resorts--Florida
Tourism--Florida
Description
The Forrest Lake Hotel from the west side in 1926. Named after the Sanford Mayor and president of Seminole County Bank, the Forrest Lake Hotel has also been known as the Mayfair Inn and was briefly occupied by the Sanford Naval Academy. In 1916, construction of the building began. Local architect Elton J. Moughton designed the hotel. In 1925, Hotel Forrest Lake opened and became a popular destination for tourists visiting Sanford. By 1929, the hotel closed after the stock market crash and the downfall of Florida's tourism and real estate boom. William E. Kirchhoff leased the building in 1934 and the hotel reopened in 1935 with the new name Mayfair Hotel. Under Kirchhoff's ownership, the Mayfair Hotel became known as one of the finest hotels in the South. Kirchhoff sold the hotel in 1948 to Horace Stoneham, owner of the New York Giants. Stoneham then sold the building to the Bernard McFadden Foundation who later sold it to the New Tribes Mission. The New Tribes Mission's goal is to reach tribes who have no access to the Gospel through translated publications and missionary work.
Abstract
Located on the shores of Lake Monroe and facing First Street on the south and the proposed Seminole Boulevard on the north, the new hostelry is erected on one of the most desirable and attractive locations in Sanford.
Source
Original black and white photograph.
Publisher
Date Copyrighted
1926-01-04
Has Format
Print newspaper reproduction of original black and white photograph:
The Sanford Herald
, January 4, 1926.
Is Format Of
Digital reproduction of newspaper reproduction of original black and white photograph:
The Sanford Herald
, January 4, 1926.
Medium
1 black and white photograph
Coverage
Sanford, Florida
Spatial Coverage
28.811748, -81.257222
Temporal Coverage
1925-01-01/1926-01-04
Audience Education Level
SS.K.A.1.2; SS.1.A.1.1; SS.2.A.1.1; SS.3.A.1.1; SS.3.G.2.6; SS.4.A.1.1; SS.4.A.7.1; SS.5.A.1.1; SS.6.W.1.3; SS.8.A.1.2; SS.8.A.1.5; SS.912.A.1.1; SS.912.A.1.4; SS.912.A.5.4; SS.912.A.5.6; SS.912.G.1.2; SS.912.W.1.3
Mediator
History Teacher
Geography Teacher
Digital Collection
Source Repository
External Reference
Sanford Historical Society (Fla.). Sanford. Charleston, SC: Arcadia, 2003.
Sanford Historic Preservation Board. "The Sanford Historic Preservation Board Presents the Sanford Historic Downtown Walking Tour." http://sanfordhistory.tripod.com/Links/wtour.pdf.
External Reference Title
Still Image Item Type Metadata
Original Format
1 black and white photograph
Files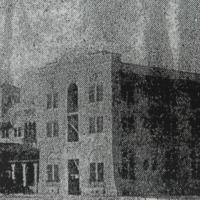 Collection
Citation
"West Side View of the Forrest Lake Hotel." RICHES of Central Florida accessed June 10, 2023, https://richesmi.cah.ucf.edu/omeka/items/show/476.
Categories
Transcribe This Item