Church Street Station, 2007
Dublin Core
Title
Church Street Station, 2007
Alternative Title
Church Street Station
Subject
Orlando (Fla.)
Railroads--Florida
Description
The Old Orlando Railroad Depot, located at 127 West Church Street in Orlando, Florida, in 2007. The station was first constructed in 1880 connecting Orlando to Sanford. After the railroad was bought up by the Plant System in 1883 from the South Florida Railroad, it was extended to Tampa. This brought a large boom to Orlando's economy shipping cattle and lumber, but chiefly citrus. By 1926, the depot was becoming too small for the volume of trade going through, so the depot was moved south to what is today the Amtrak Station. The depot became run down until the mid-1970s when Church Street Station opened up around the depot and stayed open until the early 2000s. Now the station is used as a stop along the SunRail Tram system.
Publisher
Contributor
Owen, Christopher
Medium
1 color photograph
Coverage
Church Street Station, Downtown Orlando, Florida
Mediator
History Teacher
Geography Teacher
Provenance
Originally created and owned by John Bradley.
Rights Holder
Permission is granted to copy, distribute and/or modify this document under the terms of the
GNU Free Documentation License
, Version 1.2 or any later version published by the
Free Software Foundation
with no Invariant Sections, no Front-Cover Texts, and no Back-Cover Texts. A copy of the license is included in the section entitled GNU Free Documentation License.
This file is licensed under the
Creative Commons
Attribution-Share Alike 3.0 Unported
license.
You are free:
to share – to copy, distribute and transmit the work
to remix – to adapt the work
Under the following conditions:
attribution – You must attribute the work in the manner specified by the author or licensor (but not in any way that suggests that they endorse you or your use of the work).
share alike – If you alter, transform, or build upon this work, you may distribute the resulting work only under the same or similar license to this one.
This licensing tag was added to this file as part of the GFDL licensing update.
Curator
Covington, Adrian
Cepero, Laura
Digital Collection
External Reference
Transcript
SUNTRUST[?]

CHURCH STREET STATION TRAIN
3749
Files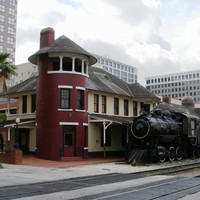 Collection
Citation
Bradley, John. "Church Street Station, 2007." RICHES of Central Florida accessed August 14, 2022, https://richesmi.cah.ucf.edu/omeka/items/show/5103.
Categories
Transcribe This Item