The Maitland News, Vol. 01, No. 09, July 3, 1926
Files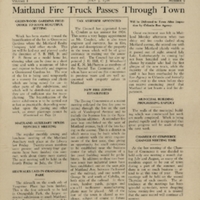 Dublin Core
Title
The Maitland News, Vol. 01, No. 09, July 3, 1926
Alternative Title
The Maitland News, Vol. 01, No. 09
Description
The Maitland News was a local newspaper originally published by the Maitland Realty Company (and later by The Maitland News Company) which began circulation in April 1926. This edition features articles on topics such as a new fire truck, Chamber of Commerce meeting times, a new office building for the Maitland Realty Company, the establishment of fire zones, a new tax assessor, the Maitland Auxiliary, automobile accidents, and a local events calendar. Also featured are several advertisements for local businesses. This edition is missing pages 3 and 4.
Source
Original 4-page newspaper edition:
The Maitland News
, Vol. 01, No. 09, July 3, 1926: Newspaper Collection, accession number 2014.002.020V, room 2, case 2, shelf 10, box GV, 
Maitland Historical Museum
, Art & History Museums - Maitland, Maitland, Florida.
Publisher
The Maitland News Company
Date Created
ca. 1926-07-03
Date Copyrighted
1926-07-03
Is Format Of
Digital reproduction of original 4-page newspaper edition: The Maitland News, Vol. 01, No. 09, July 3, 1926.
Is Part Of
The Maitland News Collection
, Maitland Historical Museum Collection, Maitland Collection, Orange County Collection, RICHES of Central Florida.
Requires
Medium
4-page newspaper edition
Coverage
Maitland, Florida
Winter Park, Florida
Mediator
History Teacher
Economics Teacher
Geography Teacher
Civics/Government Teacher
Provenance
Originally published by the Maitland News Company.
Rights Holder
Copyright to this resource is held by the Maitland News Company and is provided here by
RICHES of Central Florida
for educational purposes only.
Digital Collection
Source Repository
External Reference
Poole, Leslie Kemp.
Maitland
. Mount Pleasant, SC: Arcadia Pub, 2009.
"
Maitland History
." City of Maitland. http://www.itsmymaitland.com/maitland_history.asp.
Transcript
THE MAITLAND NEws
Published Weekly by THE MATLAND NEws Co, MATLAND, ORANGE County, Florida
Volume I
JULY 3, 1926
NUMBER 9
Maitland Fire Truck Passes Through Town
GREEN wood GARDENs. FIELD OFFICE TO HAVE BEAUTIFUL SETTING -
Work has been started toward the beautification of the lot in Greenwood Gardens where the Maitland Realty Company field office stands. This lot will be laid out and planted under the direction of S. B. Hill, . and F. B. Stone as a model home lot, showing what can be done in a short time and with a minimum of labor and expense to beautify and improve a Greenwood Gardens lot. The rear of the lot is being used temporarily as a nursery for cuttings and plants which are being raised for use in other parts of the subdivision, and which will be distributed as soon as they are of sufficient size for transplanting. The beautification of the entire subdivision is to be carried out as fast as practicable, depending some what upon the paving and other work, as street plantings cannot be (Continued on Page 2)
The regular monthly sewing and luncheon meeting of the Maitland Auxiliary took place at the Library last Friday. Twenty-seven members were present and seventy-four gar ments have been finished this summer, with about thirty more started The next meeting will be held on the fourth Friday in July, the 23rd.
SIDEwALKS LAID IN ORANGEDALE PARK
The sidewalk on the south side of Tangerine Place has been finished. This is the first sidewalk to be laid in Orangedale Park, the largest restricted subdivision in south Maitland. Sidewalks on the other streets will be laid immediately and petitions for paving have been in for some time. These streets will open up an attract tive residence district lying between Maitland and Winter Park, a convenient and desirable location.
TAX ASSESSOR APPOINTED
The Council has appointed Louis L. Coudert as tax assessor for 1926. This seems a very happy appointment as Mr. Coudert, who is also town engineer and surveyor, has in files, plats and descriptions of the property in the town which will be of great assistance in making out the assess ment roll. The Council has also appointed J. H. Hill, C. J. Woodward and K. N. McPherson as members of the Special Tax Commision, all of whom have served on this commission in previous years and are well quainted with property values in Maitland.
NEW FIRE ZONES ESTABLISHED
The Zoning Commission at a recent meeting enlarged the first fire zone to extend through the lots on the east side of vanderpool Avenue and to include the business lots in the SpragueQuinn addition. A secondary fire -one was established on the west of Maitland avenue, back of the lots fac. ing on the avenue. This is a district in which stores may be built which do not conform with the strict require ments of the first zone, thus giving an opportunity for small enterprises to be established near the business center for which the erection of a fire proof building would be prohi. bitory. In addition to these two busi ness zones two industrial zones have been established; one on the west side of Maitland Ave. between Packwood and the railroad, and one north of George St. and south of Cybelia, on both sides of the railroad. In these zones, lumber yards, garages and small inoffensive manufacturing plants may be placed. All of the rest of the town is classed as res. idence, subject of course to future developments, when further business and industrial zones may be required.
Miss Lois Haile left on Tuesday for a months visit in South Carolina and North Carolina.
Will be Delivered to Town. After Inspec. tion by Orlando Reo Agency.
Great excitement was felt in Maito land Monday afternoon when two shiny red fire trucks dashed along Maitland avenue, the second one with the name Maitland plainly visible as it passed out of sight around Lily Lake. Unfortunately its coming had not been heralded and it was the chance bystander who had the first glimpse of the new truck, while the majority of the citizens must wait until it has been overhauled by the Reo Agency in Orlando and formally turned over to the town before they can receive convincing proof that Maitland at last boasts a real fire department.
MUNICIPAL BUILDING PROGRESSING RAPIDLY
The walls of the municipal building which was commenced last week are nearly completed work is being pushed rapidly and it is expected that great progress will be made during the next week.
CHAMBER OF COMMERCE CHANGES MEETING TIME
At the last meeting of the Chamber of Commerce it was decided to hold only one meeting a month dur: ing July and August, as many of the members expect to be out of town during a part of the summer, and there is not so much business to attend to at this time of year. These meetings will be held on the second Thursday of each month. The at tendance at the meetings has been splendid upto-date, never dropping below twenty-five and it is trusted that the same record will continue all Sunninner.
Mrs. I. Vanderpool, Miss Kitty Vanderpool and Miss Stella water. house have taken a cottage at Anna Maria Island, for the first two weeks
of July.


2]
THE MAITLAND NEWS
THE MAITLAND NEWS
MATLAND, FLORIDA
Published Weekly by The Maitland News Company. ANNA. B. TREAT, Editor and Business Manager
Subscription Price Fifty cents a year. Five years 2.00.
Advertising Rates on Application
CAN we Avoid ACCIDENTso
The accident last week in which a truck of the National Biscuit Como pany was hit on the Horatio avenue crossing of the A. C. L. railroad and practically demolished reminds us of the four other accidents that have taken place in the past three years at this same crossing, one of which just escaped being a tragedy. While we do not presume to offer a remedy for this condition we feel that it would be well for the proper authori. ties to bring pressure to bear on the railroad to make some provision for protection at this point before a fatal accident occurs.
The crossing is doubly dangerous, being on a curve where the track is visible only a few hundred feet in each direction, and crossing both the railroad and the main highway at the busiest point in the town. We know that the railroad does not provide gates or flagmen save in the large cities, but we feel that Maitland should at least voice her protest against the lack of protection at this crossing.
PROGRESS OF B. L.
We hope shortly to be able to publish a report from the committee appointed some weeks ago by the Chamber of Commerce to promote the ex
tension of the Winter Park Building and Loan Association in Maitland. This committee, consisting of D. G. Spain, E. A. Upmeyer and A. B. Rowland, is very enthusiastic and we feel sure will be ready for a report at an early date.
GREENWOOD GARDENS FIELD OFFICE TO HAVE BEAUTIFUL SETTING
(Continued from Page 1)
put in until all grading and construce tion work is finished and the streets cleaned up. It is expected, however, that this will all be completed before the tree planting season comes around and that parkways and streets in the sections will be in good order by fall.
Local ITEMs Mr. and Mrs. Louis L. Coudert and little son left on Saturday for a few weeks trip to New York and other points in the north.
Mr. A. B. Rowland has gone to St. Augustine for the weekend, where he will meet Mrs. Rowland and children, who have just come down from Westfield, N. J. Mr. and Mrs. Rowland will occupy the home in Greenwood Gardens which they have recently purchased and which is now being remodeled.
LOUIS L. COUDERT, INC. CIVIL ENGINEERS Land Surveyors TOWN PLANNING
P. O. Building Maitland, Florida
General Repairing Vulcanizing
BOOSTING MAITLAND DAY AND NIGHT
MAITLAND GARAGE
M. L. KYLE, Prop.
Wrecking Car Service Goodyear Tires and Tubes
Batteries Repaired and Recharged
Texaco Gas and Oils
CALENDAR
Sunday, 10:00 a mSunday school. Methodist and Presbyterian churches, .00 p. m, Epworth League, Methodist church. First and third Sunday11 a. m. and :30 p. m. services, Methodist church. Second and fourth Sunday11 a. m. and :30 p. m. services Presbyterian church. Tuesday, :00 p. mMunicipal office. Zoning commission. Wednesday, :00-6:00 p. m.Library
Second Thursday, 12:15 White Way RestaurantChamber of Commerce. Fourth Thursday, :00 p. m.Council meeting. Friday, :00 p. m., Hill SchoolBoy Scouts.
Saturday, :00-6:00 p. m.Library Open. Fans, 5.95 up
1-burner Grill or Toaster 1.75 2-burner Stove 6.00
Will boil, fry, toast, broil or stew. Does any two at the same time.
MAITLAND ELECTRIC SHOP J. H. Bennett, Prop.
A MAN CAN
B0RROW MONEY
ON WHAT HE PUTS INTO A HOME
HE CANT ON WHAT HE PAYS OUT FOR RENT
The value of your home de
pends upon the quality of
the materials used in its construction
We Specialize in
High Grade Lumber and
THE MATLAND LUMBER CO. Phone 399
(Illustrated House Plan Books. FREE)


THE MAITLAND NEWS
ority system so that no students will be left out. 16. Abolishment of the ringer" system in athletics and the substitu. tion therefor of the ideal that Rollins should play the gamecleanly, even though she loses. 17. Donation by Cornell Uni. versity of two eight-oar shells for the encouragement of rowing at Rollins 18. Quickening of interest in higher education among the people of Florida, and focusing national atten tion on the proposed reorganization of the Rollins teaching plan, as evidenc ed among other things, by the un paralleled newspaper and magazine
space given Rollins throughout the
state and nation.
Mrs. E. N. Beech spent the night
last week with Mrs. K. N. McPher. Son.
Mr. and Mrs. J. H. Hirsch left
Sunday for a two months cruise through the Mediterranean, and the
Holy Land.
S. J. STIG G INS LAW YER
Maitland, FLORIDA
Greetings
TO THE MOTOR DRIVING PUBLIC FROM THE
White Way Motor Co. Maitland
A Reliable Garage is a distinct asset to any town. THE WHITE way MOTOR CO. has the privilege of serving a number of particular automobile owners who have become fast friends. May we count you among those who drive away well PleasedHave TIRES, TUBES and other ACCESSORIES. We estimate your job and stand by it.
Would like to have you call. Phone 1204-JOHN NELSON W. A. MANNING
#
Inter-City Realty Company
Real Estate Rrokers
MAITLAND FLORIDA Phone Winter Park 1310-
EVERYTHING IN REAL ESTATE
We have the exclusive list
ing on the most beautiful
Lake Front Properties in Maitland
Mrs. Stover is visiting her son, E. E. Stover.
Mr. and Mrs. S. S. Simonds and Miss Helen Simonds of New Rochel. le, N. . and Maitland will sail July 7 for a tour of the European count tries.
"BROWN HAS IT,"
We Specialize in the Best
Western Meats
The best is none too good
Vegetables
fresh from the garden, daily
Give us a trial and be convinced
THE TASTE TELIS"
B. R O W N ' S The City Store Telephone 1310-
BANK OF MAIT L AND
A Local Bank For Local People
Your Home Town Comes First
Patronize its Stores and Industries
E. A. UPMEYER, Pres. DONALD G. SPAIN, Cashier
J. A. BROWN, VPres.


6] THE MATLAND NEWS
MAITLANDS FINEST DEVELOPMENT

Lart-
-- -------
--- |
Collection
Citation
"The Maitland News, Vol. 01, No. 09, July 3, 1926." RICHES of Central Florida accessed December 5, 2023, https://richesmi.cah.ucf.edu/omeka/items/show/5532.
Categories
Transcribe This Item