U.S. Postal Service Florida ZIP Code Directory, 1984
Files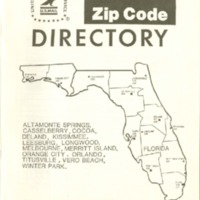 Dublin Core
Title
U.S. Postal Service Florida ZIP Code Directory, 1984
Alternative Title
Florida ZIP Code Directory
Description
A ZIP code directory for the Central Florida area. This directory was created in June of 1984 and published in November of that same year by the U.S. Postal Service (USPS). The directory explains how to use the dictionary, how to use ZIP codes in addresses, and what ZIP codes are. The directory also contains the locations of the various post offices within the Central Florida Area and the various ZIP codes within.

Before the implementation of ZIP codes, the U.S. Post Office Department (USPOD) used two-digit postal zones for large cities, beginning in 1943. Postal employee Robert Moon (1917-2011) first suggested a system of ZIP codes in 1944, but the concept was not implemented until 1963, USPOD introduced five-digit ZIP codes, as well as two-letter state abbreviations, nationwide. In 1983, a year before this directory was published, USPS introduced ZIP+4, an expanded ZIP code system with four additional digits to identify a geographic segment within the five-digit ZIP code area.
Source
Original directory, November 1, 1984: Private Collection of Texann Ivy Buck.
Contributor
Buck, Texann Ivy
Is Format Of
Digital reproduction of original directory, November 1, 1984.
Coverage
Altamonte Springs, Florida
Casselberry, Florida
Cocoa, Florida
DeLand, Florida
Kissimmee, Florida
Leesburg, Florida
Longwood, Florida
Melbourne, Florida
Merritt Island, Florida
Orange City, Florida
Orlando, Florida
Titusville, Florida
Vero Beach, Florida
Winter Park, Florida
Rights Holder
This resource is not subject to copyright in the United States and there are no copyright restrictions on reproduction, derivative works, distribution, performance, or display of the work. Anyone may, without restriction under U.S. copyright laws:
reproduce the work in print or digital form
create derivative works
perform the work publicly
display the work
distribute copies or digitally transfer the work to the public by sale or other transfer of ownership, or by rental, lease, or lending.
This resources is provided here by
RICHES of Central Florida
for educational purposes only. For more information on copyright, please refer to
Section 5
of
Copyright Law of the United States of America and Related Laws Contained in Title 17 of the United States Code
.
Contributing Project
Digital Collection
Source Repository
Private Collection of Texann Ivy Buck
External Reference
"
ZIP Code
." United States Postal Service. https://about.usps.com/publications/pub100/pub100_029.htm.
Collection
Citation
"U.S. Postal Service Florida ZIP Code Directory, 1984." RICHES of Central Florida accessed November 29, 2023, https://richesmi.cah.ucf.edu/omeka/items/show/7669.
Categories
Transcribe This Item