Westinghouse J34 Engine
Dublin Core
Title
Westinghouse J34 Engine
Alternative Title
Westinghouse J34
Subject
Engineering--United States
Aircraft--United States
Air Force
Description
The Westinghouse J34 was a turbojet engine developed by Westinghouse Electric Corporation's Aviation Gas Turbine Division in the late 1940s. Essentially an enlarged version of the earlier Westinghouse J30, the J34 produced 3,000 pounds of thrust, twice as much as the J30. Later models produced as much as 4,900 pounds with the addition of an afterburner. The engine was first used for flight in 1947. This photograph was likely taken at the National Museum of the U.S. Air Force in the early 2000s.

Originally called the Westinghouse Electric Company, George Westinghouse (1846-1914) founded his manufacturing company in Pittsburgh, Pennsylvania, on January 8, 1886. In 1889, he renamed his business The Westinghouse Electric and Manufacturing Company. Westinghouse's primary products include turbines, generators, motors and switchgear related to the generation, transmission, and use of electricity. The company changed its name to Westinghouse Electric Corporation in 1945. In 1981, the company began to relocate its division headquarters for the Steam-Turbine Generator Divisions from Pennsylvania (turbines from Lester and generators from Pittsburgh) to Orlando, Florida. The Power Generation Business Unit (PGBU) building was located in The Quadrangle, at 4400 Alafaya Trail. Originally, Westinghouse had purchased a large plot of land for future development that extended westward from Alafaya Trail to Rouse Road. The original headquarters was located on several acres of that land parcel close to Alafaya Trail.

As the PGBU grew in size, other buildings were rented and then, after PGBU was sold to Siemens Corporation, additional buildings were added to the complex. In 1994, after a major corporate management shuffling and commitment to change from an industrial manufacturing company to primarily a broadcasting/communications company, Westinghouse bought the CBS Network and changed its name to the CBS Corporation. As the PGBU grew in size, other buildings were rented and then, after PGBU was sold to Siemens Corporation in 1998, additional buildings were added to the Quadrangle.
Date Created
ca. 2005-10-21
Contributor
Jaeger, Harry L.
Is Format Of
Digital reproduction of original color photograph.
Medium
1 color photograph
Coverage
National Museum of the United States Air Force, Dayton, Ohio
Rights Holder
This resource is not subject to copyright in the United States and there are no copyright restrictions on reproduction, derivative works, distribution, performance, or display of the work. Anyone may, without restriction under U.S. copyright laws:
reproduce the work in print or digital form
create derivative works
perform the work publicly
display the work
distribute copies or digitally transfer the work to the public by sale or other transfer of ownership, or by rental, lease, or lending.
This resources is provided here by
RICHES of Central Florida
for educational purposes only. For more information on copyright, please refer to
Section 5
of
Copyright Law of the United States of America and Related Laws Contained in Title 17 of the United States Code
.
Curator
Jaeger, Harry L.
Cepero, Laura
Digital Collection
External Reference
"
History
." Westinghouse Nuclear. http://www.westinghousenuclear.com/About/History.
Files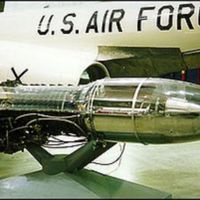 Collection
Citation
"Westinghouse J34 Engine." RICHES of Central Florida accessed November 29, 2021, https://richesmi.cah.ucf.edu/omeka/items/show/7710.
Categories
Transcribe This Item