Value Plus: Introducing the Westinghouse 501F 145-MW Advanced Design Combustion Turbine System
Dublin Core
Title
Value Plus: Introducing the Westinghouse 501F 145-MW Advanced Design Combustion Turbine System
Alternative Title
Introducing the Westinghouse Combustion Turbine System
Subject
Energy--United States
Description
A brochure advertising the 150MW-class (introductory rating) Westinghouse 501F (W501F) combustion turbine, which was developed from 1987 to 1989 as a joint engineering program between Westinghouse Electric and Mitsubishi Heavy Industries. The W501F evolved in the tradition of Westinghouse's proven design features listed on this diagram. Changes to the design include canted combustors, shortened transition ducts, and a bolted and pinned compressor rotor. Up to that time, through the Westinghouse 501D5 (W501D5)A, compressor discs were shrunk onto the rotor shaft.

Originally called the Westinghouse Electric Company, George Westinghouse (1846-1914) founded his manufacturing company in Pittsburgh, Pennsylvania, on January 8, 1886. In 1889, he renamed his business The Westinghouse Electric and Manufacturing Company. Westinghouse's primary products include turbines, generators, motors and switchgear related to the generation, transmission, and use of electricity. The company changed its name to Westinghouse Electric Corporation in 1945. In 1981, the company began to relocate its division headquarters for the Steam-Turbine Generator Divisions from Pennsylvania (turbines from Lester and generators from Pittsburgh) to Orlando, Florida. The Power Generation Business Unit (PGBU) building was located in The Quadrangle, at 4400 Alafaya Trail. Originally, Westinghouse had purchased a large plot of land for future development that extended westward from Alafaya Trail to Rouse Road. The original headquarters was located on several acres of that land parcel close to Alafaya Trail.

As the PGBU grew in size, other buildings were rented and then, after PGBU was sold to Siemens Corporation, additional buildings were added to the complex. In 1994, after a major corporate management shuffling and commitment to change from an industrial manufacturing company to primarily a broadcasting/communications company, Westinghouse bought the CBS Network and changed its name to the CBS Corporation. As the PGBU grew in size, other buildings were rented and then, after PGBU was sold to Siemens Corporation in 1998, additional buildings were added to the Quadrangle.
Source
Original brochure cover: Private Collection of Harry L. Jaeger.
Date Created
ca. 1988-1989
Date Copyrighted
ca. 1988-1989
Date Issued
ca. 1988-1989
Contributor
Jaeger, Harry L.
Is Format Of
Digital reproduction of original brochure cover.
Coverage
Westinghouse Power Generation Business Unit, Orlando, Florida
Curator
Jaeger, Harry L.
Cepero, Laura
Digital Collection
External Reference
"
History
." Westinghouse Nuclear. http://www.westinghousenuclear.com/About/History.
Files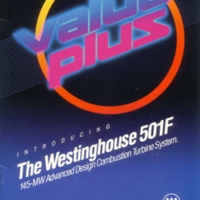 Collection
Citation
"Value Plus: Introducing the Westinghouse 501F 145-MW Advanced Design Combustion Turbine System." RICHES of Central Florida accessed December 3, 2022, https://richesmi.cah.ucf.edu/omeka/items/show/7757.
Categories
Transcribe This Item