Forty-Five Years of U.S. Gas Turbine Sales Data
Files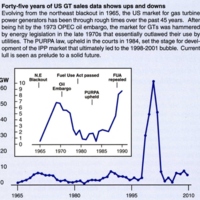 Dublin Core
Title
Forty-Five Years of U.S. Gas Turbine Sales Data
Alternative Title
Gas Turbine Sales
Subject
Energy--United States
Description
A chart showing 45 years of the gas turbine market in the United States. The chart begins with the Great Northeast Blackout of 1965, which accelerated the growth of electric utility market for gas turbines in the United States. Later events, most notably the 1973 Arab-Israeli War (also known as the Yom Kippur War, Ramadan War, or October War), followed by the Organization of Arab Petroleum Exporting Countries' (OAPEC) oil embargo and the U.S. Fuel Use Act (FUA) of 1978, caused a steep decline in the industry. A strong recovery followed with the rise of the Independent Power Producer (IPP) cogeneration market under the Public Utility Regulatory Policy Act (PURPA), upheld by the U.S. Supreme Court in Federal Energy Regulatory Commission v. Mississippi (1982).
Source
Original chart:
Gas Turbine World
, May-June 2011: Private Collection of Harry L. Jaeger.
Publisher
Date Copyrighted
ca. 2011-05
Contributor
Jaeger, Harry L.
Coverage
Westinghouse Power Generation Business Unit, Orlando, Florida
Mediator
History Teacher
Civics/Government Teacher
Economics Teacher
Curator
Jaeger, Harry L.
Cepero, Laura
Digital Collection
External Reference
"
History
." Westinghouse Nuclear. http://www.westinghousenuclear.com/About/History.
Collection
Citation
"Forty-Five Years of U.S. Gas Turbine Sales Data." RICHES of Central Florida accessed September 23, 2023, https://richesmi.cah.ucf.edu/omeka/items/show/7762.
Categories
Transcribe This Item