Florida: A Fabulous State of Well-Being!
Dublin Core
Title
Florida: A Fabulous State of Well-Being!
Alternative Title
Florida: A Fabulous State of Well-Being!
Subject
Tourism--Florida--Handbooks, manuals, etc.
Orlando (Fla.)
Lakeland (Fla.)
Tampa (Fla.)
St. Petersburg (Fla.)
Miami (Fla.)
Jacksonville (Fla.)
Pensacola (Fla.)
West Palm Beach (Fla.)
Description
Florida state brochure titled, "Florida: A Fabulous State of Well-Being!" The brochure includes a welcome note from then Governor LeRoy Collins (1955-1961).
Source
Original brochure: "Florida: A Fabulous State of Well-Being!": Private Collection of Thomas Cook.
Date Copyrighted
ca. 1958
Contributor
Florida State News Bureau
Collins, LeRoy
Cook, Thomas
Is Format Of
Digital reproduction of original brochure: "Florida: A Fabulous State of Well-Being! "
Is Part Of
Private Collection of Thomas Cook.
Requires
Coverage
Orlando, Florida
Lakeland, Florida
St. Petersburg, Florida
Miami, Florida
Jacksonville, Florida
West Palm Beach, Florida
Sarasota, Florida
Marianna, Florida
Fernandina Beach, Florida
Keystone Heights, Florida
Thonotosassa, Florida
Ft. Lauderdale, Florida
Sarasota County, Florida
High Springs, Florida
Bristol, Florida
St. Augustine, Florida
Pensacola, Florida
Penscaola, Florida
Tallahassee, Florida
Sebring, Florida
Tampa, Florida
Homestead, Florida
Marathon, Florida
Lake Wales, Florida
Spatial Coverage
28.539291, -81.377907
28.0333, -81.9500
27.772874, -82.638588
25.789381, -80.226345
30.348019, -81.675649
26.71924, -80.054054
27.381416, -82.559797
30.808288, -85.21248
30.66801, -81.434272
29.847763, -81.961865
28.148042, -82.228547
26.145516, -80.104714
27.241195, -82.315332
30.568887, -84.948065
29.894532, -81.313305
30.349431, -87.293147
30.347739, -87.297648
30.438106, -84.282824
27.473621, -81.530419
27.951345, -82.456627
25.286618, -80.898656
27.897989, -81.584519
24.729214, -81.037245
27.935373, -81.57751
Temporal Coverage
1958-01-01/1958-12-31
Mediator
History Teacher
Economics Teacher
Geography Teacher
Contributing Project
Digital Collection
Source Repository
Private Collection of Thomas Cook
External Reference
"Downtown Orlando Historic District Walking Tour." City of Orlando. http://sanfordhistory.tripod.com/Links/wtour.pdf
Rajtar, Steve. A Guide to Historic Orlando. Charleston, SC: History Press, 2006.
External Reference Title
Transcript
Florida A FABULOUS STATE OF WELL-BEING!
FOR A VACATION. . . OR A LIFETIME . . . THAT GOLDEN FLORIDA GLOW!


A Message From the Governor

I am sincerely grateful for your interest in the State of Florida, and I personally extend a warm welcome in behalf of the people of our State.
This booklet illustrates a few of the important points of interest in Florida. . . its fabulous scenic wonders and tourist attractions . . . something of the ease and comfort of Florida living . . . its cultural advantages and historic landmarks.
I am confident you will find your visit to Florida a memorable experience. And I strongly urge you to see as much of our State as you can, for you will find a variety of scenery and opportunities for pleasant relaxation in every section. Then, too, you may discover that you will want to join the hundreds of thousands of fine families who decide each year to make their permanent home here in Florida with us.

LeRoy Collins
GOVERNOR


More than just a fine place to play and live, Florida is actually a better way of life for thriving, happy American families. Florida's healthful climate permits enjoyment of your favorite diversions and outdoor recreations 365 days a year. Its homes are designed to take full advantage of Florida's sun, sea, and air. And its fine, modern cities--large and small alike--enjoy exceptionally high standards of community living. Whether you plan to come for a visit, or stay for a lifetime, Florida offers to every family and to every generation an extra measure of happy, healthful good living--a sunnier way of life for everyone.


This is Florida--a vivd panorama of scenic wonders and attractions extending from one end of the state to the other, a happy vacationland where outdoor fun is always in season; an adventure in good living enjoyed twelve months of the year by young and old alike. Come to Florida soon. And come prepared to see it all--its magnificent beaches, its velvet-green fairways, its sparkling surf and thrill-a-minute fishing. . . all at their sunny best in Florida.



Document Item Type Metadata
Original Format
36 page brochure
Files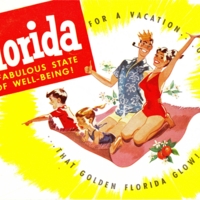 Collection
Citation
"Florida: A Fabulous State of Well-Being!." RICHES of Central Florida accessed August 9, 2022, https://richesmi.cah.ucf.edu/omeka/items/show/994.
Categories
Transcribe This Item