Thirteenth Census Population for Orange, Liberty, Florida, 1910
Files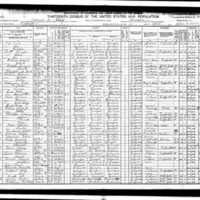 Dublin Core
Title
Thirteenth Census Population for Orange, Liberty, Florida, 1910
Alternative Title
Census, 1910
Subject
Census--United States
Population--United States
Description
The Thirteenth United States Census for Orange, Liberty, Florida, for 1910. The census divides the population by sex, race, age, marital status, number of children, occupation, literacy, whether they owned or rented, farm or house, if they were a Civil War veteran, whether they were blind, deaf or dumb, the place of birth and mother tongue of foreign-born persons and their parents. If foreign born, the person was required to provide the year they immigrated, whether they were naturalized and if they were able to speak English.
A notable resident listed in this record is Nelson Mullin (1887-1944). Born on July 21, 1887, in Camilla, Georgia, Mullin eventually moved to Florida, where he worked as a laborer. In 1909, he married his wife, Clara, and the two had a daughter. Mullin was inducted into the Army on June 21, 1918. He first served as part of Company D of the 520th Engineers Service Battalion. He was transferred to the 522nd Engineers in August 1918. From the beginning of 1919 until his discharge on February 15, 1919, Mullin served in the Supply Company of the 368th Infantry. He passed away on July 16, 1944, and was buried in the St. Augustine National Cemetery in Florida, at Section D Grave 38.
In 2017, the University of Central Florida was one of three universities selected to launch the National Cemetery Administration's
Veterans Legacy Program Project
. The program continues, engaging a team of scholars to make the life stories of veterans buried in national cemeteries available to the public. The project engages UCF students in research and writing and fosters collaboration between students, faculty and local Central Florida schools to produce interactive curriculum for k-12 students. The corresponding website exhibit uses RICHES Mosaic Interface to create a digital archive of related data. The public can use the project-developed augmented-reality app at more than 100 headstones at four national cemeteries, two in Florida (Florida National Cemetery and St. Augustine National Cemetery) and two in France (American Battle Monuments Commission cemeteries at Aisne-Marne and the Meuse-Argonne), where they can access the UCF student-authored biographies of veterans.
Creator
Source
Digital reproduction of original census record, April 25, 1910: Orange, Liberty, Florida; Roll T624_164; Page 8A; Enumeration District 0085; FHL microfilm 1344177.
Publisher
Contributor
Mullin, Nelson
Is Part Of
Coverage
Orange, Liberty, Florida
Rights Holder
This resource is not subject to copyright in the United States and there are no copyright restrictions on reproduction, derivative works, distribution, performance, or display of the work. Anyone may, without restriction under U.S. copyright laws:
• reproduce the work in print or digital form
• create derivative works
• perform the work publicly
• display the work
• distribute copies or digitally transfer the work to the public by sale or other transfer of ownership, or by rental, lease, or lending.
This resource is provided here by
RICHES
for educational purposes only. For more information on copyright, please refer to
Section 5
of
Copyright Law of the United States of America and Related Laws Contained in Title 17 of the United States Code
.
Digital Collection
Source Repository
External Reference
Collection
Citation
United States Census Bureau. "Thirteenth Census Population for Orange, Liberty, Florida, 1910." RICHES of Central Florida accessed December 5, 2023, https://richesmi.cah.ucf.edu/omeka/items/show/10375.
Categories
Transcribe This Item