The State Farmers Market
Files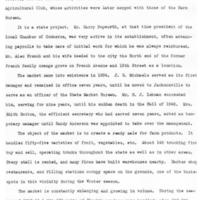 Dublin Core
Title
The State Farmers Market
Alternative Title
The State Farmers Market
Subject
Sanford (Fla.)
Farmers' markets--Florida
Description
History of the Sanford State Farmers' Market, as written by local resident Mary Leffler Long in the 1950s. The Sanford State Farmers' Market, located at 1300 South French Avenue, was founded in 1934 in order to provide a central location in which farmers would sell their produce directly to consumers. The idea for the Sanford State Farmers' Market was devised by Fred Dorner and Gus Schmach, both members of the Seminole Agricultural Club. Sanford Chamber of Commerce president Harry M. Papworth also contributed to the development of the market. The Federal Emergency Relief Administration (FERA) authorized construction plans on June 11, 1934. On June 20, 1934, the City of Sanford donated a portion of the Alex V. French properties to the State Marketing Board, which selected the northwest corner of French Avenue and Thirteenth Street. The board approved the installation of telegraph and telephone equipment, as well as a three-pump filling station. The Sanford State Farmer's Market opened on December 18, 1934. By 1939, the Farmers' Market was bringing a total volume of business of $627,065.81. In 1941, business volume reached over $700,000. On April 4, 1957, a fire destroyed the building and caused damages estimated at $2.5 million. Reconstruction began almost immediately and the Farmers' Market was expected to re-open by the fall of 1957. In 1991, plans were created to restore, preserve, and convert the citrus packing house into a museum.
Creator
Long, Mary Leffler
Source
Original manuscript: Long, Mary Leffler.
Sanford on the St. John's
, page 155-156:
Sanford Museum
, Sanford, Florida.
Is Format Of
Digital reproduction of original manuscript: Long, Mary Leffler. Sanford on the St. John's, page 155-156.
Medium
1 typed manuscript
Coverage
Sanford State Farmers' Market, Sanford, Florida
Spatial Coverage
28.799832, -81.27338
Temporal Coverage
1934-01-01/1947-12-31
Mediator
History Teacher
Economics Teacher
Geography Teacher
Provenance
Originally created by Mary Leffler Long.
Rights Holder
Copyright to this resource is held by Mary Leffler Long and is provided here by
RICHES of Central Florida
for educational purposes only.
Contributing Project
Digital Collection
Source Repository
External Reference
Transcript
THE STATE FARMERS MARKET

The Farmer's Market was the "brain child" of Mr. Fred Dorner, a former citizen, and Mr. Gus Schmach, both of whom were active in the old Seminole Agricultural Club, whose activities were later merged with those of the Farm Bureau.

It is a state project. Mr. Harry Papworth, at that time president of the local Chamber of Commerce, was very active in its establishment, often advancing payrolls to take care of initial work for which he was always reimbursed. Mr. Alec[sic] French and his wife deeded to the city the north end of the former French family orange grove on French Avenue and 13th Street as a location.

The market came into existence in 1934. J. G. Michaels served as its first manager and remained in office seven years, until he moved to Jacksonville to serve as an officer of the State Market Bureau. Mr. H. J. Lehman succeeded him, serving for nine years, until his sudden death in the Fall of 1948. Mrs. Edith Dutton, the efficient secretary who had served seven years, acted as temporary manager until Sandy Anderson was appointed to take over the management.

The object of the market is to create a ready sale for farm products. It handles fifty-five varieties of fruit, vegetables, etc. About 148 trucking firm buy and sell, operating trucks throughout the sate as well as in other areas. Every stall is rented, and many firms have built warehouses nearby. Barber shop restaurants, and filling stations occupy space on the grounds, one of the business spots in this vicinity during the Winter season.

The market is constantly enlarging and growing in volume. During the season of 1947-48 1,544,662 units of Florida produce were handled; also 159,264 out of state units, making a total of 1,705,926 altogether. This represents a turnover of $3,071,942.28, against the previous year, 1946-47 when a total of 1,185,370 units were handled, representing $2,308,018.93.
Document Item Type Metadata
Original Format
1 typed manuscript
Collection
Citation
Long, Mary Leffler. "The State Farmers Market." RICHES of Central Florida accessed December 5, 2023, https://richesmi.cah.ucf.edu/omeka/items/show/1178.
Categories
Transcribe This Item