The New Market
Files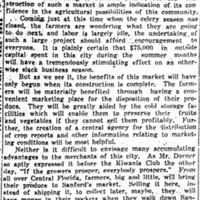 Dublin Core
Alternative Title
The New Market
Subject
Sanford (Fla.)
Farmers' markets--Florida
Federal Emergency Relief Administration (U.S.)
Construction
Description
Newspaper article in the The Sanford Herald on the planned construction of the Sanford State Farmers' Market in 1934. The Sanford State Farmers' Market, located at 1300 South French Avenue, was founded in 1934 in order to provide a central location in which farmers would sell their produce directly to consumers. The idea for the Sanford State Farmers' Market was devised by Fred Dorner and Gus Schmach, both members of the Seminole Agricultural Club. Sanford Chamber of Commerce president Harry M. Papworth also contributed to the development of the market. The Federal Emergency Relief Administration (FERA) authorized construction plans on June 11, 1934. On June 20, 1934, the City of Sanford donated a portion of the Alex V. French properties to the State Marketing Board, which selected the northwest corner of French Avenue and Thirteenth Street. The board approved the installation of telegraph and telephone equipment, as well as a three-pump filling station. The Sanford State Farmer's Market opened on December 18, 1934. By 1939, the Farmers' Market was bringing a total volume of business of $627,065.81. In 1941, business volume reached over $700,000. On April 4, 1957, a fire destroyed the building and caused damages estimated at $2.5 million. Reconstruction began almost immediately and the Farmers' Market was expected to re-open by the fall of 1957. In 1991, plans were created to restore, preserve, and convert the citrus packing house into a museum.
Publisher
Date Created
ca. 1934-06-14
Date Copyrighted
1934-06-14
Is Format Of
Digital reproduction of photocopied newspaper article: "The New Market." 
The Sanford Herald
, June 14, 1934.
Medium
1 newspaper article
Coverage
Sanford State Farmers' Market, Sanford, Florida
Spatial Coverage
28.799832, -81.27338
Temporal Coverage
1934-06-14/1934-12-18
Mediator
History Teacher
Civics/Government Teacher
Economics Teacher
Geography Teacher
Contributing Project
Digital Collection
Source Repository
External Reference
Transcript
The New Market
_____________

The recent announcement that funds have been secured through the FERA for the erection in this city of a Farmers' Wholesale Distributing Market; offers more real encouragement as to the future of Seminole County than anything we have seen in a long time. The fact that the government is willing to advance $75,000 for the construction of such a market is ample indication of its confidence in the agricultural possibilities of this community.
Coming just at this time when the celery season has closed, the farmers are wondering what they are going to do next, and labor is largely idle, the understanding of such a large project should afford encouragement to everyone. It is plainly certain that $75,000 in outside capital spent in this city during the summer months will have a tremendously stimulating effect on an otherwise slack business season.
But as we see it, the benefits of this market will have only begun when its construction is complete. The farmers will be materially benefited through having a convenient marketing place for the disposition of their produce. They will be greatly aided by the cold storage facilities which will enable them to preserve their fruits and vegetables if they cannot sell them profitably. Further, the creation of a central agency for the distribution of crop reports and other information relating to marketing conditions will be most helpful.
Neither is it difficult to envisage many accumulating advantages to the merchants of this city. As Mr. Dorner so aptly expressed it before the Kiwanis Club the other day, "If the growers prosper, everybody prospers." From all over Central Florida, farmers, big and little, will bring their produce to Sanford's market. Selling it here, instead of shipping it, to collect later, maybe, they will have money in their pockets when they walk down Sanford's streets.
So all in all, we feel that it is a wonderful piece of news for our county, this building of the Framers' Wholesale Distributing Market here. And we join with the Chamber of Commerce in extending to the Seminole County Agricultural Club our congratulations for the splendid work it has done. Through such achievements cities grow and prosper.
Document Item Type Metadata
Original Format
1 newspaper article
Collection
Citation
"The New Market." RICHES of Central Florida accessed September 21, 2023, https://richesmi.cah.ucf.edu/omeka/items/show/1177.
Categories
Transcribe This Item