Proclamation of Bataan-Corregidor Day
Files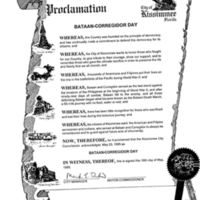 Dublin Core
Title
Proclamation of Bataan-Corregidor Day
Alternative Title
Bataan-Corregidor Day Proclamation
Subject
Kissimmee (Fla.)
World War II (1939-1945)
Memorials--Florida
Monuments--United States
Veterans--Florida
Description
Proclamation declaring May 20, 1995, Bataan-Corregidor Day in Kissimmee, Florida. The city holiday was established to honor the thousands of Americans and Filipinos who fought for the Allied Powers at the Battle of Bataan and the Battle of Corregidor during World War II. The proclamation was signed by Mark E. Durbin, the city manager of Kissimmee, on May 16, 1995. The proclamation was created to correspond with the official dedication of the Bataan-Corregidor Memorial, located on the corner of East Monument Avenue and Lakeshore Boulevard at Lakefront Park.

The Battle of Bataan lasted from January 7 to April 9, 1942, and marked the most vital phase of the Empire of Japan's invasion of the Philippines during World War II. The United States defended the Commonwealth of the Philippines, but ultimately the battle resulted in the largest surrender in both American and Filipino military history. The forced transfer of 60,000-80,000 Filipino and American prisoners of war (POWs), known as the Bataan Death March, began on April 9. The POWs were subjected to physical abuse and murder. An estimated 2,500 to 10,000 POWs died before reaching Camp O'Donnell. After Bataan fell, organized opposition against Imperial Japan in the Philippines became decimated. The Battle of Corregidor was waged on May 5 and 6  and resulted in another American-Filipino defeat. This event marked the fall of both the Philippines and Asia to Imperial Japan. American and Filipino forces were able to recapture the island in 1945 and the Bataan Death March was declared a war crime following the end of World War II.
Creator
Contributor
Messamore, Kyle
Is Format Of
Digital reproduction of original city proclamation, May 16, 1995.
Requires
Medium
1-page proclamation

Coverage
Bataan-Corregidor Memorial, Lakefront Park, Kissimmee, Florida
Bataan, Central Luzon, Philippines
Corregidor Island, Philippines
Mariveles, Bataan, Central Luzon, Philippines
San Fernando, Pampanga, Philippines
Camp O'Donnell, Capas, Tarlac, Philippines
Mediator
History Teacher
Civics/Government Teacher
Contributing Project
Dr. Anne Lindsay
's Public History: Principles and Techniques Undergraduate Class
Curator
Messamore, Kyle
Cepero, Laura

Digital Collection
External Reference
Transcript
Proclamation
Bataan-Corregidor Day
WHEREAS, this Country was founded on the principle of democracy and has continually made a commitment to defend this democracy for its citizens; and
WHEREAS, The City of Kissimmee wants to honor those who fought for our Country, to give tribute to their courage, show our support, and to remember those who gave the ultimate sacrifices in order to preserve the life and liberty that we all cherish; and
WHEREAS, thousands of Americans and Filipinos put their lives on the line in battlefields of the Pacific during World War II; and
WHEREAS, Bataan and Corregidor served as the last stand against the invasion of the Philippines at the beginning of World War II, and after ninety-nine days of combat, Bataan fell to the enemy, and all those defending Bataan began what became known as the Bataan Death March, a 65-mile journey with no food, water or rest; and
WHEREAS, there has been little recognition for those who sacrificed and lost their lives during this torturous journey; and
WHEREAS, the citizens of Kissimmee want the American and Filipino servicemen and civilians, who served at Bataan and Corregidor to alway be remembered and to guard against future acts of inhumanity;
NOW, THEREFORE, be it proclaimed that the Kissimmee City Commission acknowledges May 20, 1995 as
BATAAN-CORREGIDOR DAY
IN WITNESS, THEREOF, this is signed this 16th day May, 1995
Collection
Citation
City of Kissimmee. "Proclamation of Bataan-Corregidor Day." RICHES of Central Florida accessed December 2, 2023, https://richesmi.cah.ucf.edu/omeka/items/show/2836.
Categories
Transcribe This Item