Transcript of Interview with Congressman Lou Frey, Jr.
Dublin Core
Title
Transcript of Interview with Congressman Lou Frey, Jr.
Alternative Title
Interview with Congressman Frey
Subject
Frey, Lou, 1934-
Congress
Orlando (Fla.)
Airports--Florida
Patrick Air Force Base (Fla.)
McCoy Air Force Base
Cape Canaveral (Fla.)
Description
One page from transcript of meeting with Representative Louis Frey, Jr. (1934-2019). Rep. Frey was one of the people who worked to help the City of Orlando take over the McCoy Air Force Base for civilian use after the base's closure. As a growing tourist destination, Central Florida needed sufficient means for travelers to access the area. Frey served in the U.S. House of Representatives from 1969 to 1979. He was on several committees during his time in office, including the Select Committee on Narcotics Abuse and Control and the Science and Technology Committee. He was also the chairman of the Young Republicans of Florida. Frey worked with the President Richard M. Nixon's administration in order to encourage favorable conditions for the City of Orlando to gain this airport. When the airport later became an international port of entry, the tourism industry was even further benefited.
Contributor
Frey, Lou, Jr.

Is Format Of
Digital reproduction of original 1-page typed transcript.

Medium
1-page typed transcript

Coverage
Orlando Jetport, McCoy Air Force Base, Orlando, Florida
John F. Kennedy Space Center, Titusville, Florida
Patrick Air Force Base, Florida
Cape Canaveral, Florida
Mediator
History Teacher
Civics/Government Teacher
Geography Teacher
Contributing Project
Curator
Mayer, Erica
Cepero, Laura

Digital Collection
Source Repository
External Reference
Transcript
The other thing was the airport. Most people don't know the story on that . I was called by the Secretary of Defense, who I think was Mel Laird, or maybe it was the Secretary of Air Force, and he said, "Lou I need your recommendation. I've got to close one of two bases in your area. I've to [sic] close McCoy or I've got to close Patrick." At the time, because of the shutdown of Apollo, we had about 25% unemployment at the Cape area, and he said, "I have to do one of the two. What's your recommendation?" I went and did some stuff and some soul searching, and I said, if we can get some things to develop, the only one that makes sense is McCoy because we can stand the impact in Orlando plus we go t a chance to build a real regional airport out of it. So they said they would help and do some things and together with, at that time I guess it was Gurney and Dick Stone and so forth, we really got that done, got the initial funding for the whole airport, and got it through.
It's funny... I don't know if this is the gind of story that you want in... but I'd run, against Him Robinson and beat him. Years later when the big thing in the airport came, it was then 1982 or whenever they rededicated it; Jim was involved in it; I forget who the chairman was' and I wasn't even invited to it. But somehow or other somebody picked up and at least asked me to be in the audience, and Bill Nelson was up there, and so forth, and was given the credit for doing the whole thing, and Bill, bless his heart, said, "Hey wait a minute, I didn't have a thing to do with this. You know, I was just there after this whole thing was done, and the guy sitting in the audience did all of this -- Lou Frey." I must admit that I really thought that was really nice of him -- a really class act for Bill to do that.
Document Item Type Metadata
Original Format
1-page typed transcript

Files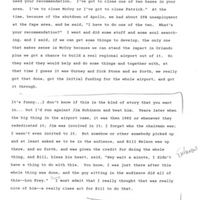 Citation
"Transcript of Interview with Congressman Lou Frey, Jr.." RICHES of Central Florida accessed July 5, 2022, https://richesmi.cah.ucf.edu/omeka/items/show/3610.
Categories
Transcribe This Item