Florida From the House...To Your Home Newsletter, July 1976
Files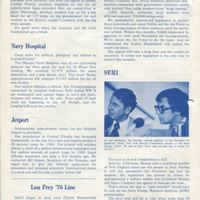 Dublin Core
Title
Florida From the House...To Your Home Newsletter, July 1976
Alternative Title
Florida From the House...To Your Home Newsletter
Subject
Frey, Lou, 1934-
Orlando (Fla.)
Airports--Florida
Hospitals--Florida
John F. Kennedy Space Center
Kennedy Space Center
National Aeronautics and Space Administration (U.S.)
Solar Energy Research Institute
Solar energy--Florida
McCoy Air Force Base
Description
One page from Florida From the House...To Your Home newsletter mailed to citizens of the 9th Congressional District of Florida, represented by Representative Louis Frey, Jr. (1934-2019), who served in the U.S. House of Representatives from 1969 to 1979. He was on several committees during his time in office, including the Select Committee on Narcotics Abuse and Control and the Science and Technology Committee. He was also the chairman of the Young Republicans of Florida. The first article announces that the commissary the McCoy Air Force Base Commissary in Orlando, Florida, had begun selling local produce to consumers.

The second article discusses the approval of Phase Two funding for the Orlando Naval Hospital. Some of the Veterans' Administration (VA) medical facilities in Central Florida were old and outdated by the 1970s. Rep. Frey and others wanted to replace them with more modern facilities in order to better serve the district's veteran population. The initial goal was to obtain a VA hospital for Brevard County, and Rep. Frey introduced legislation that would have this result. Although the legislation didn't pass through Congress, the spotlight on the issue of veterans' medical care helped to encourage other advances. One example of this was Congress' funding of a new Navy hospital in Orlando, which was a much-needed replacement for the old facility.

The third article argues the inevitability of international port-of-entry status for the Orlando Jetport. Due to increasing tourism to Central Florida, the Orlando Jetport, also known as the McCoy Air Force Base, would benefit from gaining the status as an international port of entry. This would allow international travelers to arrive directly to the area. Previously, they needed to arrive in other areas of Florida like Miami and then travel to Orlando, which impeded the increase in Central Florida's tourism. Rep. Frey was one of the people who worked to achieve this goal through methods like requesting that the U.S. Secretary of the Treasury give the matter special consideration. These efforts were successful and the jetport became an international port of entry in 1976.

The fourth article is about a federal court's ruling regarding the McNamara-O'Hara Service Contract Act (SCA) of 1965. The SCA required that contractors and subcontractors pay service employees the prevailing wage—the wage rates and fringe benefits found in the prevailing locality—or the rates established by the previous contractor's collective bargaining agreement. The federal court judge ruled that the Service Contract Act "only protect[ed] blue collar workers from 'wage busting.'" According to the article, Congress introduced legislation to compensate for the ruling. The National Aeronautics and Space Administration (NASA) and the John F. Kennedy Space Center (KSC) in Merritt Island agreed to delay re-computation of their contracts until the court appeal was resolved. Rep. Frey asked the U.S. Air Force to do the same, on behalf of contract workers for Patrick Air Force Base (PAFB).

The last article discusses the Solar Energy Research Institute (SERI) and the use of solar energy in Florida. According to the article, Florida was leading the way with support from Governor Reubin Askew (1928-2014) and the Florida legislature.
Source
Original newsletter by Lou Frey, Jr., December 1976: Lou Frey Papers, box 11,
Lou Frey Institute of Politics & Government
, Special Collections and University Archives, University of Central Florida, Orlando, Florida.
Is Format Of
Digital reproduction of original newsletter by Lou Frey, Jr., December 1976.

Coverage
Orlando Jetport, McCoy Air Force Base, Orlando, Florida
Brevard County, Florida
John F. Kennedy Space Center, Titusville, Florida
United States Capitol, Washington, D. C.
Patrick Air Force Base, Florida
Cannon House Office Building, Washington, D. C.
Mediator
History Teacher
Civics/Government Teacher
Geography Teacher
Provenance
Originally created by Lou Frey, Jr.

Contributing Project
Curator
Mayer, Erica
Cepero, Laura

Digital Collection
External Reference
Transcript
McCoy Commissionary

I'm delighted to report that consumers at the McCoy Commissionary in Orlando will now be able to purchase local produce. The Navy has agreed to permit Central Florida produce suppliers to bid on an item-by-item basis--provided they are competitive in price. Previously, produce vendors had to file a bid sheet for all 125 items on the procurement list and vendors in the District couldn't compete with the big firms upstate.
It's good news when the taxpayer and the local business get a break.

Navy Hospital

Good news for military personnel and retirees in Central Florida!
The Orlando Naval Hospital--one of our continuing projects--has been given the nod for its Phase Two funding. We received $2.978 million for some demolition and a new dental clinic. This years' House appropriations bill contains $23.85 million for the all new facility.
Our need in Orlando is critical. The 50-odd buildings connected by outdoor walkways built during WWII are antiquated and cannot begin to serve our many veterans and retirees in the area. Four years of hard work are beginning to pay off though, and the hospital will soon be a reality.

Jetport

International port-of-entry status for the Orlando Jetport is inevitable.
Our population in Central Florida has increased dramatically in the last five years and experts project a 30 percent jump by 1980. the jetport will enplane almost a third of a million international passengers and five million pounds of export cargo by 1980. Local officials requested our help a few months ago. We contacted Bill Simon, Secretary of the Treasury, and urged him to give the Orlando application his immediate and personal attention. International status is a must and will be become a reality before fall.

Lou Frey '76 Line

Don't forget to send your Florida Bicentennial questions to the LOU FREY '76 LINE, 214 Cannon H.O.B., Washington, D.C. 20515.

Service Contract Act

A few months ago a federal court dealt workers at KSC and PAFB a severe blow. He ruled that the Service Contract Act, which formerly protected most workers connected with government contracts, would only protect blue collar workers from "wage busting."
3,400 formerly protected local workers were affected and over 250,000 nation-wide.
We immediately introduced legislation to protect these individuals and asked NASA and the Air Force to delay recomputation of their contacts until the matter was settled. Within two months, NASA responded by agreeing to wait until November for recomputation. We've asked the Air Force to do the same. And we understand the Justice Department will appeal the court's decision.
The appeal will take a long time and the results are uncertain. It seems our legislation is the only way to correct this inequality.

SERI

at our invitation, Joe Jenckes, special assistant to the President for legislative affairs, met with Brevard Community leaders at the Solar Energy Center, He said he had "never seen an area that is better for S.E.R.I".

The race is on competition is stiff.
Arizona, California, Hawaii and a surprising number of New England states are the people to beat. Florida is still the pacesetter--the Governor has lent his support, the legislature has proved its intent by appropriating a million dollars and Lockheed Missiles and Space Company has agreed to manage our team.
That's about the way a "solar watcher" would have to sum up the Solar Energy Research Institute (SERI) preliminaries.
The next trial will be in July when more than 30 groups will submit their bids to ERDA. Permanent site selection for the $4 to $6 million facility will not be made public until late November, with building scheduled to begin in January.
Document Item Type Metadata
Original Format
1 newsletter

Citation
Frey, Lou, Jr. . "Florida From the House...To Your Home Newsletter, July 1976." RICHES of Central Florida accessed September 27, 2023, https://richesmi.cah.ucf.edu/omeka/items/show/3609.
Categories
Transcribe This Item