The Latest Merchandise News for Spring and Summer, 1939
Files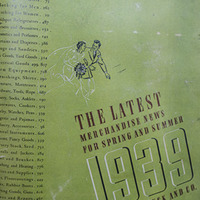 Dublin Core
Title
The Latest Merchandise News for Spring and Summer, 1939
Alternative Title
Sears & Roebuck Catalog Merchandise News
Subject
Orlando (Fla.)
Sears, Roebuck and Company
Department stores--Florida
Description
A Sears, Roebuck & Company merchandise catalog for 1939. A Sears store was located at 111-113 North Orange Avenue in Downtown Orlando, Florida. Sears moved into the first floor of Philips Apartments in 1931. Before Sears arrived, the building, as well as the city of Orlando, was experiencing economic decline. However, Sears proved so successful that the building had to expand and the property value of the entire building increased by 25 percent. In 1939, F. Monroe Alleman and Kenneth Kraft bought the Sears building for $300,000. Twenty years later, Alleman sold the building for $1.1 million, but Sears was kept open with 12 years left on its lease.

In 1962, land on East Colonial Drive was bought to open a freestanding Sears store and a year later construction started. In 1973, the Sears on Colonial was incorporated with the Fashion Square Mall and it remains open today. On May 4, 1974, due to the expanding city and regional malls, the downtown Sears store closed its doors. Ten years later, the building was renovated and became what it is today, a bronze-colored glass tower nicknamed the Copper Whopper.
Creator
Publisher
Contributor
Bourgeois, Charles
Is Format Of
Digital reproduction of original catalog, 1939.
Coverage
Sears, Roebuck & Company, Downtown Orlando, Florida
Mediator
History Teacher
Economics Teacher
Contributing Project
Curator
Williams, Rachel
Cepero, Laura
Digital Collection
Source Repository
Orlando Remembered
External Reference
Transcript
Books[?] and Stationery
Building[?] Materials
Clothing[?] for Boys
Clothing[?] for Girls
Clothing[?] for Men
Clothing[?] for Women
Coldspot[?] Refrigerators
Corsets[?] and Brassieres
Costmetics[?] and Perfums
Curtains[?] and Draperies
Rugs[?] and Sundries
Goods, Yard Goods
Electrical[?] Goods
Farm[?] Equipment
Furniture[?], Mattresses
Hardware[?], Tools, Rope
Hosiery[?], Socks, Anklets
Housewares[?], Cookers
Jewelry[?], Watches, Pens
Lingeries[?] and Pajamas
[illegible], Accessories
Music[?] Instruments
[illegible], Fancy Goods
Nursey [?] Stock, Seed
[illegible] and Jackets
[illegible] and Brushes
[illegible] and Heating
[illegible] and Supples
[illegible], Floorcoverings
[illegible], Rubber Boots
Sporting[?] Goods, Guns
[illegible] and Repairs
Tableware[?], Damasks
Underwear[?], Knit
Wallpaper[?] and Tools
[illegible] Machines
Window[?] Shades, Blinds

THE LATEST
MERCHANDISE NEWS
FOR SPRING AND SUMMER
1939
SEARS, ROEBUCK AND CO.

Still Image Item Type Metadata
Original Format
1 catalog
Collection
Citation
Sears, Roebuck & Company. "The Latest Merchandise News for Spring and Summer, 1939." RICHES of Central Florida accessed December 4, 2023, https://richesmi.cah.ucf.edu/omeka/items/show/4082.
Categories
Transcribe This Item