The Maitland News, Vol. 01, No. 17, August 28, 1926
Dublin Core
Title
The Maitland News, Vol. 01, No. 17, August 28, 1926
Alternative Title
The Maitland News, Vol. 01, No. 17
Description
The Maitland News was a local newspaper originally published by the Maitland Realty Company (and later by The Maitland News Company) which began circulation in April 1926. This edition features articles on topics such as the rebuilding of Maitland Lumber Company, lots sold in Greenwood Gardens subdivision, the Maitland Auxiliary, property values, a church gathering, a Chamber of Commerce meeting, clean-up efforts, riots in Calcutta in India, fishing, the opening of the school year, the housing arrangements of local residents, and a local events calendar. Also featured are several advertisements for local businesses.
Source
Original 4-page newspaper edition:
The Maitland News
, Vol. 01, No. 17, August 28, 1926: Newspaper Collection, accession number 2014.002.020V, room 2, case 2, shelf 10, box GV, 
Maitland Historical Museum
, Art & History Museums - Maitland, Maitland, Florida.
Publisher
The Maitland News Company
Date Created
ca. 1926-08-28
Date Copyrighted
1926-08-28
Is Format Of
Digital reproduction of original 4-page newspaper edition: The Maitland News, Vol. 01, No. 17, August 28, 1926.
Is Part Of
The Maitland News Collection
, Maitland Historical Museum Collection, Maitland Collection, Orange County Collection, RICHES of Central Florida.
Requires
Medium
4-page newspaper edition
Coverage
Maitland, Florida
Winter Park, Florida
Calcutta, India
Mediator
History Teacher
Economics Teacher
Geography Teacher
Civics/Government Teacher
Provenance
Originally published by The Maitland News Company.
Rights Holder
Copyright to this resource is held by
The Maitland News
Company and is provided here by
RICHES of Central Florida
for educational purposes only.
Digital Collection
Source Repository
External Reference
Poole, Leslie Kemp.
Maitland
. Mount Pleasant, SC: Arcadia Pub, 2009.
"
Maitland History
." City of Maitland. http://www.itsmymaitland.com/maitland_history.asp.
Transcript
THE MAITLAND NEws
Published Weekly by THE MATLAND NEws Co, MATLAND, ORANGE County, FLORIDA
Volume I
AUGUST 28, 1926
NUMBER 17
Maitland Lumber Company REBUILDING
The Maitland Lumber Company started building a new shed to take the place of the one which burned last March. A temporary structure was put up immediately after the fire but this will be a large double shed, sixty-two by seventy-six feet. There will be a general and private office and a display room. The offices have been in the Nelson store building since the fire.
The shed will have a much larger capacity than the former shed and will be equipped with modern facilities for handling lumber direct from the cars to the storage bins.
Another improvement in the lumber yard is the new siding which has just been put in. This runs through the yard past the new shed giving plenty of room for cars to stand while unloading.
These improvements will be of great importance to the conduct of the business making it possible to car. ry it on in an efficient and satisfactory manner, without any of the inconveniences and drawbacks which often at tend an enterprise that does not have the bulk of large city business to uphold it.
Greenwood GARDEN LOTS SOLD
The latest sales reported in Greenwood Gardens are two lots recently sold to northern people. These lots are in the first division of the Gardens, one on the highway and one on Gamewell Avenue, both near the houses which have been built by Mr. R. A. Wheeler and Mr. A. B. Row. land.
MAITLAND AUXILIARY COMPLETES 81 GARMENTS
At the last luncheon and sewing meeting of the Maitland Auxiliary, which was held at the Library on Fri. day, eighty-one garments were finished. This leaves only seventy to complete to finish the quota of three hundred which the Auxiliary has set for its summer work, as against two hundred sixteen made last year.
construction progressing on STATE ROAD NO. 3
Near Elder Springs is located the camp of the Lake Worth Construction Company which is clearing and grad. ing Road No. 3 from Sanford to the Orange County line. The work com: menced at the foot of Park Avenue in Sanford with a mile and a half to be done in the town limits. Six miles have now been cleared and two and a half graded. It is expected that two miles a month will be completed but there has been much delay from rains. Since the work commenced the first of June there have been only seven days without rain. In very wet weather the mules are unable to get any foothold in the mud. If the work proceeds at the estimated rate the Maitland line should be reached in January.
The right of way is one hundred feet wide, thirty feet wider than road No. 2, and is being cleared from side to side. The grade is sixty feet wide, the twenty feet on either side being used to furnish filler. Trees are pulled up by the roots, piled and burned. The land is then all ploughed, grubbed to remove all roots and ploughed again with a double gang disk. Eighty mules and sixty three men are on the pay roll and forty more men started in this week. The mules may well be said to be on the payroll, as their feed costs 75.00 a day. This is a great undertaking and being carried out on a large scale and when finished will be the finest road in Florida.
PARSONAGE
On last Friday evening, the Rev. and Mrs. Orwick were surprised by their Maitland friends who came to spend the evening with them, bring: ing a great assortment of groceries and table linen to stock the parson. age cupboards. The entire community was there, all churches being resented. The affair which was got ten up by Mrs. J. M. Brown, Mrs. John Rice and Miss Margaret Rus: sell was a great success.
Earlier in the week Mr. Orwicks parishioners at Conway had stocked
1926 ASSESSMENT ROLL TOTALs OVER 33,000,000
3,320,140.00 is the total amount of Maitland property according to the 1926 assessment roll which was accepted by the town council on Monday. At the same time the millage was discussed and a probable rate set tled on. The general millage is six as against eight mills last year, with one mill for building fund, one for water and fire protection and three for paying interest on street, park and water works bonds.
The three million dollars supposedly represents the full value of the property, the assessment being based on a hundred per cent valuation, but there is probably no case in which the property is valued as high as the true market value. Most of the property is assessed as acreage as very few of the subdivisions were filed before January.
Great care has been given by the Assessor, L. L. Coudert, and the Tax Commission, C. J. Woodward, J. H. Hill and K. N. McPherson, to make the assessment fair and equitable. As sessment maps in quarter section tracts have been made on which all proper. ties are listed. These maps are open for public inspection now at Mr. Cou. derts office. Later they will be filed at the Town Hall.
CHAMBER OF COMMERCE HOLDS SOCIAL MEETING
Notices have been sent out for an evening meeting of the Chamber of Commerce to be held at the school house Friday evening. There will be a musical program, dancing and refreshments. Everyone is invited. This is the first social meeting that has been held this summer.
GEORGE s. DEMMING
George S. Demming, well known to the older residents of winter Park and Maitland, died at the Florida Sanitarium Monday morning, after an illness of less than a week.
his chicken yards for the winter, so the week proved a most lucky and thrilling time.


2]
THE MAITLAND NEWS
Maitland, FLORIDA
Published Weekly by The Maitland News Company. ANNA. B. TREAT, Editor and Business Manager
Subscription Price Fifty cents a year. Five years 2.00.
Advertising Rates on Application
LETs CLEAN UP
Winter Park is already starting on a program of cleaning up for the winter and there is a marked contrast between the road this side and the other side of the town signpost. It gives you a satisfied and happy feeling just to drive along the road from the turn by the roadside to the golf links. And if we who look with prejudiced eyes and find it hard to acknowledge that even our prosperous neighbor is really ahead of us in any way can see the difference and are forced to admit it, how must it affect the casual passerby who does not know the hidden excellence of Maitland? There is nothing that adds so much to the value of a town or a piece of property proportionately to the money invested as a little cleaning up. A house that has stood neglected and unnoticed for years may be sold offhand by the virtue of a bit of paint. We can greatly increase the value of our property if we will heed the may ors advice and do what he asks us and perhaps a little more. So from a selfish point of view if for no other reason let us plan now to celebrate Labor Day by donning our overalls and cleaning our hoes, and begin the week well.
LETS CLEAN UP
THE MAITLAND NEWS
CONDITIONS IN CALCUTTA
Mrs. Henry S. Thompson has sent in the following extracts from an in teresting letter written by her daughterin-law who lives in India, describe ing conditions there.
Have I written you anything about the riots in Calcutta?
There have been four or five out. breaks lately between the Mohamme dans and Hindus. As a usual thing it is over a cow. The Hindus worship the cowan orthodox Hindu wont wear leather shoes wont eat beef wont sell beef. The Mohammedans sacrifice the cows and they like to parade their religious rites under the Hindu nose. The Hindu retaliates by playing music (jazz) in front of the Mohammedan mosques and then hell breaks loose. Europeans are never involved.
Have you read anything about Mrs. Naide? She is replacing Ghandi as an Indian leader. She is very active at present, speaking in so many places. Her theme seems to be recon. of the Hindu and Mohamme.
an.
Mr. and Mrs. Anderson and daughters, the Misses Ella and Alice, were guests of Mrs. James Doig over the weekend.
LOUIS L. COUDERT, INC. CIVIL ENGINEERS Land Surveyors TOWN PLANNING
P. O. Building Maitland, Florida
General Repairing Vulcanizing
Washing
# get our New prices on coodyear and viking tires. We have a Complete Stock
MAITLAND GARAGE
M. L. KYLE, Prop. Phone 1314-
Wrecking Car Service Polishing
Batteries Repaired and Recharged
Greasing
CALENDAR
Sunday, 10:00 a. mSunday school, Methodist church: :45 a. m, Sunday school, Presbyterian church. First and third Sunday11 a. m. and :00 p. m, services, Methodist church. Second and fourth Sunday-11 a. m. and :00 p. m, services, Presbyterian church. Tuesday, :00 p. mMunicipal office zoning commission. :30 p. m, Fire Drill. - - - - - Wednesday, :00-6:00 p. mLibrary open. :00 p., Prayer Meeting, Methodist church. - Second Thursday, 12:15, white Way Restaurant Chamber of Commerce. Fourth Thursday, :00 p. m., Council meeting. Friday, :00 p. m., Hill SchoolBay Scouts. - Saturday, :00-6:00 p., Library open.
Fresh Fish
We have them Tuesdays and Fridays
Also a complete line of
Staple and Fancy Groceries
Maitland, Florida
We demonstrate all that the word implies on. orders entrusted to us
for Lumber and Build
ing Materials.
The proof is in the increasing number of Satisfied Custorners
THE MATLAND LUMBER CO.
Phone 399
(Illustrated House Plan Books. FREE)


THE MAITLAND NEWS
3]
LOCAL ITEMS
Mr. R. A. Wheeler spent two days in Jacksonville on business last
Mrs. R. A. Wheeler is recovering from a tonsil operation at the Florida Sanitarium.
Mr. John W. Rice has recently pur. chased a seven passenger Studebaker touring car.
Mrs. F. T. Marsh is leaving Friday for a two months' trip north. She will visit relatives in New York and the vicinity.
Mrs. Theodore Johnston has gone to Battle Creek to be with her father, Mr. Randall Bronson, who is recov. ering from an operation.
Mrs. J. M. Brown is spending a few days in Sarasota with her daughter, Mrs. Smith, and in Tampa with her daughter, Mrs. Sykes. Mrs. Brown motored down on Sunday with . A. and Milton Brown and E. T. Owen.
Mr. T. B. Dunlap, who is the own. er of æxtensive peach orchards in Wayneboro, N. C., came down to Florida for a short trip with L. J.
S. J. STIG G INS LAW YER MATLAND, FLORIDA
Maitland Plumbing Co.
C. D. HORNER Plumbing, Piping. Irrigating, Repairing
Until September 1st, all
Table, Floor and Boudoir -
will be sold at a 20 per cent reduction. Everything marked with a yellow tag at reduced prices.
MAITLAND ELECTRIC SHOP J. H. Bennett, Prop.
Chambers, who has returned to Maitland, having spent the peach packing season there. Mr. Dunlap, after a short trip back to North Carolina, expects to return in November and make investments in grove property in this vicinity.
FIRE TRUCK MOVED TO - PERMANENT QUARTERS
The Maitland fire truck is now in its permanent quarters in the town building. Racks are being constructed to hold the helmets and other equipment and the place will soon be in
good order.
FLORAS STUDIO
| РНОТОGRАРНS The Better Kind" Large Assortment of Picture Frames
i Phone 2336 21 12 S. 0range Avenue ORLANDO, FLORIDA
Send in your Sucscription
for the
Maitland News
BROWN HAS IT,"
Horse Feed, Corn Feed Meal, Growing ; Mash, Laying Mash, Meal, Grits
i Give us a trial and be convinced
The best is none too good The City Store Telephone 1310-
в
Special
:
E. A. UPMEYER, Pres.
Announcement
Beginning September 1st, 1926, this Bank will observe the following Banking Hours:
9:00 A. M. to 2:00 P. M.
This change from our usual custom of :00 A.. to 12:00 Noon, and 100 P. M. to :00 P. M, has been instigated by the decision of the Winter Park and Orlando Banks to change their hours to conform to the hours of Banks in most of the larger cities. will be no noon closing under the new arrangement.
A Local Bank for Local People
DONALD G. SPAIN, Cashier
There
J. A. BROWN, VPres.


SCHOOL BEGINS SEPTEMBER 13
The School Trustees announce that school will open on September 13 if the new desks arrive in time. These desks are to be movable chairs, the kind that are being used generally in the most upto-date schools, and will be of especial value here, as they can be moved to clear the hall when it is needed for assembly purposes.
PULLMAN RESERVATIONS FILLED
It is reported by the Pullman of fice in Chicago that all reservations on the Dixie trains as now made up are taken for November and December. It is expected, however, that further equipment will be added to sup: ply the heavy traffic already certain for that season.
METHODIs. CHURCH beats Town
Not content to wait until Clean-up Week the people of the Methodist Church came out en masse Tuesday and cleaned up the church property and the parsonage grounds. This is a fine example to the rest of the town and should help to arouse enthusiasm in the Clean-up Week program.
HOUSES FOR RENT
There has been quite a little moving in Maitland lately and several houses are vacant at present.
CORRECTION
A mistake was made last week in announcing the house that Mr. R. A. Posey is occupying. He is living in Mr. J. D. Baggetts house on Lily Lake.
TRIP TO MT. PLYMOUTH
Some of the women of the Auxile iary with their families enjoyed a trip to Mt. Plymouth on Tuesday.
The Maitland News,
Maitland, Florida. I here with enclose 5. .. for
- years' subscription to The
Maitland News. -
THE MAITLAND NEWS
BRING BACK FISH
Three of the champion Maitland fishermen brought back a fine catch from Daytona last Monday consisting of 55 specimens of an assorted variety of yellow tails, spots, needlefish, lady fish, red snappers, whiting, blue fish,
trout, drum, shark, cat fish and crabs. The crabs are to be attributed to Ray Leuthy, the drumsa six pound one landed, and a ten pounder hooked, to Forrest Stone, while to Ernest Up: meyer must be credited the major part of the catch, not to mention the cat fish.
yourself.
down to it.
best attention.
• Zazem and ZPretty Flowers
Nothing makes a home more attractive, and gives more pride and joy to your family and friends, than a neat, green lawn and well kept shrubs and pretty flowers in the yard.
You don't have to look with envy at your neighborsplantsyou can have them just as pretty And youll be surprised how quickly and easily it can be done when you get right
A light application of Mapes Flower, Fern and Lawn Manure will put new life and vigor into your grass, flowers or shrubs. odorless and brings surprising results.
We will deliver a 200 pound sack to you for 5.50 during clean-up week. Your plants deserve the Call us now.
It is practically
Files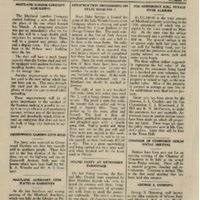 Collection
Citation
"The Maitland News, Vol. 01, No. 17, August 28, 1926." RICHES of Central Florida accessed September 30, 2022, https://richesmi.cah.ucf.edu/omeka/items/show/5540.
Categories
Transcribe This Item