The Maitland News, Vol. 01, No. 16, August 21, 1926
Files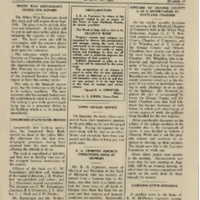 Dublin Core
Title
The Maitland News, Vol. 01, No. 16, August 21, 1926
Alternative Title
The Maitland News, Vol. 01, No. 16
Description
The Maitland News was a local newspaper originally published by the Maitland Realty Company (and later by The Maitland News Company) which began circulation in April 1926. This edition features articles on topics such as a Chamber of Commerce meeting, a clean-up week, the closure of a restaurant for repairs, a new bank in Longwood, the explosion of a gasoline stove, the new municipal building, electrical laws, building permits, a new retail store, the housing arrangements of local residents, and a local events calendar. Also featured are several advertisements for local businesses.
Source
Original 4-page newspaper edition:
The Maitland News
, Vol. 01, No. 16, August 21, 1926: Newspaper Collection, accession number 2014.002.020V, room 2, case 2, shelf 10, box GV, 
Maitland Historical Museum
, Art & History Museums - Maitland, Maitland, Florida.
Publisher
The Maitland News Company
Date Created
ca. 1926-08-21
Date Copyrighted
1926-08-21
Is Format Of
Digital reproduction of original 4-page newspaper edition: The Maitland News, Vol. 01, No. 16, August 21, 1926.
Is Part Of
The Maitland News Collection
, Maitland Historical Museum Collection, Maitland Collection, Orange County Collection, RICHES of Central Florida.
Requires
Medium
4-page newspaper edition
Coverage
Maitland, Florida
Winter Park, Florida
Orlando, Florida
Longwood, Florida
Mediator
History Teacher
Economics Teacher
Geography Teacher
Civics/Government Teacher
Provenance
Originally published by The Maitland News Company.
Rights Holder
Copyright to this resource is held by
The Maitland News
Company and is provided here by
RICHES of Central Florida
for educational purposes only.
Digital Collection
Source Repository
External Reference
Poole, Leslie Kemp.
Maitland
. Mount Pleasant, SC: Arcadia Pub, 2009.
"
Maitland History
." City of Maitland. http://www.itsmymaitland.com/maitland_history.asp.
Transcript
THE MAITLAND NEws
Published Weekly by THE MATLAND NEws Co, MATLAND, ORANGE County, Florida
Volume I
AUGUST 21, 1926
NUMBER 16
white way RESTAURANT CLOSED FOR REPAIRS
The White Way Restaurant closed this week and will reopen about Sept. 15th. The place is to be entirely done over and remodeled. A tile floor will be put in and more tables added, thus enlarging the capacity of the restaurant. The lunch room also will be rearranged, with the counters placed in the form of a horse shoe, giving more space for customers.
The restaurant, which opened for business on Christmas Eve last winter has had a remarkable year, far beyond the expectations of the management. Mrs. Manning has now gone north to make arrangements for taking care of the increased business which they expect to have this coming winter.
Not only is the financial success great, but the restaurant ranks high as to its sanitary condition. The state inspector who has recently looked over the establishment rated it at 94%, the % lacking to give it the perfect mark being due to a structural defect in the building which is to be remedied immediately.
LONGwood state BANK OPENED
Longwoods first banking institu. tion, the Longwood State Bank, opened its doors to the public Mon: day afternoon for the first time, telegraphic permission having been received from the state authorities allowing the officials to do so. The bank is capitalized at 20,000, and bids fair to develop into one of the strongest financial institutions in the county. Officers of the bank are C. W. Entzminger, president and chairman of the board of directors, J. E. Walker, first vice-president and cashier, and B. J. Overstreet, second vice-president. The directors are C. . Entzminger, chairman, B. J. Overstreet, J. E. Walker, L. J. Slade and J. H. Hartley. Mr. Entzminger and Mr. Walker are well known to the people of the county, the former having recently resigned as county commissioner after a loyal service of thirteen years, and the latter being mayor of Longwood. (Continued on Page 4)
PROCLAMATION
I, E. A. Upmeyer, by virtue of the authority vested in me as mayor of the Town of Lake Maitland, Florida, do hereby proclaim:
The Week of Sept. 6th to 12th to be CLEAN-Up WEEK
Property owners and residents are requested to observe this proclamation and arrange, during the week above mentioned, to cut and remove all weeds from fence lines and yards, to repair fences and buildings, to clear out all rubbish, and to otherwise improve the appearance of their property.
Rubbish deposited in piles at the curb line will be removed by the town truck.
The cooperation of all citizens is urged in order that we may maintain our pride in Maitland as a delightful and attractive town to live in and that we may present it in its best form to the host of tourists and winter visitors.
Signed E. A. UPMEYER, Mayor.
Attest: E. T. Owen, Town Clerk
TOWN OFFICES MOVED
On Saturday the town offices were moved from their temporary quarters in the post office to the new Municipal building. During the summer the up. stairs room will be used as an office. Water and electricity have been con nected and the place is being put into good order. E. A. UPMEYER REPORTS
CONDITIONS GOOD IN GEORGIA
Mr. E. A. Upmeyer, mayor of Maitland and President of the Bank of Maitland, who has recently returned from a business trip to At lanta, says that there is a better out. look for farm crops of all kinds in Georgia than there has been for six years and that business and financial conditions are excellent. Incidentally he reports that Georgia can outdo Florida when it comes to lightning and rain storms, as he encountered one of the worst ones he has ever experienced, in Atlanta, 2.37 inches of rain falling in an hour.
OFFICERS OF ORANGE COUNTY C. OF C. ENTERTAINed by MAITLAND CHAMBER
At the regular monthly luncheon and meeting of the Maitland Chamber of Commerce held at the White Way Restaurant, August 12, C. T. Bick. ford, assistant secretary of the Orange County Chamber of Commerce, and J. G. Wheldon and A. T. Coith of the Orange County and Orlando Chambers, were present and spoke of the work being done by the County Chamber. Mr. Wheldon, who is Industrial and Agricultural Secretary, spoke of his plan to bring industries to the various communities in the county, and Mr. Coith, who is on the Beautification Commission, told of the county nurseries which are at the dis posal of any town or individual want ing to make plantings on or in sight of the highway. Mr. Bickford ex plained the plan of cooperation be tween the Orange County and Or. lando Chambers now that Karl Leh. mann has become Secretary of both bodies, by which each takes charge of certain aspects of work, the publicity being handled for the two together.
After considerable discussion on the subject of the unkept condtion of the roadsides due to the overgrowth of weeds, it was decided to endorse a Clean-up Week and to ask the property owners and residents to cooperate in cleaning up their premises. The details were left to the Executive Committee to work out.
About thirty people were present at the meeting. Announciment was made that the next meeting on Aug. 26th, will be an evening meeting, at which time the various committees will report on the work done by them through the summer.
Gasoline STOVE EXPLODEs
A gasoline stove in the home of K. N. McPherson exploded, causing considerable damage in the kitchen, where a window was broken and fire broke out. The fire department was
called, but the flames were extin. guished by workmen on the place be fore the department arrived.


2]
THE MAITLAND NEWS
MATLAND, Florida
Published Weekly by The Maitland News Company. ANNA. B. TREAT, Editor and Business Manager
Subscription Price Fifty cents a year. Five years 2.00.
Advertising Rates on Application
CLEAN-UP WEEK
The Mayors Proclamation, designating the first week of September as Clean-up Week, is heartily wel comed by the News.
The first week of the first fall month is a most appropriate time for this action. To those of us who came from the north, the odor of burning leaves always brings to mind a crisp autumn day, the fields clean and brown after the harvesting of the crops, the trees bare of leaves, the weeds and roadside flowers cut down, and all outdoor activities turned to: ward cleaning up preparatory to the rigors of winteran interesting but
sad labor.
But here in the south what a dif. ferent aspect does the fall cleaning have. Here it is preparatory to an active, not a dormant season. We are simply clearing out one period of growth to make way for another With how much greater energy and enthusiasm should we attack this work, since it means making ready for that season of the year in which our lives are so filled with both work and pleasure that there is no time for doing odd jobs" around the place.
So let us respond wholeheartedly to our Mayors proclamation. Let us help the town to clean up the road. sides; let us prepare our own property for winter planting; let us repair and
THE MAITLAND NEWS
paint our buildings; let us put our houses and grounds in perfect order so that our town may be more beauti ful than it has ever been.
Winter Park, Fla. August 16, 1926 Maitland News, Maitland, Fla.
I enclose one dollar for which please put my name on your subscription list for 2 years. I have received several copies of your newsy paper already, and appreciate it very much, and am sure it will make a rapid growth. Wishing you success, I am, Very respty, R. B. YAVV.
WHITE way posts KNOCKED DOWN
Many are the vicissitudes of the White Way posts along the highway. Last week a post near Lake Faith was cut neatly of just above the ground one evening by an unknown auto, and on Sunday a post near the south end of town was knocked over by a car which skidded and demolished a Ford as well as the post. No one was in jured.
LOUIS L. COUDERT, INC. CIVIL ENGINEERS Land Surveyors Town PLANNING
P. O. Building Maitland, Florida
General Repairing Vulcanizing
Washing
INVITE US TO YOUR Next BLOW-OUT GOODYEAR TIRES AND TUBES
MAITLAND GARAGE
M. L. KYLE, Prop. Phone 1314-
Wrecking Car Service Polishing
Batteries Repaired and Recharged
Greasing
CALENDAR
Sunday, 10:00 a. m. Sunday school, Methodist church: :45 a. m, Sunday school, Presbyterian church. First and third Sunday11 a. m. and :00 p. m, services, Methodist church. Second and fourth Sunday 11 a. m. and :00 p. m, services, Presbyterian church. Tuesday, :00 p. m. Municipal office ooning commission. :30 p. m., Fire Drill. Wednesday, :00-6:00 p. mLibrary open. :00 p., Prayer Meeting, Meth. odist church. Second Thursday, 12:15, white way RestaurantChamber of Commerce. Fourth Thursday, :00 p. m., Council meeting. Friday, :00 p. m., Hill SchoolBay Scouts. Saturday, :00-6:00 p., Library open.
Fresh Fish
We have them Tuesdays and Fridays
Also a complete line of
Staple and Fancy Groceries
M. P. PO N D E R Maitland, Florida
- 22 Service We demonstrate all that
the word implies on orders entrusted to us
for Lumber and Building Materials.
The proof is in the increasing number of Satisfied Cus
THE MATLAND LUMBER CO.
Phone 399
(Illustrated House Plan Books. FREE)


LOCAL ITEMS
The Misses Inez and Marion Kyle, who have been visiting their sister, Mrs. Arthur Wellons, for the past two weeks, have returned to their home in Mangrove, Florida.
M. L. Kyle returned from Tampa on Sunday, where he has been spending a weeks vacation. He expects his father to come to Maitland next week to join him in his business.
R. A. Posey and family, after spending several months in Winter Park, have returned to Maitland and are occupying the house near Lily Lake, owned by Capt. Harris.
Mr. and Mrs. C. J. Woodward left Wednesday for several weekstrip through the eastern states, spending some time in Boston and returning through Philadelphia, where they plan to visit the Sesquicentennial Exposio tion.
Mr. and Mrs. W. F. Parker and Mr. and Mrs. W. L. Parker, have returned from an extended motor trip through the middle west. Mr. Parker reports the roads in general, very good in Ohio, Indiana and Illinois, but poor in Missouri, through which they came on their return home.
MATLAND, FLORIDA

C. D. HORNER Plumbing, Piping, Irrigating, Repairing Estimates FURNISHED
Until September 1st, all
Table, Floor and Boudoir
will be sold at a 20 per cent reduction. Everything marked with a yellow tag at reduced prices.
MAITLAND ELECTRIC SHOP : J. H. Bennett, Prop.
THE MAITLAND NEWS
Mr. and Mrs. E. W. Horton and daughters are back from a two months' visit in Ohio.
Mrs. F. H. Manning left on Thurs: day for a months visit in the north. She will stop in Chicago, after which she will visit Oshkosh, Wisconsin, and in Ishpeming and Marquette, Mich.
Mr. and Mrs. W. L. Strong and Mr. and Mrs. Marion Strong left
Tuesday for Georgia, Mr. J. I. Strong driving them up.
Mr. and Mrs Marion Strong, who have been spending some time in Maitland will return thence to their home in Alabama.
FLORAS STUDIO]
PHOTOGRAPHS The Better Kind"
Large Assortment of Picture Frames
Phone 2336 21 12. S. 0range Avenue ORLANDO, FLORIDA
3]
Send in your Sucscription
for the
Maitland News
obrown has it
Horse Feed, Corn Feed Meal, Growing Mash, Laying Mash, Meal, Grits
Give us a trial and be convinced
The best is none too good
B. R O W N 'S The City Store Telephone 1310-
the rate of 2.00 per year.
E. A. UPMEYER, Pres.
Your Valuables are Worth MoreThan 2 Why Take Chances?
In the event of fire or theft your valuable papers and articles are liable to be a total loss, and many of the things you value cannot be replaced, others can be replaced only at some expense and great trouble.
Such loss is easily avoided if you have a safedeposit box in your bank, and the cost of a box compared to its value to you in case of fire or theft is nothing.
Let us give you a box in this banks vault free of charge until January 1st, and then charge you for it at
200 A YEAR PROTECTS YOUR WALUABLES
A Local Bank for Local People
J. A. BROWN, VPres.
DONALD G. SPAIN, Cashier


STATE ELECTRICAL LAWS TO BE STRENGTHENED
J. H. Bennett, who attended the Electragists' meeting in Tampa last Wednesday and Thursday, reports that a new set of ordinances governo ing electric construction in the state of Florida were adopted at this convention. These, if enacted into law by the legislature will require a state examination for all electrical contractors and journeymen, who if they pass the examination conducted by the State Examining Board can, by paying the vocational tax, do work in any municipality in the state. This is considered a good thing for the electrician and each community will be protected by being assured of having men who know how to do work properly and according to code. A local inspector will have jurisdiction over a five mile radius outside the city limits where there is not already an inspector. A state inspector will have charge of outlying districts.
In a business where life and property are at stake, it is necessary that there should be competent men on the job, so this seems to be a wise act of legislation, and it is expected that it will become a law at the next meeting of the legislature.
NEw store progressing RAPIDLY
The new store building which W. T. Clare is erecting on Maitland Ave. is about ready for the roof to be put on. The two stores and apartments will be ready for occupancy before many weeks.
CLARENCE BROWN HOME SOLD
The bungalow recently built by Clarence Brown, on Packwood Ave., has been sold to Mr. Spencer, of London, Ontario. Mr. and Mrs. Spencer are now living in the house and expect to make it their permanent home.
LONGWOOD STATE bank opened
(Continued from Page 1)
The other directors are prominent citi. zens of the town. The bank has received a large amount of deposits in the first week of its existence, and the officers have been encouraged by this proof of the need for a bank here. Longwood News
THE MAITLAND NEWS
BUILDING PERMITS FOR MONTH TOTAL 38,000.00
Mrs. C. H. Hill and Mrs. T. J. Hill are visiting relatives in South Caroo lina.
Building permits have been issued in Maitland during the period from July 15th to August 15th, to the amount of 38,000.00.
The Misses Kingsley, of Elizabeth, New Jersey and Maitland are spend ing August at Bonny Oaks Camp, at Fairlee, Vermont.
Exp/osion/
When your stove explodes or lightning strikes your chimney, there is damage done, and you should collect on your fire
insurance policy.
We make adjustments at once on such losses and pay for repairs and replacements. If we are handling your insur
ance you can get action without delay
and bother.
We are
Let us shoulder your worries. here all day and all night, the year round.
MAITLAND
FIL O RIDA
Collection
Citation
"The Maitland News, Vol. 01, No. 16, August 21, 1926." RICHES of Central Florida accessed December 5, 2023, https://richesmi.cah.ucf.edu/omeka/items/show/5539.
Categories
Transcribe This Item