Browse Items (12 total)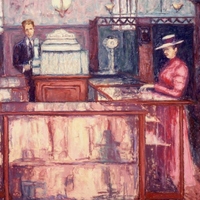 A painting by Bettye Reagan, a local artist in Central Florida, inspired by a photograph of the Lawton General Store Oviedo, Florida sometime between 1900 and 1939. The store was run by two brothers: Thomas Willington Lawton (1882-1963) and Winborn…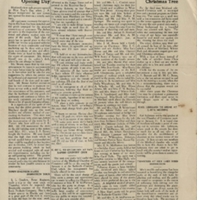 The Maitland News was a local newspaper originally published by the Maitland Realty Company (and later by the Maitland News Company) which began circulation in April 1926. This edition features articles on topics such as the opening of a new cash…
A photograph of the Lawton Brothers Store in Oviedo, Florida, in 1910. The man behind the cash register in the photograph is likely Thomas Willington Lawton (1882-1963) or his brother, Winborn Joseph Lawton, Sr. (1881-1971). T. W. Lawton graduated…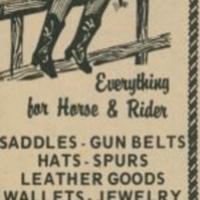 A newspaper advertisement for the Horse and Rider Western Store, located at 2858 Sanford Avenue in Sanford, Florida. The store sold various Western-style products and gear for horseback riding, including saddles, gun belts, and belt buckles.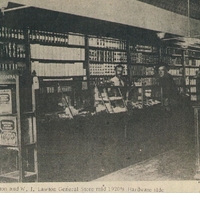 Thomas Willington Lawton (1882-1963) and his brother, Winborn Joseph Lawton, Sr. (1881-1971), at the Lawton General Store in Oviedo, Florida. T. W. Lawton graduated from Rollins College in 1903. He later received his master's degree from Andover…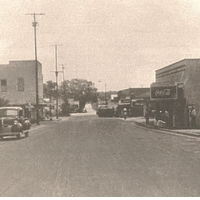 Old Downtown Oviedo, Florida, looking east from the intersection of Broadway Street/County Road 419/Florida State Road 426 and Florida State Road 434/Florida State Road 419. A Coca-Cola sign can be seen the right side of the photograph. The two-story…
Looking west along East Broadway Street towards Central Avenue in Oviedo, Florida. The shops in the photograph include a pet food and supply store, Pot Latch, a barber shop, and Albert's Jewelers, which was located at 24 East Broadway Street.
Browdy's Mini-Mart, a convenience store located at the north side of the intersection of Avenue B and East Broadway Street/County Road 419 in Downtown Oviedo, Florida.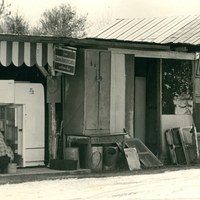 Whitaker's Old Country Store, a junk resale store located on East Broadway Street across the street from the Antioch Missionary Baptist Church, near the old railroad tracks of the Orlando-Winter Park Railroad, also known as the Dinky Line.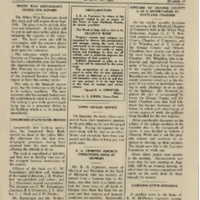 The Maitland News was a local newspaper originally published by the Maitland Realty Company (and later by The Maitland News Company) which began circulation in April 1926. This edition features articles on topics such as a Chamber of Commerce…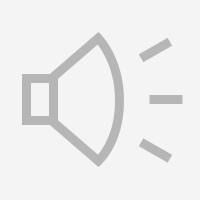 Daphne F. Humphrey was born in Sarasota, Florida, but migrated to Sanford at age 5. In this oral history, she first describes Georgetown, an historic African-American community in Sanford. She then talks of her mother, Marie Jones Francis, the…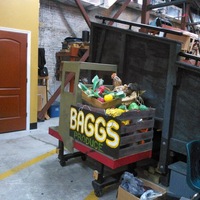 the Baggs' Produce cart prop used in several scenes for Remade - Not Bought to symbolize the Baggs' grocery store. This store was part of the community for decades and has served as a de facto meeting place for residents of Sanford, Florida.Remade -…