Employees at New Downtown Orlando Post Office Building
Files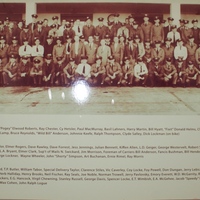 Dublin Core
Title
Employees at New Downtown Orlando Post Office Building
Alternative Title
Downtown Orlando Post Office Employees
Subject
Orlando (Fla.)
Post offices
Description
Postal employees after the construction of the new Downtown Orlando Post Office building, located at 51 East Jefferson Street, circa 1941. The photograph includes 109 employees ranging from superintendent to clerk. The Postmaster and Assistant Postmaster are included in the middle row of the photo. The group is comprised of mostly white men; however, the second row shows a woman, and the first and third rows show three African-American men. The building was constructed in a Spanish Colonial Revival style from 1939 to 1941 and dedicated on April 14, 1941. It has been occupied by the United States Postal Service since 1941, the Federal District Courthouse from 1941 to circa 1974, and the office of the Roman Catholic Church since 2003.

The building was renovated in the early 2000s and was modified for office and retail use, with the post office retaining 13,200 square feet. Plans included an adjacent parking garage on the north side, though that that aspect never came to fruition. St. James Roman Catholic Cathedral, located across Court Street from the post office, purchased the parts of the building not utilized by the post office and use it for Chancery office space.
Is Format Of
Digital reproduction of original black and white photographic print.
Medium
1 black and white photograph
Coverage
Downtown Orlando Post Office, Downtown Orlando, Florida
Mediator
History Teacher
Civics/Government Teacher
Geography Teacher
Contributing Project
Curator
Joshi, Ashis
Cepero, Laura
Digital Collection
Source Repository
Transcript
Row #1:
Claude Chewning, Al Nottingham, Frank Belue, "Pogey" Elwood Roberts, Ray Chester, Cy Hetsler, Paul MacMurray, Basil Lahners, Harry Martin, Bill Hyatt, "Fixit" Donald Helms, Charlie Richards, Arvie Allison, John Long, Jeff Clay, Fred Wilson, Unknown, Ted Hooker, Al Lamp, Bruce Reynolds, "Wild Bill" Anderson, Johnnie Keefe, Ralph Thompson, Clyde Salley, Dick Lockman (on bike)
Row #2:
Jim Wiggins, Spizeman, Clarence Jacobs, Al Naylor, Elmer Rogers, Dave Rawley, Dave Forrest, Jess Jennings, Julian Bennett, Kiffen Allen, L.D. Geiger, George Westervelt, Robert Studstill, Don Pennington, Hugh Thornton, Ass't Postmaster Dan Howell Jones, Postmaster L.A. Bryant, Elmer Clark, Sup't of Mails N. Swickard, Jim Morrison, Foreman of Carriers Bill Anderson, Francis Bushman, Bill Henderson, Robert Ford, Ed Rambo, Barclay Webster, Jack Tice, W.C. Logue, Bill Corbeau, C. Reid, George Lockner, Wayne Wheeler, John "Shorty" Simpson, Art Buchanan, Ernie Rimmel, Ray Morris
Row #3:
Paul Montgomery, Sid Matthews, Lamar Lunsford, T.P. Butler, William Tabor, Special Delivery Taylor, Clarence Stiles, Vic Caverley, Coy Locke, Foy Powell, Don Dungan, Jerry Lebica, Aubine Batts, Joe Nichols, Mrs. Paul Calhoun, Vince Kimple, Arnie Larson, Herb Halliday, Henry Brooks, Neil Fischer, Ray Seals, Joe Noble, Norman Trowell, Jerry Pavlovsky, Emory Everett, W.D. McGarrity, R.C. Sellars, Roy Larder, William Baumgardner, Merv Cooper, John Mayfield, Henry Keith, Jim Vickers, E.G. Hancock, Virgil Chewning, Stanley Russell, George Davis, Spencer Locke, E.T. Wimbish, E.A. McGehee, Jacob "Speedy" Meckler, Jess Hendricks, Fred Webb, Mose Williams, T.C. Williams, Everett Kimberlin, Max Cohen, John Ralph Logue

Still Image Item Type Metadata
Original Format
1 black and white photograph
Collection
Citation
"Employees at New Downtown Orlando Post Office Building." RICHES of Central Florida accessed December 4, 2023, https://richesmi.cah.ucf.edu/omeka/items/show/5589.
Categories
Transcribe This Item