Debunking the So-Called Spanish Mission Near New Smyrna Beach, Volusia County, Florida
Dublin Core
Title
Debunking the So-Called Spanish Mission Near New Smyrna Beach, Volusia County, Florida
Alternative Title
Debunking the So-Called Spanish Mission
Subject
New Smyrna Beach (Fla.)
Coe, Charles H.
Sugar--United States
Description
Debunking the So-Called Spanish Mission Near New Smyrna Beach, Volusia County, Florida by Captain Charles Henry Coe (1856-1954). The book challenges the misconception that a site located two miles west of New Smyrna was the ruins of a Spanish mission dating back to the time of Christopher Columbus. In the book, Captain Coe demonstrates that the ruins were of a steam sugar and saw mill that was destroyed by Native Americans in 1845, just five years after it was erected. Also known as the New Smyrna Sugar Mill Ruins, the ruins are located at 600 Old Mission Road in New Smyrna Beach and were added to the National Register of Historic Places in 1970.

Coe was born in Torrington, Connecticut, on February 3, 1856, to William Henry Coe (1824-1879), who founded the town of Glencoe, and Deborah Little Archer Coe (1824-1912). In 1874, his family migrated to Jacksonville, Florida, due to his father's poor health. At age 18, Coe began working for the Jacksonville Tri-Weekly Union. In 1875, Coe moved to New Smyrna Beach and started his first newspaper, The Florida Star. Coe was appointed Deputy Collector of Customs for the port at New Smyrna in 1879, after his father died. In 1880, Coe moved to Glencoe and began producing photographs. Seven years later, the moved to back to Torrington, where the met and married Emma Sophia Johnson (1846-1931). The following year, Coe moved to Asheville, North Carolina, and then later to Highlands, where the established The Highlands Star. In 1889, the moved to Washington, D.C. to work for the Government Printing Office (GPO).

Coe published Red Patriots: The Story of the Seminoles (1898), a book about the plight of the Seminole tribe. A copy of Red Patriots was given to every member of Congress, which later passed legislation allowing Seminole land rights in Florida. In 1912, Coe returned to Florida and spent the next 20 years traveling the coast in his cabin cruiser called The Buccaneer. After retiring from the GPO in 1921, Coe spent much of his time exploring Florida's coast as an amateur archaeologist and publishing books, including Juggling a Rope (1927) and The Art of Knife Throwing (1931). He died of pneumonia on March 23, 1954.
Creator
Coe, Charles Henry
Publisher
Fitzgerald Publications
Contributor
Foster, Andrew M.
Coverage
New Smyrna Sugar Mill Ruins, New Smyrna Beach, Florida
Provenance
Originally created by Charles Henry Coe and Fitzgerald Publications.
Rights Holder
Copyright to this resource is held by Charles Henry Coe and is provided here by
RICHES of Central Florida
for educational purposes only.
Digital Collection
Source Repository
Private Collection of Andrew M. Foster
Document Item Type Metadata
Original Format
1 book cover
Files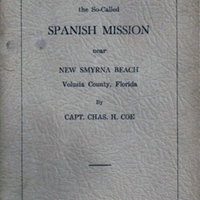 Collection
Citation
Coe, Charles Henry. "Debunking the So-Called Spanish Mission Near New Smyrna Beach, Volusia County, Florida." RICHES of Central Florida accessed September 29, 2022, https://richesmi.cah.ucf.edu/omeka/items/show/6192.
Categories
Transcribe This Item