Implosion of 1958 Orlando City Hall
Dublin Core
Title
Implosion of 1958 Orlando City Hall
Alternative Title
Orlando City Hall Implosion
Subject
Orlando (Fla.)
City halls--United States
Cinema
Description
The implosion of the 1958 Orlando City Hall, which was featured in Lethal Weapon 3. During Mayor Bill Frederick's (b. 1934) campaign to beautify and transform Orlando, a new city hall had been built to replace the one built in 1958 under Mayor Bob Carr (1899-1967). Through the marketing efforts of Orlando-based production manager Oscar Testagrossa, the city government's desire to demolish the old city hall attracted the attention of Hollywood production company Silver Pictures. A $50,000 agreement between the City of Orlando and the production company for exclusive rights to footage of the implosion worked to offset the $80,000 demolition cost. The demolition was contracted to the Orlando firm Chapman &amp
Sons, Inc. with its explosives phase subcontracted to Controlled Demolition, Inc. (CDI) of Phoenix, Maryland. Before the demolition, the new city hall—less than 10 feet away—was insured for $20 million. Through a collaborative effort between CDI and Warner Bros. to synchronize 180 pounds of explosives and 400 special effects charges, the building collapsed within six seconds.
Source
Original color film still: Orlando Remembered Exhibit,
Orlando City Hall
, Orlando, Florida.
Is Format Of
Digital reproduction of original color film still.
Medium
1 color film still
Coverage
Orlando City Hall, Downtown Orlando, Florida
Mediator
History Teacher
Civics/Government Teacher
Geography Teacher
Provenance
Originally created by Jan de Bont.
Contributing Project
Orlando Remembered
Curator
Wolf, Casey
Cepero, Laura
Digital Collection
External Reference
"
Orlando City Hall
." Controlled-demolition.com. Accessed April 7, 2016. http://www.controlled-demolition.com/orlando-city-hall.
"
Executive Producer - Bio
." Planet Media Group Production Credits & Bio. Accessed April 7, 2016. http://www.planetmediagroup.com/RJTbio.shtml.
Files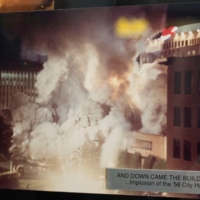 Collection
Citation
de Bont, Jan. "Implosion of 1958 Orlando City Hall." RICHES of Central Florida accessed May 29, 2022, https://richesmi.cah.ucf.edu/omeka/items/show/7860.
Categories
Transcribe This Item