World War II Safe-Conduct Pass
Dublin Core
Title
World War II Safe-Conduct Pass
Alternative Title
WWII Safe-Conduct Pass
Subject
World War II, 1939-1945
Description
A safe-conduct pass from World War II. Safe-conduct passes were used to designate German soldiers who were willing to surrender. Such a soldier was to be treated as a prisoner of war (POW), making him eligible for certain standards of humane treatment as required by the Geneva Conventions of 1929. This particular pass was a belonging of Sergeant John B. Hancock (1913-1944), an American soldier. Hancock born in Thomasville, Georgia, in 1913, but later migrated to Auburndale, Florida. He enlisted in the 45th Infantry Division's 179th Infantry Regiment. Sgt. Hancock served initially in Africa in 1943, until the 45th Infantry Division's participation in Operation Husky for the Allied invasion of Sicily, codenamed Operation Husky. The division then went on to participate in the Allied invasion of Italy, where Sgt. Hancock was injured. He was returned to duty in February of 1944 to tour southern France. On November 1, 1944, Sgt. Hancock went Missing in Action (MIA) after serving in the Allied invasion of Southern France, codenamed Operation Dragoon. He was eventually buried in Epinal American Cemetery and Memorial in Dinozé, France.
Source
Photocopy of original pass: Private Collection of Linda Hughes.
Publisher
Date Created
ca. 1941-1944
Contributor
Hancock, John B.
Hughes, Linda
Is Format Of
Digital reproduction of photocopied pass.
Requires
Rights Holder
This resource is not subject to copyright in the United States and there are no copyright restrictions on reproduction, derivative works, distribution, performance, or display of the work. Anyone may, without restriction under U.S. copyright laws:
reproduce the work in print or digital form
create derivative works
perform the work publicly
display the work
distribute copies or digitally transfer the work to the public by sale or other transfer of ownership, or by rental, lease, or lending.
This resource is provided here by
RICHES of Central Florida
for educational purposes only. For more information on copyright, please refer to
Section 5
of
Copyright Law of the United States of America and Related Laws Contained in Title 17 of the United States Code
.
Contributing Project
Epinal American Cemetery and Memorial Project
Curator
Bates, Chris
Cepero, Laura
Digital Collection
Source Repository
Private Collection of Linda Hughes
External Reference
GRid=56372799.
"Killed in Action." RICHES of Central Florida.
"Letter from John R. Hull to Edna P. Hancock (April 23, 1945)." RICHES of Central Florida.
Files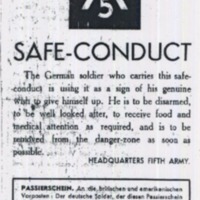 Collection
Citation
"World War II Safe-Conduct Pass." RICHES of Central Florida accessed August 14, 2022, https://richesmi.cah.ucf.edu/omeka/items/show/9314.
Categories
Transcribe This Item